ALL NEWS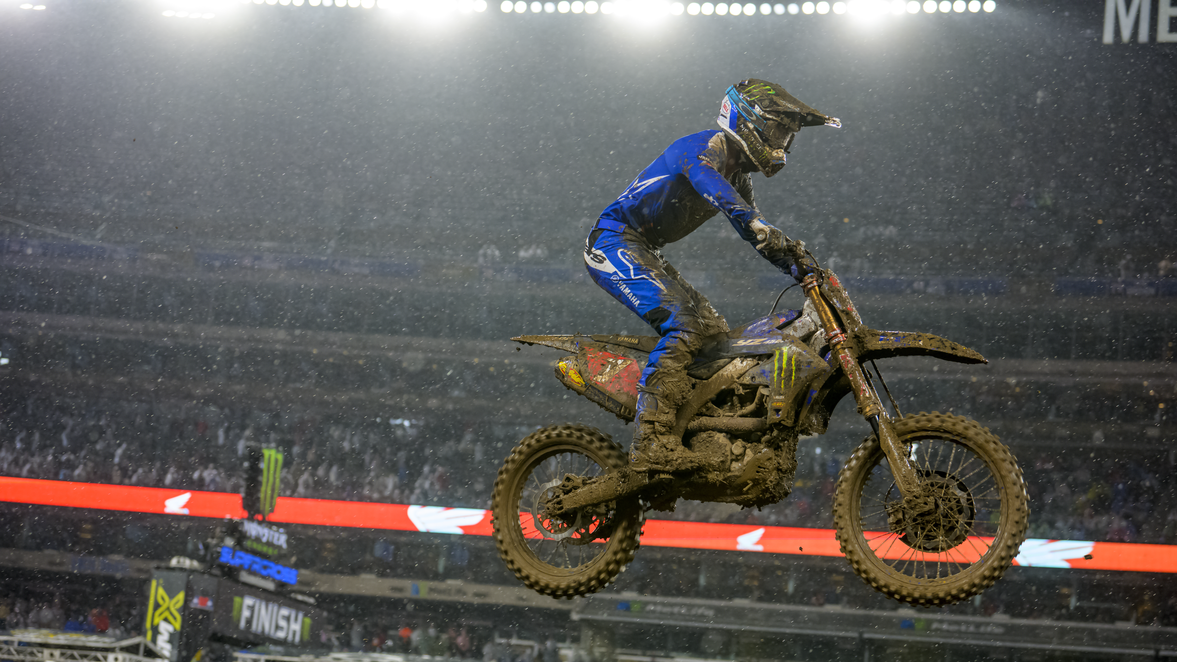 Tomac Masters The Mud in New Jersey
450 class SX point leader Eli Tomac (Star Racing/Yamaha) overcomes a hard crash in qualifying to podium; Chase Sexton (Honda) places 4th, also gains on Webb (5th)
Unlike most forms of motorsport, when it pours rain at Monster Energy AMA Supercross The Show must go on. And in Saturday night's case at East Rutherford, N.J.'s MetLife Stadium, 'The Show' was Monster Energy's Eli Tomac (Star Racing/Yamaha) himself. The No. 1-ranked 450 class supercross racer overcame a rugged crash in timed qualifying to stand on a mud-strewn 450 class main event podium in 2nd place, gaining some highly important points and extending his lead in the overall class point chase to 11 (315-304) over 5th place Cooper Webb (KTM). Monster Energy's Chase Sexton (Honda) would lead the 450 main event early, and wound up just off the New Jersey SX podium in 4th, moving to within ten points of Webb.
Tomac's crash in qualifying, where he jarred his right hand off the bars, enveloped the front end of his YZ450 and stamped his left shoulder, thigh and knee into the unforgiving Jersey gravel/dirt, was as startling as it was rough. The 450 class frontrunner had everyone at Yamaha taking a deep breath as Tomac slowly bear crawled off the track, barely avoiding the rush of the oncoming bikes – and eventually limping back through the MetLife tunnel to the Monster Energy/Star Racing/Yamaha hauler under his own power. Banged up but undaunted, the gritty Coloradoan would rally back, transferring to the main with a 4th place finish in the second heat race.
The wild 450 main event would see Sexton pull the holeshot and run out front early, then got passed by Ken Roczen (Suzuki), and eventually ended up down in the mud on an aggressive (yet legal) move from eventual race winner Justin Barcia (Gas Gas) – all on the opening lap! Tomac gutted out the start and put himself in podium position ahead of Webb late in the race. Roczen, running in 2nd place, had Tomac all over him, and wound up putting his bike down in the whoop section – handing the runner-up position over to Tomac. Sexton put up some fast laps late, charging back to an admirable 4th.
"It was a championship ride by Tomac," agreed both NBC announcers, Ricky Carmichael and James Stewart.
Rounding out the 450 class top ten for Monster Energy was a great ride from Justin Hill (Tedder Racing), who placed 9th after qualifying with a 3rd place podium finish in his heat race.
In the combined 250 ESX/WSX Showdown racing at New Jersey, Monster Energy racers were unable to make the podium, but did manage three top ten finishes in the extreme conditions. Haiden Deegan (Star Racing/Yamaha) led the Monster Energy charge in 6th place, with Pro Circuit/Kawasaki teammates Carson Mumford and Jo Shimoda placing 6th and 9th, respectively.
And opening the night program at MetLife, Monster Energy got podium finishes from Daxton Bennick (Star Racing/Yamaha) and Ryder DiFrancesco (Pro Circuit/Kawasaki) in SX Futures racing.
New Jersey SX
450 class results 250 WSX/ESX class results
2nd - Tomac (Monster/Star/Yamaha) 6th - Deegan (Monster/Star/Yamaha)
4th - Sexton (Monster/Honda) 7th - Mumford (Monster/PC/Kawasaki)
9th – Justin Hill (Monster/Tedder) 9th - Shimoda (Monster/PC/Kawasaki)
Overall Standings (14 of 17 rounds)
450 class 250 WSX/ESX class
1st - Tomac, 315 points 2nd - Deegan, 149 points (ESX)
3rd - Sexton, 294 points 4th - Kitchen, 112 points (WSX)
6th - Anderson, 225 4th - Thrasher, 120 points (ESX)