All News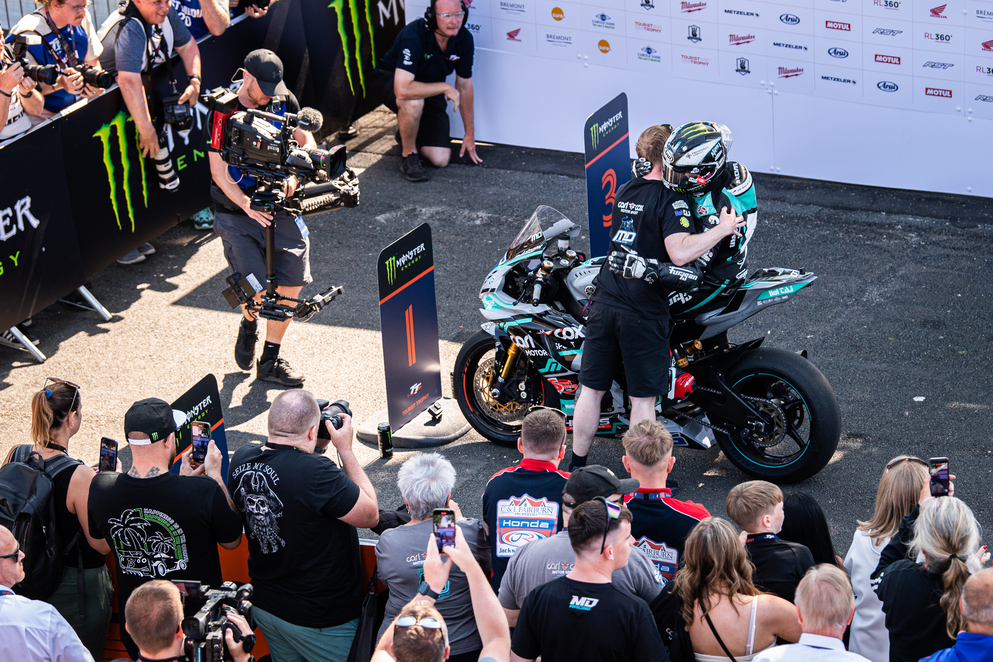 TT2023 IS GO: MONSTER ENERGY SUPERSPORT RACE 1 - DUNLOP LEADS THE WAY!
After an incredible five days of qualifying in near perfect conditions, the 2023 Isle of Man TT went live in earnest in competition mode.
After an incredible five days of qualifying in near perfect conditions, the 2023 Isle of Man TT went live in earnest in competition mode. Michael Dunlop absolutely beasted the roads from the off; taking a scorching 22nd TT win - his tenth in the Supersport class - with Peter Hickman snatching second place by a 0.3 second margain on the last lap - to also bring his outright TT win tally to 12.
In a break from tradition - which normally sees the 1000cc 'big bikes' lead the way on the first day of racing on the Snaefell Mountain Course - the four-lap Monster Energy Supersport 600cc race was the first to be contested in race week. Despite being considered the 'middleweight category' - the Supersport class is an absolute white-hot crucible of action; and has provided some of the most exhilarating rivalries and closest finishes in TT history.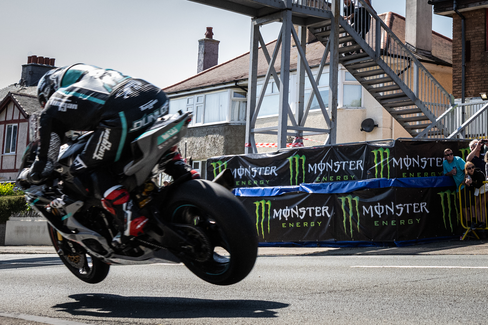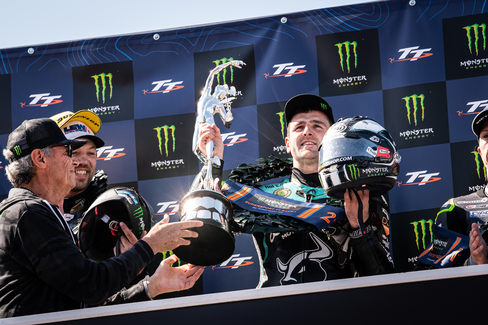 At the start gate, all eyes were focused on Michael Dunlop, with the 34-year old Northern Irishman having opened his TT 2023 account in jaw dropping style from day one. In the final night of qualifying, Dunlop unofficially broke the outright Superbike lap record with a stunning lap of 135.531mph on his Hawk Racing Honda, almost six tenths of a second inside Peter Hickman's official lap of 135.452mph set in the 2018 Senior TT Race. It pointed to huge things to come from Dunlop - regardless of the class of machine he was aboard.
After the famous tap on the shoulder at the start - Dunlop effectively waved goodbye to his rivals, taking the lead at Ballaugh Bridge - pulling an immediate 1.5 second gap over second place rival Dean Harrison. By the end of the first 37.78mile lap, Dunlop had further stretched the gap to 5.488 seconds, recording a stunning average speed of 128.3mph from a standing start. What followed was a further three laps of textbook TT racing from Dunlop - including a seamless pitstop for fuel and a visor change; to take the race win by a 14.2 second margain.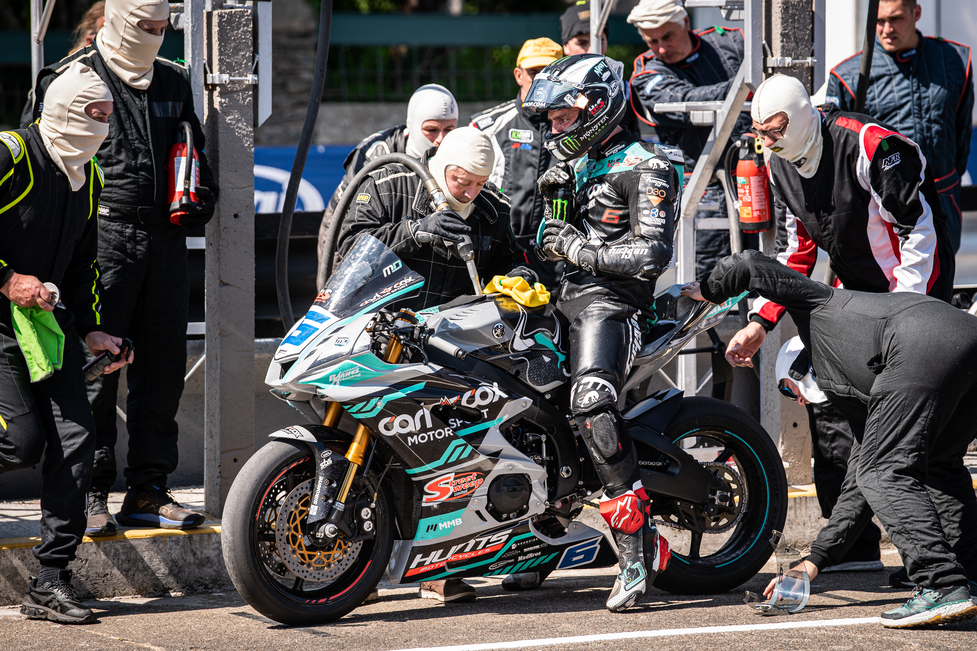 Barely breaking a sweat in the winners enclosure, Dunlop jumped off the bike and told us: "It was tough going - I knew the boys were going to get hot and heavy on the road. I hadn't done a lot of laps this week which isn't normal for us. I've mostly been on the big bike so far this week. We had a wee bit of an issue last night after warm up, so we had some work on our hands - but we got the engine sorted again, and it's absolutely flying! All of my team have done such a great job! You are always listening out and focused, and there is never time to relax - I was pushing to the end and trying to manage the race as best as I can. It's a great start for us!"
Peter Hickman also jumped in at the finish to say: "I said at the start - it feels like an excuse, but it's really not - I just take too long to get going on the little bike. I ride it like a big bike, and it takes me to get to the pit stop at the end of the second lap to really get going. I reset my brain and really got going haha! I knew I was about 9 or 10 seconds away - which is a pretty long way, but then I got it down to 6 seconds and then to three seconds - and at that point I knew I needed to be absolutely on the limit everywhere. It was a super super hard last lap and I tucked in my 6ft2 frame as much as I could on the bike - and ended up pipping Dean by 0.3 of a second! Massive thanks to all of the teams, Trooper Triumph, PHR Performance and FHO Racing - absolutely brilliant effort as always. We just need to keep pushing for the rest of the week!"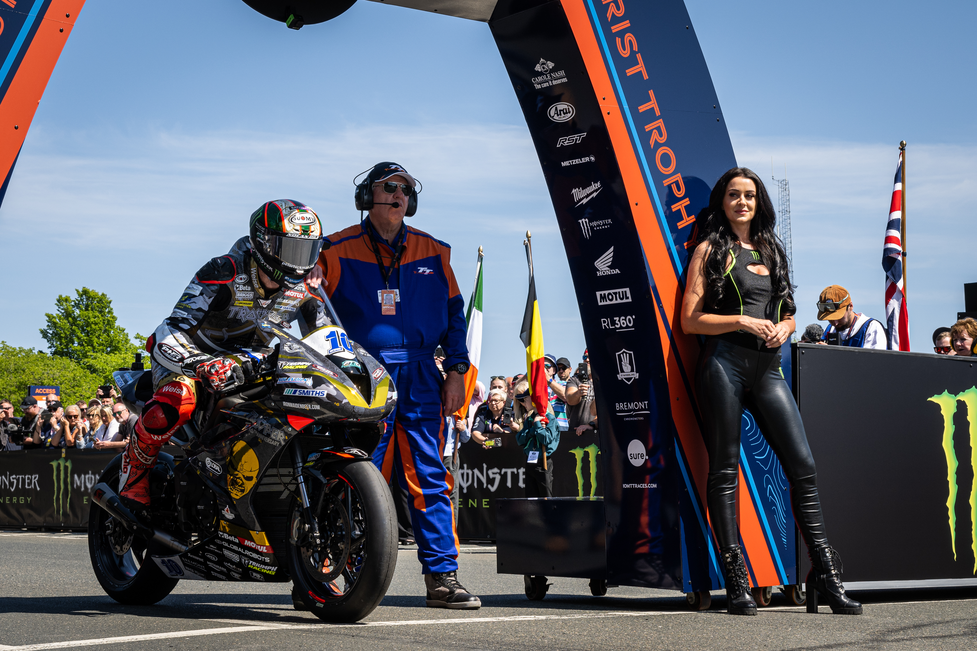 The 2023 Isle of Man TT continues on Sunday 4th June with the opening Superbike race, where 23-time TT winner John McGuinness, will join the action against Michael, Peter and the entire of the TT2023 field. Watch it all live with all live via; https://ttplus.iomttraces.com/.