All News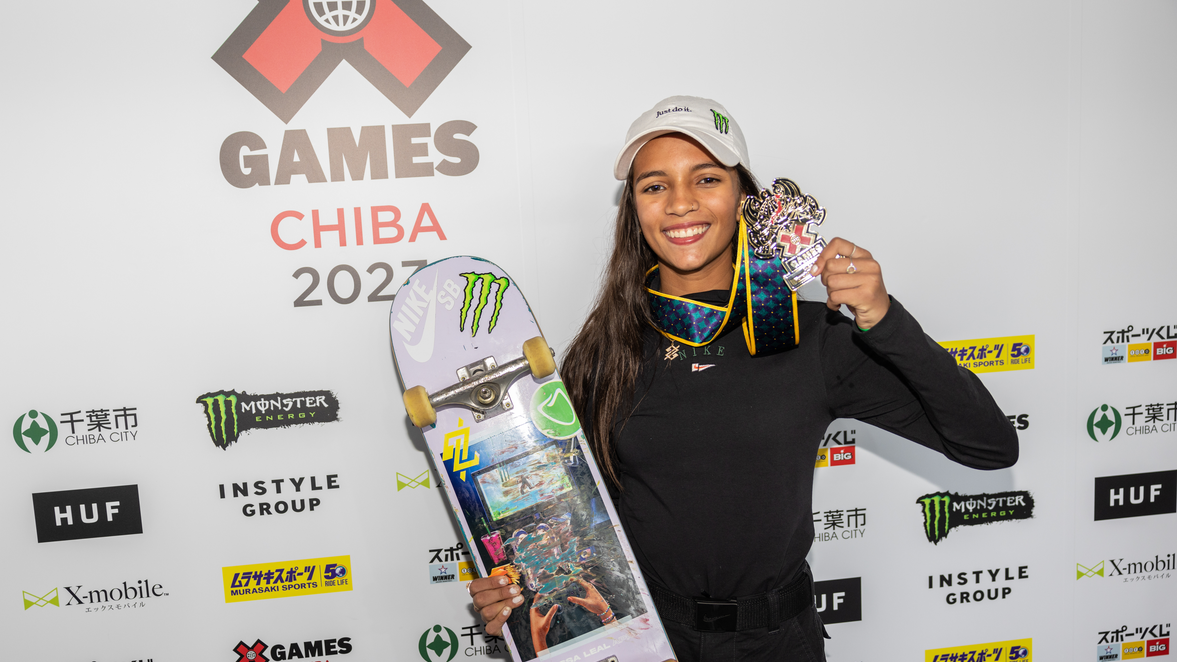 Medal Count | X Games Chiba 2023
Over the course of three days, the Monster Roster claimed 4 Gold, 5 Silver, and 1 Bronze medals
X Games Chiba 2023 is officially in the books! Monster Energy congratulates its BMX, Moto X, and Skateboard athletes on a strong performance at X Games Chiba 2023. During the three-day event, the world-class team claimed a total of 10 X Games medals (four gold, five silver, and one bronze) and set new records in the process. X Games Chiba 2023 brought the world's elite action sports to ZOZO Marine Stadium on Tokyo Bay for the second consecutive year.
Here's how Team Monster Energy stoked fans at X Games Chiba 2023: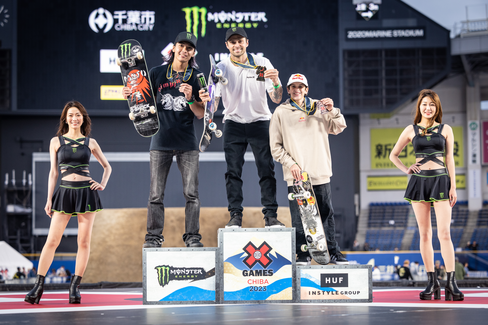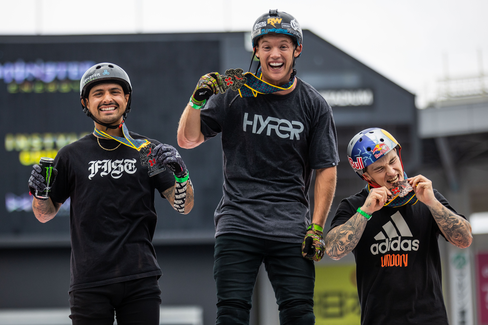 The first medal events at X Games Chiba 2023 faced a tough start on Saturday. With all-day rain pouring down over Tokyo Bay, organizers decided to postpone several competitions to Sunday. Meanwhile, the results from Friday's prelims counted as final medal results in BMX Park, Skateboard Park, and Skateboard Street events.
Based on Friday's prelims performance, 28-year-old Daniel Sandoval from Corona, California, claimed the gold medal in BMX Park. Battling against defending X Games Chiba gold medalist Logan Martin, Sandoval edged ahead with a perfect second run featuring a massive double flair aerial and massive 540 flairs for 87.00 points and the gold medal. Visibly stoked about the win, Sandoval had not reached an X Games podium since 2017 – and he had more in store for X Games Chiba 2023.
The wins continued in the Women's Skateboard Street competition, where 15-year-old Rayssa Leal from Imperatriz, Brazil, entered as the defending champ from Chiba 2022. Unfazed by her A-list competitors, Leal put down a perfect run, including backside lipslide and backside Smith grind the huge 14-stair handrail to claim her second career gold medal at X Games. Unstoppable!
In a major shakeup, a young amateur from the Monster Army support program crashed the podium in Women's Skateboard Park: 16-year-old Ruby Lilley from Oceanside, California, hit the park course with high speed, huge airs, and stylish liptricks to claim silver as her first career medal at X Games in her third appearance. Way to unleash the beast!
Sunday also saw 30-year-old Kelvin Hoefler from São Paulo, Brazil, rise all the way to the podium in Men's Skateboard Street. Battling heavy competition from previous X Games gold medalists and young upstarts, Hoefler landed a technical run featuring Caballerial backside lipslide fakie the 14-stair rail for a strong silver medal finish. Hoefler now owns six X Games medals (two gold, two silver, and two bronze).
The big story in Sunday's Skateboard Vert final was the return to halfpipe competition of 23-year-old Tom Schaar from Malibu, California. The top competitor in Mega Ramp and Skateboard Park contests had never medaled in six starts in X Games Skateboard Vert – until now! A perfect technical run punctuated by a difficult kickflip McTwist before the buzzer earned Schaar X Games silver as his first medal in the event. Schaar now owns nine X Games medals (one gold, four silver, and four bronze).
Technical halfpipe skating remained the focus in Skateboard Vert Best Trick, featuring an all-star cast including skateboard icon Tony Hawk. Dropping in as the defending gold medalist from X Games 2022 but facing difficulty landing the move he wanted, 34-year-old Elliot Sloan earned a walk-off victory on his final attempt of the contest: His fast-spinning Cab heelflip Indy 720 brought the house down and earned Sloan his seventh gold medal. Sloan now owns 16 X Games medals (seven gold, seven silver, and two bronze). His closest competitor was 27-year-old Japanese team rider Moto Shibata from Osaka, who finished in silver-medal position after posting a perfect kickflip McTwist on Run 1.
In the weekend's only motorized medal event, the world's best motocross freestylists threw down in the Moto X Best Trick. As the worthy finale to a spectacular weekend, the session put the sport's technical evolution on full display. When the dust settled, 31-year-old Jackson Strong from New South Wales, Australia, took the win by landing a difficult untucked no-hander frontflip, spinning forward through the air with hands entirely off the handlebar. This marks Strong's seventh gold medal in the event and ties the Australian for most gold in a single Moto X discipline with Ronnie Renner and Travis Pastrana.
Strong now owns 14 X Games medals (seven gold, four silver, and three bronze). He was joined on the all-Australian podium by 29-year-old Harry Bink from Canberra, Australia taking bronze with a technical double backflip nac one-hander look to the side. Bink now owns two X Games bronze medals, both earned in Moto X Best Trick.