/ /

Motor

All NEWS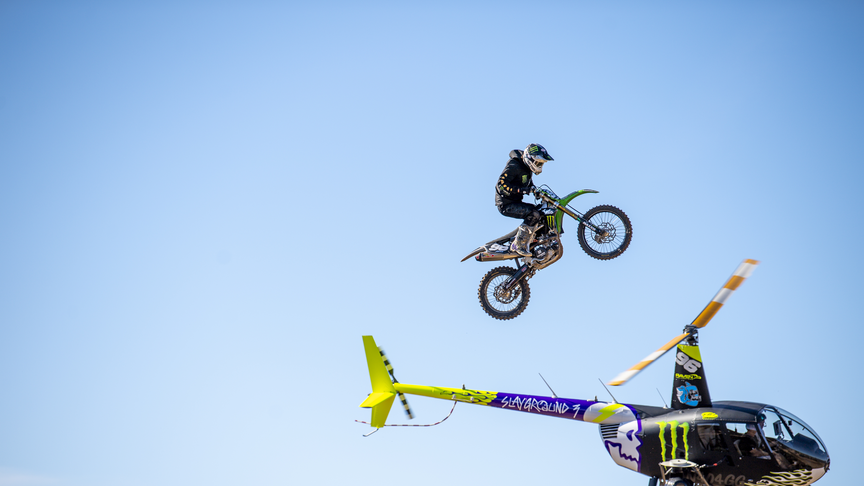 2021 Recap: Unleashing The Beast
Another year of epic shit here at Monster Energy. Our athletes are Monster Made, ready for action, and get shit done. Check out 2021's Ultimate Recap of all our badass athletes and moments we've had this year.
Snowcats
Monster Energy's first all-female snowboarding video, 'Snowcats,' showcases some of the most creative freestyle snowboarders on the planet in a free-flowing expression session. On a special course at Sierra-at-Tahoe Resort in Twin Bridges, California, Jamie Anderson, Chloe Kim, Kokomo Murase, Annika Morgan, Zoi Sadowski-Synnott, and Jill Perkins throw down technical tricks and transfers. - the perfect recipe for a memorable snowboard video.
Free Rein | Faroe Islands
Ride along with Vaughn Gittin Jr. in his new film 'FREE REIN: Faroe Islands'. In one of the most remote and beautiful locations, Vaughn takes you on an adventure through the Faroe Islands in an all-electric Ford Mustang Mach-E 1400.
Finding Monsters
Monsters are hiding everywhere. Help us find them. This short story is a call to action to anyone who notices talent and determination at an early age. Whether you just give them some props at the local skatepark, or you risk it all shipping your kid off to a program, to pursue their dreams, your support and encouragement is paramount to a child turning young talent into world-class athletic success.
Becoming the Monster | Stipe Miocic
Monster Energy follows Stipe Miocic through his final days of camp as he reflects back on his childhood, early MMA training days, the relationship with his Head Coach, Marcus Marinelli, and all the highs and lows of being the best UFC heavyweight of all time.
Kurt Busch: Shifting Gears
The film follows iconic NASCAR racer Kurt Busch on a speed run across all of the iconic bridges from Marathon, FL to Key West while reflecting on highlights from his career, with cameos from Monster Energy athletes Axell Hodges and Taka Higashino (motocross) and the Unknown Industries crew of Harley riders.
Dirt Shark | Forkner Style 2
Austin Forkner, annihilates Fox Raceway in Pala, CA ahead of the opening round of the 2021 AMA Outdoor Motocross Series.
Forkner's widely considered as one of the most promising young racers on the circuit and heads to outdoor as a podium favorite. Fully recovered from his recent shoulder injury at Round 3 of Supercross, the six-time national amateur champion and professional 250 Class Championship contender is ready to bring the heat on May 29.
The Art of Focus | Harry Bink
'The Art of Focus' is about being the "most comfortable when you're uncomfortable." "The biggest challenge for me in life is mastering my thoughts and how I choose to view the world and everyone around me," said Harry Bink. Down under at Australia's Gold Coast, learn more about Harry Bink and what happened on the eve of X Games 2021.
Dirt Shark: 46 96 | Valentino Rossi & Axell Hodges
Now that Valentino Rossi calls it a career after the 2021 MotoGP season, 46 96 is the video we all needed to see. California Free Ride Motocross Star, Axell Hodges travels to Tavullia, Italy to sneak into Valentino Rossi's Kingdom. Axell ends up spending the day with Valentino and dicing it up with the greatest Moto GP Racer of all time on the Moto Track and Flat Track. #GrazieVale
The First Ride | Eli Tomac Moves to ME Star Racing Yamaha
Eli Tomac, a three-time AMA Pro Motocross 450MX champion and the 2020 Monster Energy Supercross Series champion, made a totally unexpected move in shuffling away from longtime employer Monster Energy Kawasaki and right on over to the Monster Energy Star Yamaha 450 Team. For a racer who first entered the professional ranks all the way back in 2010, the move is profound. Currently, the most decorated and successful rider in American motocross and Supercross, the fact that veteran Tomac has taken such a major swing in changing up his racing program so late in his career has created a huge buzz within the sport and sent more than a few hardcore fans to the Supercrosslive.com and Ticketmaster websites in search of tickets dated January 8, 2022. Read more here.
Monster Made | Kamaru Usman
Monster Made was provided rare access, revealing Usman's driving motivation behind his title-quest journey and ultimate win over Tyron Woodley in 2019 and then travels with the champ back to his homeland in Nigeria. Never seen before travel footage documents his trip to Nigeria in the summer of 2021, supporting local causes and watching local Nigerian fight leagues in action. Monster Made: Kamaru Usman, examines the most important forces driving the UFC's pound for pound king and sets the table for the biggest night of his MMA career.
SUGARED | Rene Rinnekangas
Sugared is the reason why we still need full-length video releases in a world of straight-to-Instagram clips and immediate gratification. Sure, it took creative duo Rene Rinnekangas and Anton Kiiski a lot of hard work to put the video together over four months of bleak post-Covid winter. But their determination shows through in this release, with exciting spot selections and Rene's sophisticated approach to snowboarding.
DIYX STRT JAM 2021 Savage Snowboarding
Sit back, strap in and watch the carnage unfold as the snowboard industry descended onto the streets of Innsbruck for one weekend of unrestricted Do-It-Yourself-Xtreme Street Jam madness. On the menu was some of the finest and most progressive snowboard rail wizardry available in the world right now mixed with b-roll party footage and a healthy dose of flame-grilled rails. Enjoy!
NERVE | A True Story About American Freeskier Colby Stevenson
'Nerve' is a true story about 24-year-old U.S. Freeski Team rider Colby Stevenson from Park City, Utah, overcoming traumatic brain injury and rehabilitation after a near-career-ending car crash in 2016.
WOMEN OF SPEED | Deegan, Price, Golden, Force
Monster Energy's 'Women of Speed' are paving the way for women in the motorsports industry. Hailie Deegan is setting the standard for NASCAR by ignoring stereotypes and gender norms, and bringing a level of competitive badass energy that you won't see every day.
Sara Price discusses her latest accomplishments leading to racing in Extreme E and how she's making space for women in the motorsports industry. Vicki Golden is breaking barriers in the motocross world, but this time, through business. Brittany Force continues to push herself and create a powerful female footprint in NHRA Top Fuel Drag Racing.