/ /

Motor

All NEWS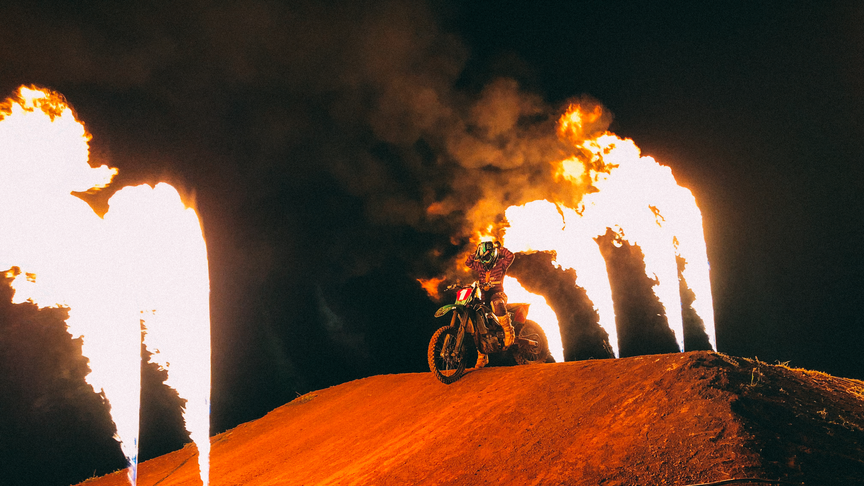 Courtney Duncan - Girl On Fire
Kiwi rider Courtney Duncan has been the fastest Motocross rider in the world championship since bursting onto the scene in 2016. After absolutely dominating and winning all but 1 of the 9 races in 2019, she finally fulfilled her childhood dream of being crowned WMX World Champion.
It hasn't been all smooth sailing though, with Duncan enduring 3 years of misfortune and injury that prevented her from claiming a championship. After leading the series during her debut season in 2016, she was forced to the sideline with injury when she crashed into a photographer who was standing on the race track. Even as the new kid on the block, Duncan won 5 of the 14 races in 2016, more than any other individual that year, and this was even after her run-in with the photographer.
In the following year, a controversial jury decision denied her the 2017 title when the race was stopped at the final round while she was leading. In 2018 with just 2 races left, an injury to a bone in her right foot and further damage to the ligaments that surround it forced her to again withdraw from the title chase.
This made her 2019 WMX World Championship title all the sweeter. We follow her journey of unwavering dedication and commitment as we absorb all that she has achieved in Girl on Fire.
Getting To Know Courtney Duncan
How did you figure out that MX was a passion of yours? Tell us about your upbringing.
I grew up in a small town. It's a pretty rural community. Everyone had bikes, my best mates had bikes. It was just one of those things we did on weekends. We all got together and went racing. We just set up a few pegs and markers on the side of a hill and went and had some fun. It kind of escalated from there.
What was the moment when you decided to risk it all and head to Europe?
I happened to catch the world championships on TV when I was about 12 or 13. At the time we had some kiwi heroes like Ben Townley and Josh Coppins killin' it overseas. That was kind of the turning point for me. As soon as I saw that it inspired me to want to go over there and be a world champion. Ever since that day I wanted to win a world title.
You finally fulfilled your childhood dream of being crowned world champion. It hasn't been an easy road, talk us through the journey and the emotions attached to it.
That feeling of winning the world championship is indescribable. The first 10 seconds after I was just numb, it's surreal. I'd worked for countless years just to fulfill that dream. I've gone through some tough times so for it to finally happen was amazing. There were nights that I didn't think it was going to be possible.

Starting, I had a lot of success. All through my junior career, I managed to win a lot and it wasn't until my first year of going pro that I started to come across some tough times. I battled a lot of adversity - 3 years in a row of coming up short on that championship. A lot of frustration, a lot of disappointments to the point where I nearly walked away from it. Honestly, I'd had enough. I came so close, especially that 3rd year I felt like I had my hand on the trophy.

Some tough times but it's made me stronger, it's made me a better person and I've been able to walk out the other side with the championship. To be honest I wouldn't have it any other way. I would go through it all again just to experience that feeling again and hopefully, there's lots more of those moments to come.
Tell us about some of your injuries and how you work through the mental side of recovering from an injury?
I've had a lot of injuries. I feel like every offseason I've been injured and that's tough. You're sitting on a couch for 5 months at a time and you're watching your competitors getting better and you're just sitting there counting down the time. I've always had to come into the new season on the back foot which isn't ideal in a world championship. You need to be in the best form you can be and I've never been able to be. The injuries have been difficult ones, they haven't been small injuries. I've done several ACL's, the last one was the foot injury - that was a solid 7 months of recovery so they've been really tough. It's nice to be healthy right now and I've had a solid year on the bike which is the first time since I've gone pro.

For me it was about setting small goals, not looking too far ahead, just ticking off those little things each day. It was the best way for me to stay positive. That last injury got me pretty down I'm not gonna lie. I was so close to winning that world title. There were nights that I lay in bed wondering, "what I am doing wrong?", "what's it going to take to get this championship?". It was tough to go through but I walked out the other side ok.
As a kiwi, you have to travel to the other side of the world for the majority of the year for the competition. How do you cope with traveling and distance away from your home town for most of the year?
It's tough. It's not easy to pack our bags and move to the other side of the world without family and friends. I think the hardest thing is when you have a bad day and you go home and you sit in a room by yourself and you don't have anyone to cheer you up. It's difficult but it makes us stronger and tougher. When I pack my bag I know I'm going over for a purpose. I'm not going over there to finish second, it's too far to go over there for that!
Mentally Tough to Handle Adversity and a Grueling Season
There's something that keeps you going. Where does your motivation come from? Where does that fire come from?
I'm super competitive. I always have been. I've always wanted to be the best. That wasn't just at racing, it was everything I did right down to playing cards with my friends or kicking a soccer ball around. Whatever it was I wanted to be the best. That's where the fire comes from. I hate to lose. I don't think there's a word that describes how much I hate losing. To be successful you need to work hard. To be the best and win world championships, that's what motivates me.
What's your biggest fear and how do you push through and overcome them?
Probably losing! At times I was so afraid to lose it just about made me win cause I hated it so much. I don't fear too much on the racing side of things. I thrive on pressure, I thrive on knowing it's not going to be easy so I kind of look at things more as a challenge than as a fear.
What's been some of the best advice or pieces of wisdom you've received that's impacted your career?
Over the last year, the most important thing that helped me was to enjoy it. As an athlete, you get stuck in your bubble. All you see is racing, you don't have too much outside of that. I think this year I was able to add in a bit more downtime and fun outside of racing. To do my work and then to be able to switch off helped me come to the track fresher and helped me enjoy my life outside of racing and translated over into my racing.
Do you have any rituals before going into a race?
Not really. I'm pretty basic. I take the day as it comes. I do take a moment before the race where I just remind myself why I'm here and it helps me get mentally prepared for what's coming.
What goes through your mind when you're sitting on the start line?
Honestly, "it's gone time"! I strongly believe this is what I was born to do. I say to myself "You're ready. You've done everything you can. You're meant to be here. Let's go show them!"
What advice do you have for your fans and other people who look up to you?
It's important to enjoy it, no matter what level you're at. Have fun and don't put too much pressure on yourself and it will come. Put in the hard yards and trust what you're doing will get you to where you want to be.