/ /

Motor

All NEWS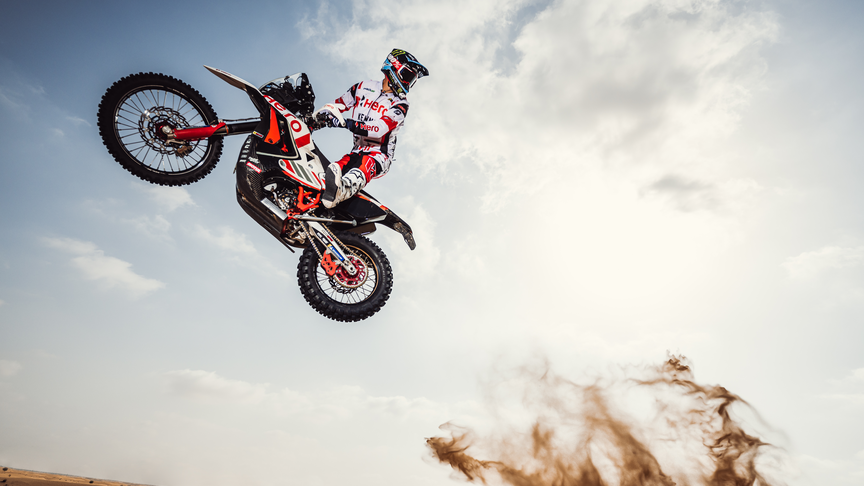 Dakar Rally - Ross Branch Wins Stage 10
Monster Energy-backed Ross Branch (Hero Motorsports) raced to his second stage victory of the '23 Dakar Rally, winning the Stage 10 battle in what's dubbed the "Empty Quarter" sea of dunes over Monster Energy/Honda HRC's Adrien Van Beveren (2nd).
Having also been victorious at Stage 8, Branch, who started in the 28th spot on Stage 10, dominated the stage, nailing the fastest time at each checkpoint throughout the technical 114 km special sections in the dunes.
Said Branch: "It was a really good day, though it started off slow in the morning and I had to battle to get going in the sand. I started having a lot of fun midway through the stage, making a few mistakes here and there, but I'm grateful to get the win in the end. It has been a long week so far, and to get two stage wins at Dakar means a lot. The bike was really amazing today, and I'm very proud of my team."
Branch's teammate, Monster Energy-backed Franco Caimi, also ran well on Stage 10, placing 8th – just four minutes behind Branch.
For the Monster Energy/Honda HRC team Van Beveren's 2nd place run, finishing just 21 seconds behind Branch, allowed him to keep race leader Kevin Benavides (KTM) well within sight at 9:52 back with four stages remaining.
"It was a good day for me, much better than yesterday for sure," said Van Beveren. "I gave everything, trying to be fast riding on the dunes – a terrain that I love. I really push, and I am happy with the outcome. I am OK, physically, unfortunately it was only 114 km, but we have more chances in the coming days."
Monster Energy/Honda HRC's Pablo Quintanilla and Jose Cornejo also ran very well in Stage 10, placing 6th and 8th, respectively.
The 2023 Dakar Rally resumes on Thursday with Stage 11, Shaybah's Empty Quarter Marathon, a grueling 274 km special (153 liaison) from Sheybah to Ardah.