All NEWS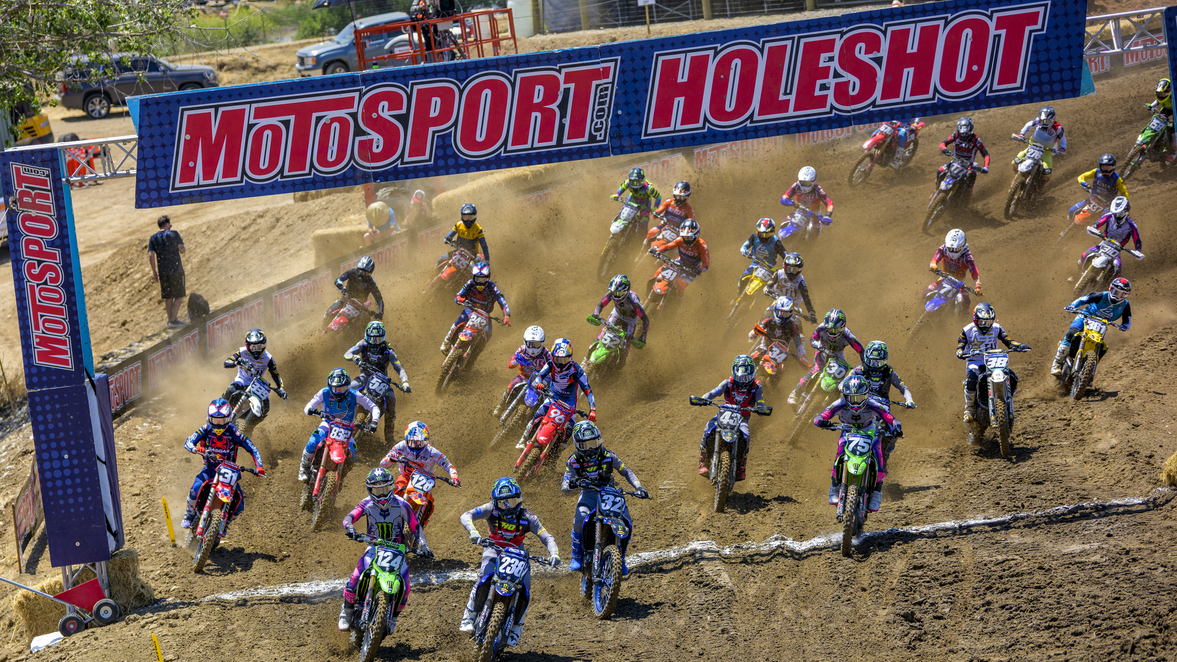 Ferrandis, Cooper & Deegan Podium at AMA Pro MX Championship's Hangtown '23
Ferrandis & Cianciarulo (4th) carry the load in 450 class with Sexton now out; Deegan wins first career outdoor moto, Cooper jumps from 5th to 3rd in standings
The Dirt Diggers North MC welcomed the world's top pro motocross stars of the AMA Pro Motocross Championship, presented by Monster Energy, for the 54th running of the "Hangtown Classic" at Prairie City (Calif.) SVRA on Saturday. And Monster Energy-backed racers would haul in three podium finishes – including a first-ever career moto win from rising star Haiden Deegan (Star Racing/Yamaha) in 250 class opening moto. Deegan would go on to place 3rd on the day (1-4) behind a masterful performance from Monster Energy-backed teammate Justin Cooper (2nd, 2-2), while Monster Energy's Dylan Ferrandis (Star Racing/Yamaha) nailed the 2nd place spot in the 450 class (2-3).
Tough news, though, leading into the race weekend as Monster Energy's defending Monster Energy AMA Supercross champion, and runner up at the AMA Pro Motocross Championship opener at Pala MX (Calif.), Chase Sexton (Honda), was injured (reported concussion) in a practice crash on Tuesday and unable to answer the bell for the Hangtown event.
Back to the 250 class, along with the podium efforts from Cooper & Deegan, Monster Energy racers captured six of the top ten overall spots at Hangtown, with Jo Shimoda (Pro Circuit/Kawasaki) taking 4th (4-10), Guillem Farres (Star Racing/Yamaha) 5th (6-8), Levi Kitchen (Star Racing/Yamaha) 6th (10-7) and Ryder DiFrancesco (Pro Circuit/Kawasaki) 10th (8-13). And rounding out the 450 class top five in scoring was Adam Cianciarulo (Monster Energy/Kawasaki), who placed a season-best 5th (5-4).
Hangtown MX
450 class results 250
2nd - Ferrandis (Monster/Star/Yamaha) 2nd - Cooper (Monster/Star/Yamaha)
5th - Cianciarulo (Monster/Kawasaki) 3rd - Deegan (Monster/Star/Yamaha)
N/A 6th - Shimoda (Monster/PC/Kawasaki)
Overall Standings (2 of 11 rounds)
450 class 250
2nd - Ferrandis, 82 points 2nd - Deegan, 80 points
5th - Cianciarulo, 63 points 3rd - Cooper, 78 points
8th ­- Sexton, 29 points 6th - Shimoda, 62 points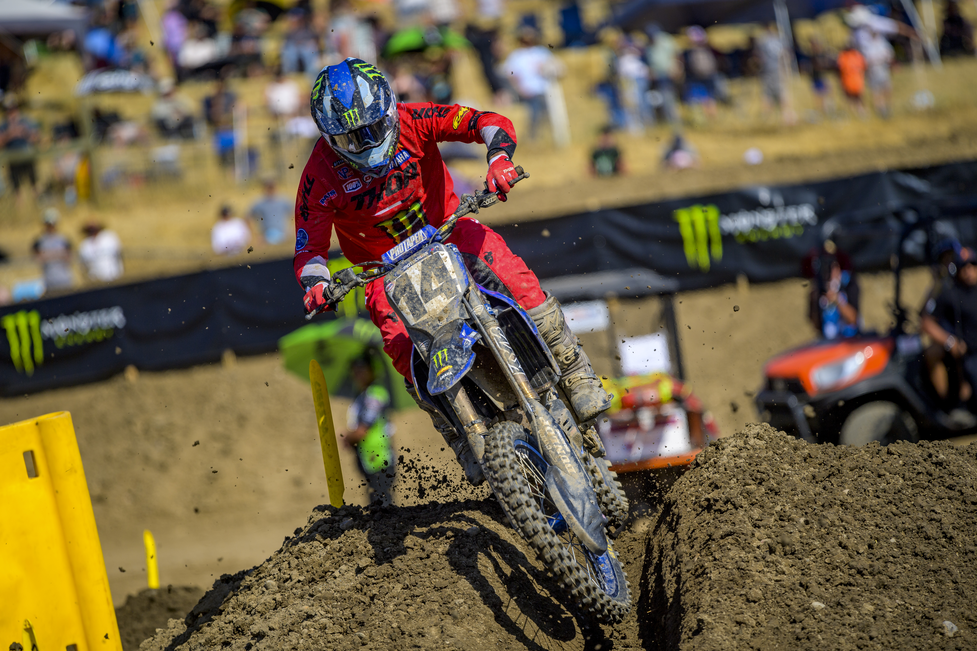 450
Moto 1
Monster Energy's Ferrandis pulled the holeshot and early lead in Moto 1, but was quickly passed by Jett Lawrence (Honda), with Cianciarulo out in a strong 4th place. Cianciarulo would drop a spot to 5th place by the end of the opening lap, with Ferrandis giving chase to Lawrence. With Lawrence up front, the massive Hangtown crowd would focus on the battle for 2nd between Ferrandis and KTM racer Aaron Plessinger. The Ohioan would dog Ferrandis for nearly the entire 30-minute (plus two lap) moto, running up onto the Frenchman's rear fender, showing him a front tire – but could not get past the former MX National champion. Ferrandis would bring his YZ450 home in 2nd place, just four seconds back of Lawrence. Cianciarulo would bring it home on the lead lap in 5th place.
Moto 2
Ferrandis pulled another great start in the second 450 moto, running to the holeshot chalk line on the inside – and avoiding a major pileup on the outside of the start that collected multiple bikes into Hangtown's hay bale-lined perimeter fencing. With Cianciarulo out in 5th place, Ferrandis found himself in 4th place behind Plessinger and his KTM teammate Cooper Webb. … As the laps clicked off, Ferrandis kept the lead bikes in view, holding strong onto 4th, when Plessinger blinked, going down in a turn and allowing Ferrandis to snatch 3rd place (on Lap 13 of 16). From there Ferrandis would ride smart, holding onto 3rd place, 12 seconds back of leader Lawrence and seven seconds back of Webb. Cianciarulo, who got by Plessinger as well, would finish just off the second 450 moto podium in 4th.
250
Moto 1
From the inside and on a rail, Deegan pulled the holeshot and led the field into the opening lap, with teammate Cooper on his tail and Monster Energy/Pro Circuit/Kawasaki's Jett Reynolds in 3rd. On Lap 7 (of 16) Farres rode a hard inside line, held it tight, and bumped his way past KTM's Tom Vialle for 5th place. With Deegan dominating up front at the midway point and Cooper holding onto 2nd place over the rest of the 250 field, Monster Energy racers in the top ten also included: Farres in 4th, Shimoda in 7th, DiFrancesco in 8th and Kitchen in 10th. … As Cooper held close to Deegan through most of the opening moto, the 17-year-old Deegan, starting just his fourth pro motocross race ever, dug deep with two laps remaining and slammed the door shut on his teammate, winning the opening moto by 2.118 seconds.
Moto 2
Cooper would turn the tables on his teammate (Deegan) in the second 250 moto, pulling the holeshot and leading the 40-man field through the opening lap. On Lap 3 Cooper would give up the lead to Honda's Hunter Lawrence on an uphill section, but remained in 2nd place. With Moto 1 winner Deegan scrambling back from a 7th place start in Moto 2, he buckled down and put chase on some of the world's top 250cc class racers, clawing his way through the pack and back up to 4th position by race's end. Cooper would remain in 2nd place in the last 12 (of 16) laps, easily holding on to the moto's runner-up position by 17 seconds over Vialle. Monster Energy's Chance Hymas (Honda) in 6th, Kitchen 7th, Farres 8th, Carson Mumford (Pro Circuit/Kawasaki) 9th and Shimoda 10th would round out the top ten places in Moto 2.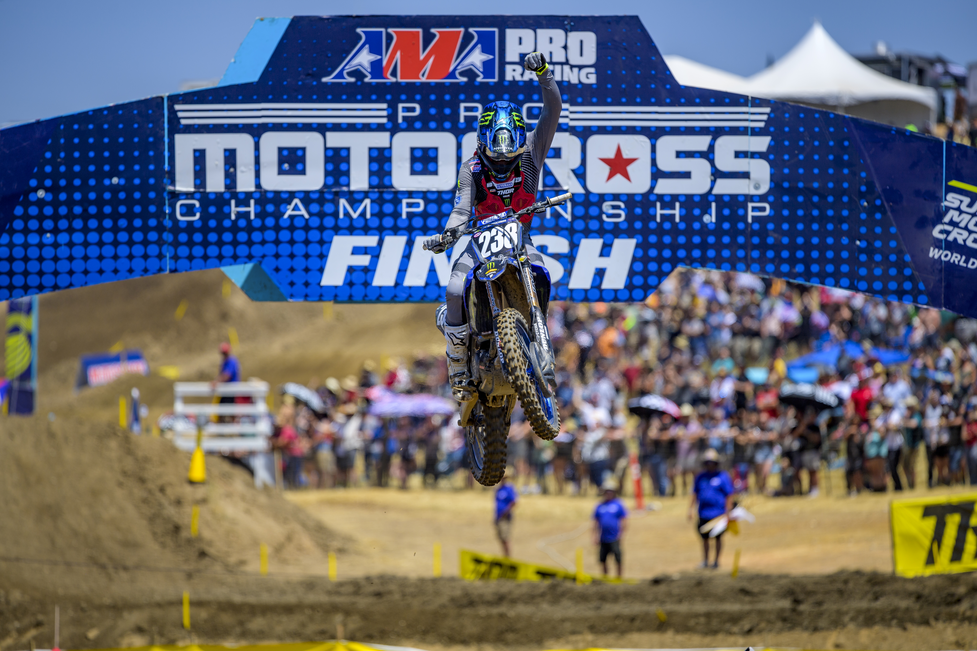 Notes & Quotes
"Bummed to make this post, but I'll be sitting out this weekend," said Sexton on Instagram regarding his Tuesday practice crash at Fox Raceway (Pala). "Nothing broken, just need a few days to get back to 100-percent." And beyond that, Sexton announced, via Honda press release, that he's also dealing with a bout of mononucleosis.
Heading into Hangtown Sexton had a 77-point lead over 3rd place Webb in the SuperMotocross World Championship standings following 18 of 31-rounds. That lead now stands at 38 points, 416-378, after Sexton's DNS at Hangtown.
Like Sexton, Ferrandis has dealt with a concussion this season that knocked him out (quite literally) of the Monster Energy AMA Supercross series (Houston round). "The first moto was very hard for me, physically," said Ferrandis. "I got arm pump, and when you get arm pump, your body gets tired."
"Haiden Deegan and Justin Cooper – they came out hot," NBC announcer James Stewart on the opening 250 moto at Hangtown.
"First moto I was able to get the holeshot, and that's the key to these races," said Deegan. "Getting the holeshot gave me the confidence to win that race. And I've got to keep building off that."
"It (the Hangtown track) wasn't dug deep enough, and we saw a lot higher speeds than previous years," said Cooper of the tricky Hangtown track setup. "It's kind of weird riding a track at higher speeds than the previous years that you were used to."
Moving on up… with his 2nd place performance on the 250s at Hangtown, Cooper seat bounced from 5th to 3rd place in the overall standings after two rounds (behind Deegan, 2nd, and Hunter Lawrence, 1st).
"I wanted to be on the top of the step. I feel like I get close to the top step, but I never get it done. That's building up the frustration – the fire," said Cooper.
Deegan's holeshot in the opening 250 moto was the first outdoor holeshot of his career.