/ /

Motor

All NEWS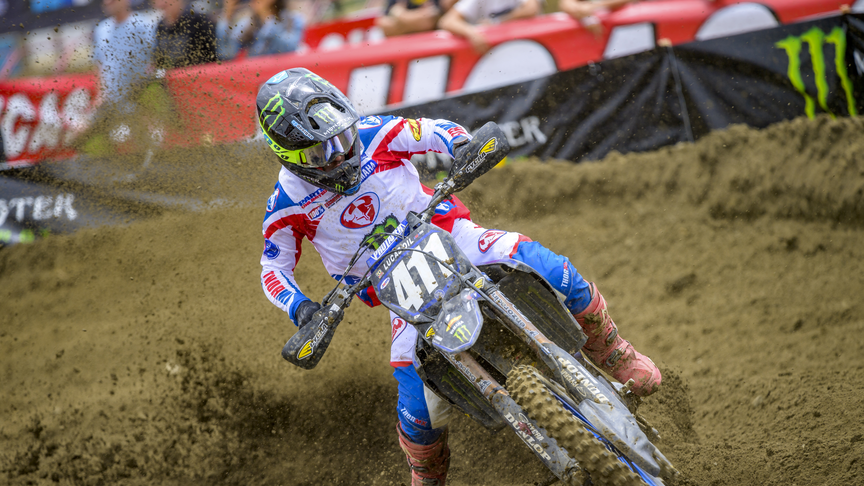 From the Start Gate: Rookie Pro Nick Romano
Soon after the gate dropped on the second 250 moto at last weekend's Lucas Oil AMA Pro Motocross Championship opening round at Fox Raceway in Pala, California, fans were tripping trying to figure out who number 411 and how the hell is he leading this race?
Number 411 is Nick Romano, one of Monster Energy/Star Racing/Yamaha's newest 250 class racers. The casual race fan is wondering where he even came from. But to the MX industry, he's known as one who sure put in the work and paid his dues.
Romano's race start and lap of fame could be the subject of a Disney movie. A kid from New York (literally Long Island), out in California for his very first pro race, does descent in timed qualifying (17th out of 40), then finishes his very first pro motocross moto in a so-so 16th place. Comes back in, talks to his mechanic and trainer, makes a key adjustment to his factory YZ250F (which we'll discuss later), then goes out and knocks the entire motocross community off its axis when he holeshots and leads the first lap of Moto 2.
Unbelievable! That is until you get to know a bit more here about Romano. And it's then that you'll see the road he and his dad, "Big Nick," took to get him to where he is today – a 17-year-old Monster Energy-backed Yamaha factory pro motocross racer who's lightning quick and deserving of that improbable holeshot and race lead against most of the world's best 250 MX pilots.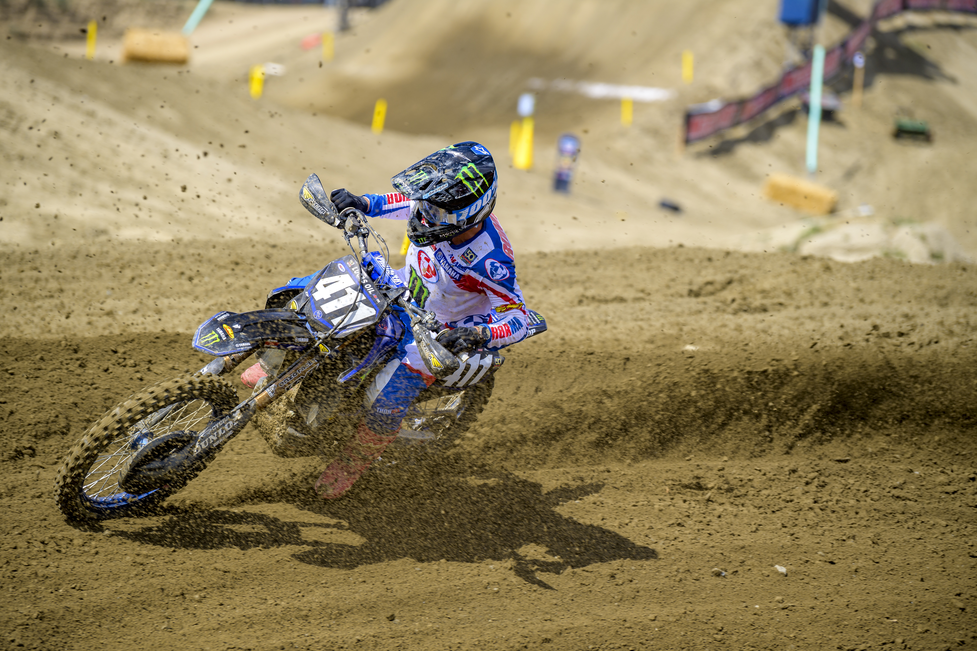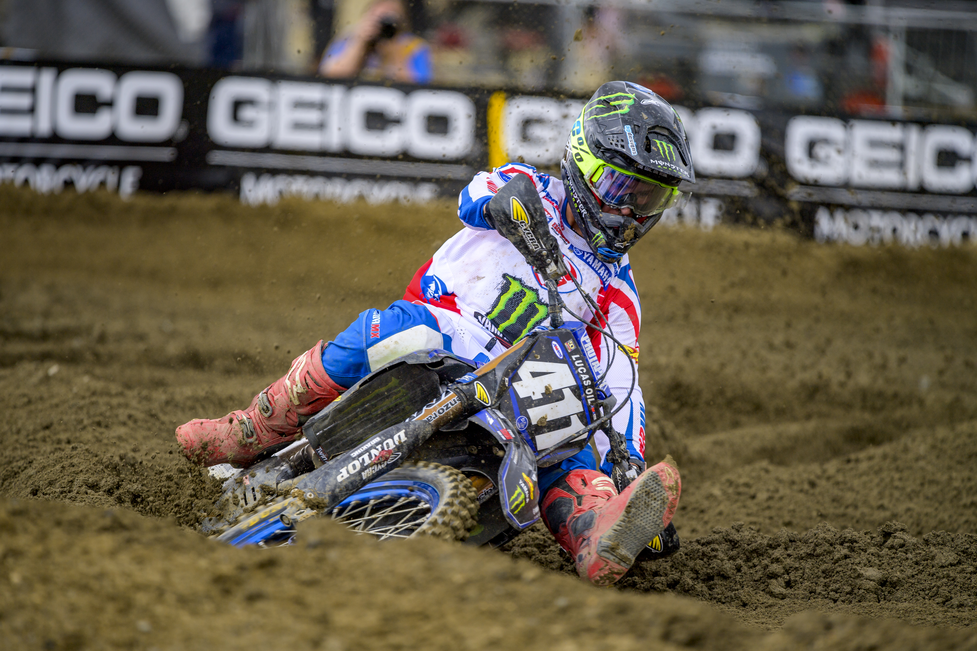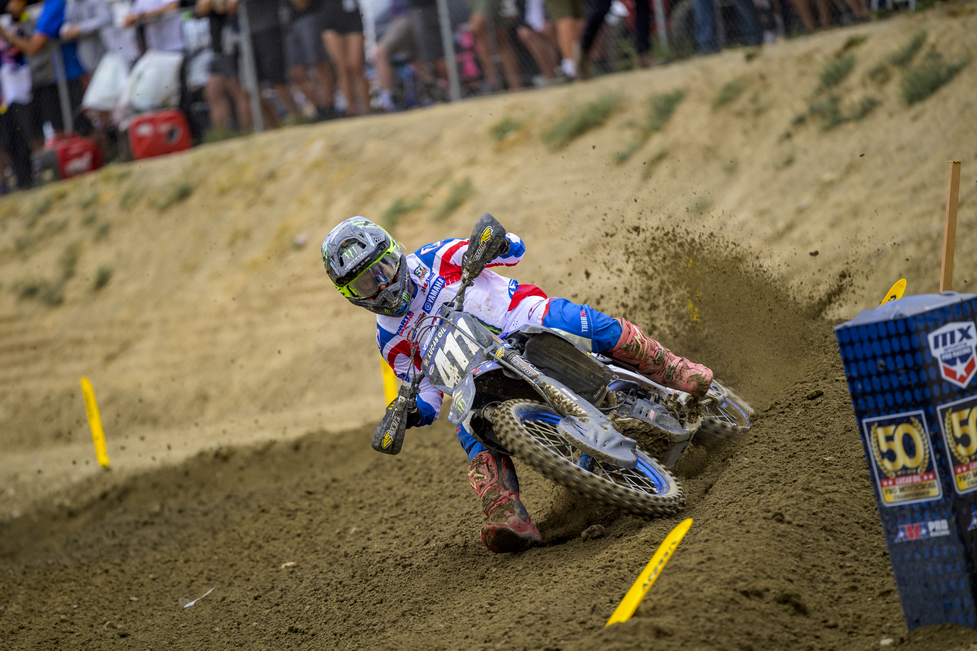 Who is Nick Romano
So Nick, get us up to speed on your Motocross background.
Romano: Yeah, so I started out on a Yamaha PW50 when I was like four. My dad used to mess around on dirt bikes on the weekends with his buddies. But he was probably around a "C" class racer, and never took it too seriously.
What was your local track growing up in New York?
Romano: We'd practice and race at 10th Street Motocross on Long Island.
At what point did Motocross get real for you and your dad?
Romano: I think my dad was all in from the start. He kind of left it up to me that this is what I wanted to do. So probably around 12-13, I started to realize that this was going to be my life.
Did you mess around with any other sports when you were growing up?
Romano: Strictly motocross. I tried basketball, but that lasted only one game. I pretty much sucked, to be honest.
You've racked up titles from Hurricane Mills, Tennessee, all the way down to Gainesville, Florida such as Monster Energy AMA Amateur National Championships at Loretta Lynn's Ranch in Tennessee, and Mini O's in Florida. Definitely one of the more successful amateur careers in the starting gate at Pala.
Romano: Yeah, so I won four titles at Loretta's. 50cc 7-8, two 85 titles (2019 Mini Sr. 1 and Mini Sr. 2), and one Schoolboy 2 title. Then a bunch more at Mini Os, the last one in 2021 I ended up going 5-for-5 in motos and won the AMA's Amateur Rider of the Year, so that was pretty cool.
Throughout your amateur career, you've run the #411. Is there any significance to that?
Romano: In my first-ever race, my dad and his buddy, Paul Kantanas, picked it out. It's (411) a phrase meaning you've got the inside information on something, or "the skinny" that he always used. My dad's number was 309, but that's my birthday, so we didn't want to use that. So it was 411, and I've kept it ever since.
BIG move to jump to the pro ranks. Think the announcement caught the industry off guard a bit. Talk to us about your decision to go pro.
Romano: So 2021 ended up being a big year, ending with the Mini Os and winning every title in the A-class. It was that week (November, '21) that led me into 'OK, let's get on a pro bike.' (Note: Nick had support from Star Racing/Yamaha's amateur program at the time.) A few months later I'm practicing on the pro-bike and they (Star Racing) hinted that 'You might have a ride.' So I kept working hard and made the decision a few months before the outdoor season started. Kept it quiet, just putting in the work. Didn't want to spoil anything, you know. And the team (Monster Energy/Star Racing/Yamaha) announced it the week leading into Pala.
So now you're factory. Every kid's dream that's ever raced a dirt bike. What were some of the first things that struck you when you arrived at your first pro race?
Nick Romano: I think the fact that racing one guy that's as fast as you, maybe two guys at your speed, now turned to a gate of 39 other guys that are fast… and some faster than you. On Saturday morning you've got past champions, race winners, and guys a lot older than you. You're racing some badass guys now. So that's what really stuck out. Other than that, the time difference (meaning lack of) between Moto 1 and Moto 2 was a big deal. That and how hot it is, how rough the track gets. So yeah, all of the above.
Tell us a bit about the Monster Energy/Star Racing/Yamaha team. Your mechanic. The suspension guys. Kind of a behind-the-scenes look from a rookie's perspective.
Romano: Yeah, I've got a great mechanic. Hunter Layton. But all the support, I was a little more used to it from racing with Star Racing as an amateur. And all the practice, I'd been on that as well. Beyond that, when they ask you something, like with input on the bike, you've got to be straight up with an answer and the feedback. There's no 'Uh, I dunno' at this level.
Romano's Pro Debut
What was going through your mind on the ride into Fox Raceway on Saturday morning?
Romano: I rode in with my teammate, Justin Cooper. I'd been staying with him (in California). We all woke up super early, and it was like a 45-min drive. I had my coffee and was just pretty much thinking about what I needed to focus on. 'How the gate's going to be full of pros?' 'Were the fans going to be crazy?' I wasn't too nervous, really. Got there and my family was there. They're in from New York and I live in Florida. So it was just a good vibe all the way around on race morning.
Were you able to share your thoughts with anybody, namely your dad?
Romano: I mean, your first pro motocross race was definitely a very special day. That and it's the season opener of the 50th anniversary of pro motocross racing here in the States. So it was special to have my dad there. He just kind of let me be me, I gave him a big hug, and it was game time from there. Not much more you can say. My dad was a big part of my career, and I was thankful that he was able to be there.
So you're out in 250 Group A for timed qualifying. What was practice and qualifying like, surrounded by a field of most of the world's best 250 racers?
Romano: For the first qualifying session, I just focused on myself, and tried to get the best lap time I could get. And it was definitely cool with all those guys around me. I wouldn't say I was scared or anything like that. I've been around pros and champions at Star Yamaha getting ready for this. But it's definitely cool seeing all these pros I'd followed for the last 2-3 years.
You qualified in 17th place out of Group A in the 2:17s, right there with Pierce Brown and Stilez Robertson – guys you're certainly familiar with from your amateur days. Did this give you some confidence heading into the opening moto?
Romano: Yeah, those guys are three years older than me, but being close to those guys on the clock I was thinking 'OK, I'm right there with Pierce, and I'm with Styles. Qualifying 17th isn't always ideal, and I didn't know what to expect. But it was cool when I saw how close the gap was from top ten to 17th.
Moto 1 you pull a decent start and come around the opening lap in 12th. Tell us about your first pro moto race.
Romano: It was alright. I didn't get the best start that I wanted to. Think my front wheel hit the gate. Came around 28th to 30th at the first turn, and worked my way up to 12th on that first lap. Then saw that there was so many fast guys, at the same speed, and realized right there that there's no blowing by guys at this level. I wasn't gelling with my bike as well as I wanted to. Fun, but good to get it out of the way.
So, what was going through your mind after Moto 1?
Romano: Really, just was thinking about getting a better start. Try to get up front with those faster guys. Really didn't think of it too much, needed to get my bike set up a bit better, which I did.
Horn goes off to get to the starting gate for 250 Moto 2. As you make your way to the gate, what are you thinking about? What are you discussing with Hunter Layton?
Romano: We roll up to the gate… didn't have the best gate pick, and didn't have much time to pick. I watched and ended up seeing gate 4 open up to the side. Ended up next to my teammate, Levi Kitchen. Watched the last two laps of the 450s sitting on my bike, hydrating and keeping focused.
You're in the gate. 30-second board goes up. What's your thoughts now?
Romano: I'm just thinking about that gate drop, really. I have the time on my watch, lock in at 25, card goes sideways, click my bike into gear. Gate dropped, and I knew right away I had a good start. Came up to the first turn out front and it was a riot from there. An awesome feeling for sure.
You pull the best start of the day. Holeshot and lead in only your second pro moto. Can you believe where you're at?
Romano: Honestly? Not really. Out of that first turn in 1st, right when I crossed that white line for the holeshot I was like 'Alright, here we go!' Honestly, from there I was so focused on myself, just trying to not make mistakes. Ended up making one and that's when Jett passed me. But yeah, pulling the holeshot and lead was actually pretty awesome.
You tow Jett Lawrence through the opening lap. Was the crowd going nuts? How cool was that?
Romano: For the most part, I'm just listening to my bike. But definitely heard a few air horns. Yeah, mainly just focused on my bike.
Jett gets past you, as he did with every other racer in the 250 field at Pala. But you don't fade, holding on to 2nd place – ahead of Michael Mosiman (Gas Gas) and Seth Hammaker (Monster Energy/Pro Circuit/Kawasaki) for the next two laps. At this point were you thinking to yourself that you belong here?
Romano: I think it was more like 'I can do this!' I've got one of the best bikes out here. Tucked in behind Jett and saw how long I could keep the pace. Held off Mosiman and Seth longer than I thought I could. Cool experience for sure. Learned a lot.
So you go 18-12 for 15th in your very first pro motocross race. What are you going to remember the most about that day in the dirt at Pala?
Romano: Definitely the holeshot and those few laps that I led. But honestly, everything. The fans, having my family there, the track. I'll never forget my first pro race. It was so awesome.