/ /

Motor

All NEWS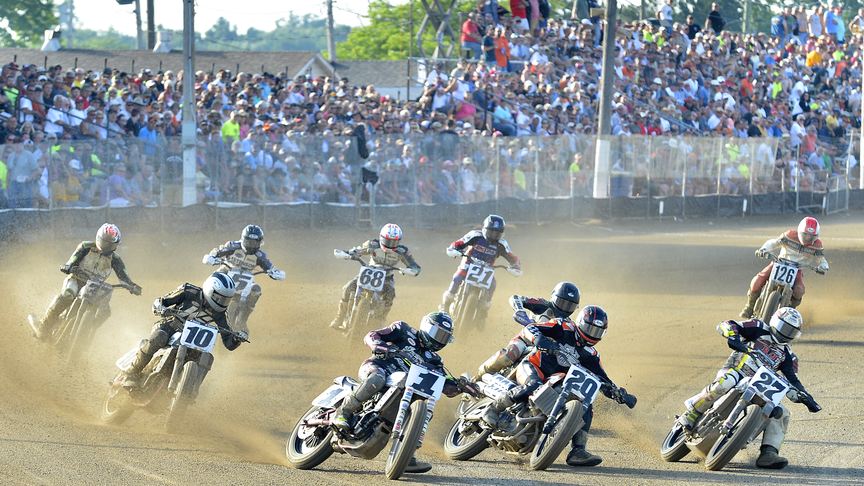 Home Sweet Home for Jared Mees
The 10th round of the season was a moment of redemption for Mees as he prevailed for his eighth official win of the season and erased the demons that haunted him one year prior.
Things have been going pretty great for Monster Energy rider Jared Mees. The reigning American Flat Track Champion enjoyed a near-flawless 2017 season en route to the title, and somehow he's managed to amass an even better title defense thus far in 2018. If there was one blip on the Indian Motorcycle Racing rider's radar during this stretch, it has undoubtedly been the Lima Half-Mile. Fortunately for Mees, the 10th round of the season was a moment of redemption as he prevailed for his eighth official win of the season and erased the demons that haunted him one year prior.
The technical track on the Allen County Fairgrounds is near and dear to Mees, as it not only sits just a 3-hour drive from his home in Clio, Michigan but is also the event that he and his wife, Nicole, promote themselves. Fittingly enough, Indian Motorcycle serves as the title sponsor of the event, which adds even more pressure to an event that already has Mees on edge. Case in point, last season in Lima Mees failed to even qualify for the AFT Twins Main Event after he accumulated numerous penalties for jumping the start of his semi multiple times. That memory has simmered in Mees' mind for a full year, and he was determined to make things right this time around. There was absolutely nothing that was going to stop Mees from fulfilling his destiny at his home race.
Mees Love Winning at Lima-Half Mile
The pea-gravel surface makes the Lima Half-Mile particularly tricky, which Mees adores. He knows it is a racer's track, where maintaining control of the bike through corners littered with ruts and bumps is the key to success. After a much smoother path to the Main Event this time around, Mees got a stellar jump off the start and left the field behind to start the 25-lap race. He continued to build a lead until just before halfway when Jeffrey Carver Jr. whittled away the deficit to just under a second. Like the champion he is, Mees withstood the challenge, navigated through traffic with ease, and ultimately pulled back out to a multi-second advantage.
Mees led every lap of the Main Event and cruised to yet another checkered flag, crossing the line 2.7 seconds ahead of Carver.
"Winning the Lima Half-Mile…this is the baddest race to win. This track is so demanding, and tonight it was really demanding. You just had no time to get off the throttle, and it got really physical with some ruts and bumps. I love winning at this racetrack – it's awesome."
Mees' Indian Motorcycle Racing teammate and fellow Monster Energy rider Brad Baker followed in fifth, rebounding from a bad start.
The dominance in Ohio is just the latest instance of what has been a dream season for Mees. A tire controversy early in the championship not only took away a victory at Dixie Speedway in Georgia, but it also threatened to leave a black cloud over the team due to the questionable tactics. Rather than get mired in the potential drama, Mees and his team responded by winning the next four races, all in a pretty convincing fashion. Now the early season penalty is nothing but a distant memory, and Mees' focus has now shifted to the very real potential of winning 16 of 18 races this season, which would of course result in yet another American Flat Track title.
Mees enjoys a commanding 67-point lead over Henry Wiles in the AFT Twins standings with eight rounds remaining. Baker sits third, 23 points out of second.
AFT Twins Results
1. Jared Mees, Indian Motorcycle Racing
2. Jeffrey Carver Jr., Indian
3. Henry Wiles, Indian
4. Briar Bauman, Indian
5. Brad Baker, Indian Motorcycle Racing
AFT Twins Standings
1. Jared Mees, Indian Motorcycle Racing – 220
2. Henry Wiles, Indian – 153
3. Brad Baker, Indian Motorcycle Racing – 130
4. Jeffrey Carver Jr., Indian – 120
5. Kenny Coolbeth Jr., Indian – 105