/ /

Motor

All NEWS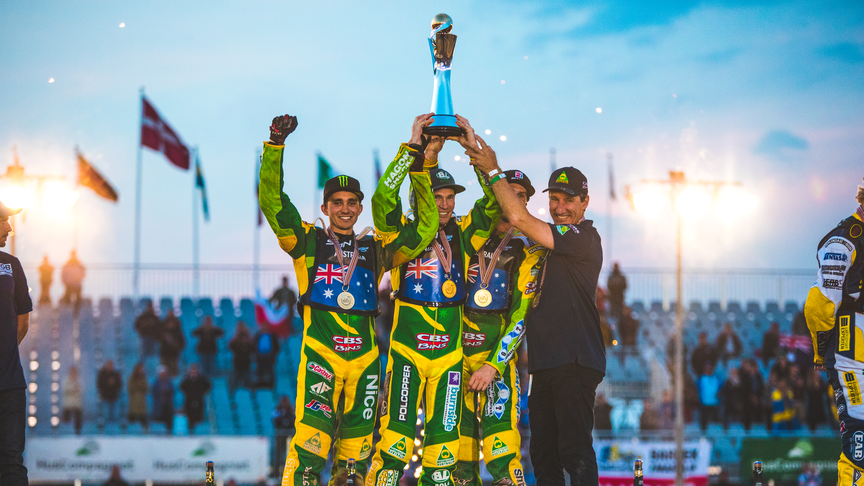 JACK HOLDER: AUSTRALIA'S NEW HERO
When Jack Holder stood atop the Speedway of Nations podium last weekend, he looked like a man struggling to come to terms with the reality he was in.
When Jack Holder stood atop the Speedway of Nations podium last weekend, he looked like a man struggling to come to terms with the reality he was in.
His eyes wide open, his smile fixed, his words struggling to surface, the 26-year-old younger brother of 2012 world champion Chris had led Australia to international glory for the first time in over two decades.
Alongside Max Fricke and Jason Doyle, Holder pulled off a shock win in Denmark by defeating reigning champions Great Britain in the final race, with our man leading the way by top-scoring and taking the chequered flag in that deciding four laps.
We caught up with him a couple of days later to find out if it's sunk in yet…
Jack firstly, congratulations! How does it feel to be a world champion with Team Australia?
"It's pretty amazing to be honest, and I wouldn't say it's really sunk in yet. It was a team effort from all of us, we all stuck together for it.
"On the Wednesday (the semi-final) we had a plan that all three of us would get some races in to make sure we were all dialled in to the track and had our set-ups, so that if we had to use someone later in the meeting it wasn't their first go. Obviously it went well for us and on Saturday it was me and Max starting.
"We just went from there really, we had a good partnership, we seemed to go pretty good together and in the end we got the job done. It's just an awesome feeling, to win it for Australia is surreal and I'm just happy I could play my part.
"I missed out on being in the team the last couple of years so I wanted to prove that I deserved to be there, I was pretty nervous but I just wanted to show I could do it. You couldn't script it really, we gelled so well as a team and it was cool to hang out with some fellow Aussie mates. We don't get to do it much during the season as we're all racing against each other so to get together for a week and bring home the gold was pretty cool."
What was going through your head as you lined up at the tapes for the final race?
"I was just thinking that all we needed was to get second and third, I didn't need to go and win it. We had the race before off the same gates and that went okay so me and Max just knew that we had to look out for each other and avoid getting last place.
"I got out on the track as quick as I could so I could pack the rut in off gate four and then I just wanted to get out and get round everyone and look for Max. I popped out the start pretty good and saw Max was with me and I just kept checking where he was!
"I kept watching the big screen to see what was happening behind me and I could see Dan Bewley was sending it but I knew that even if he got both of us we'd be alright because Lambert was at the back.
"The last lap I was just yelling underneath my helmet the whole time! I was so relieved to cross the line and see Max there too. Just an awesome feeling."
Are you hoping your performance in the Speedway of Nations can give you confidence for the second half of the Speedway Grand Prix series?
"I hope so yeah! I didn't do anything different at all last week to what I normally do. I prepared the same, raced the same bikes, against the same guys, and look how good I went. I don't know why it all came together so well but I hope now that I can replicate that form in the GP's and start climbing up the standings.
"It's not easy, you are racing against three world class riders every race but I've shown I can do it so now I just need to put it all together."
The next Grand Prix is arguably the most iconic on the calendar, the British GP at Cardiff's Principality Stadium. How excited are you to race there?
"Ah man I can't wait. I'm going to wrap myself up in bubble wrap these next couple of weeks! I have been there loads of times to watch Chris but to be there as part of the line-up, it's pretty special.
"My mum and dad are coming over from Aussie for it so there's a bit of extra pressure there but I'm just going to try and enjoy it. It's a bucket list thing really isn't it? For a speedway rider you want to say you've done Cardiff, not many riders in the world can say they've raced this event and I'm just so excited for it. Hopefully I can have a good one and make it even better."