/ /

Motor

All NEWS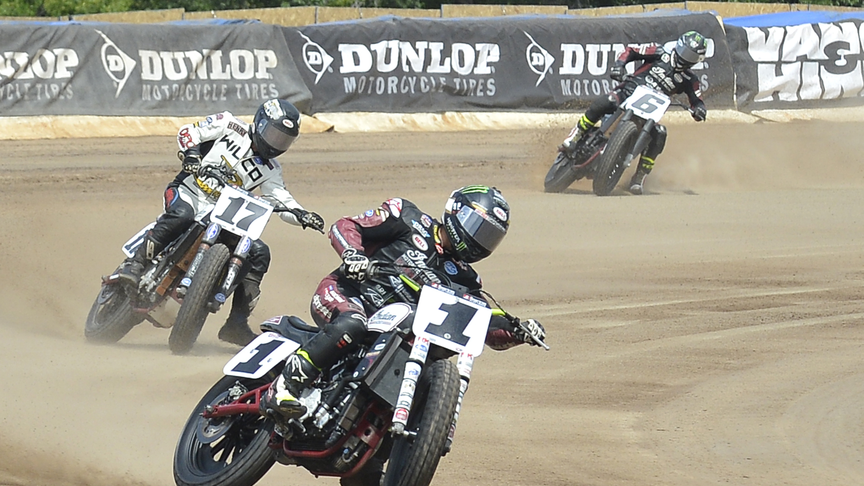 To say Monster Energy's Jared Mees has dominated the 2018 American Flat Track season would be a severe understatement. The Indian Motorcycle Racing rider has won all but one race and has even weathered the complete disqualification from an event to remain the most dominant force in flat track racing. This past weekend the championship reached its halfway point at Oklahoma City's mile-long Remington Park, and for anyone hoping for a change of scenery in the AFT Twins division, that wait is going to continue for quite a while based on the way Mees laid waste to the field.
One might think that after enduring through a suspected cheating scandal and subsequent 12-month probation that a rider might be a little more tentative in his approach, but not Mees. If anything, the controversy has fueled Mees' desire to leave absolutely no doubt that the incident in Atlanta was a total fluke, and in return, he has made an assertive statement to the entire flat track community. Nothing is going to stand in Mees' way of capturing as many checkered flags as he can and defending the No. 1 that adorns his Scout FTR750.
Is It Possible To Beat Jared Mees?
Mees has been beaten straight-up just once this season, and that defeat came at the championship's crown jewel event at the Springfield Mile. The bitter taste of that loss vaulted him to a convincing win at the following round, where a red flag was the only thing that prevented a Mees runaway and carried Mees to arguably his most dominant outing to date at the OKC Mile.
As with any form of motorcycle racing, starts are the most crucial aspect to achieving success and Mees was on point off the line in the Twins Final. By the end of the opening lap, he had already put his Indian three-quarters of a second out front, and things only got worse for Mees' rivals from there. The reigning champ added to his advantage each and every lap, and he was the only rider on the track able to dip into the 40-second bracket in lap times, doing so consistently. By the time the 25-lap final came to an end when Mees backed off the pace and went into cruise mode, he still took the checkered flag nearly 13 seconds ahead of runner-up finisher Henry Wiles.
The race itself was indicative of what the entire 2018 season has felt like for the AFT Twins field; at an utter loss towards finding an answer to Mees' speed. It's only going to get worse given that Mees and his Indian Motorcycle Racing team continue to learn more and get better.
"None of these races are easy, but I got a good start compared to last year and was just able to run my own race and not get caught up in the spray. I had some really good lines, I guess. I looked back a couple times just to see if somebody was catching me or if other lines were starting to work, but the motorcycle worked so phenomenally tonight. Big hats off to my guys for having the bike totally dialed in, allowing me to check out like that… I get along so well with this motorcycle, and my team gets better and better with it each weekend. Believe it or not, we come back with what we learn and get better each weekend."
Mees was asked straight up if he can be beaten at this point. His response was humble, yet confident.
"I don't know. Don't get me wrong – these guys are strong. These guys are talented riders. I've got to come to beat them every weekend just like they try to beat me. I can be beat, but I'm just gelling with what I've got going, honestly."
With nine events still remaining on the calendar it will be interesting to see how much higher Mees can go. His fellow competitors are surely looking forward to the next stretch that will bring the speeds back down with a half-mile, short track, and TT, where there could be a sliver of hope to end Mees' reign.
AFT Twins Results
1. Jared Mees, Indian Motorcycle Racing
2. Henry Wiles, Indian
3. Bryan Smith, Indian
4. Brad Baker, Indian Motorcycle Racing
5. Robert Pearson, Indian
AFT Twins Standings
1. Jared Mees, Indian Motorcycle Racing – 197
2. Henry Wiles, Kawasaki – 136
3. Brad Baker, Indian Motorcycle Racing – 116
4. Kenny Coolbeth Jr., Indian – 105
5. Jeffrey Carver Jr., Harley-Davidson – 100