All NEWS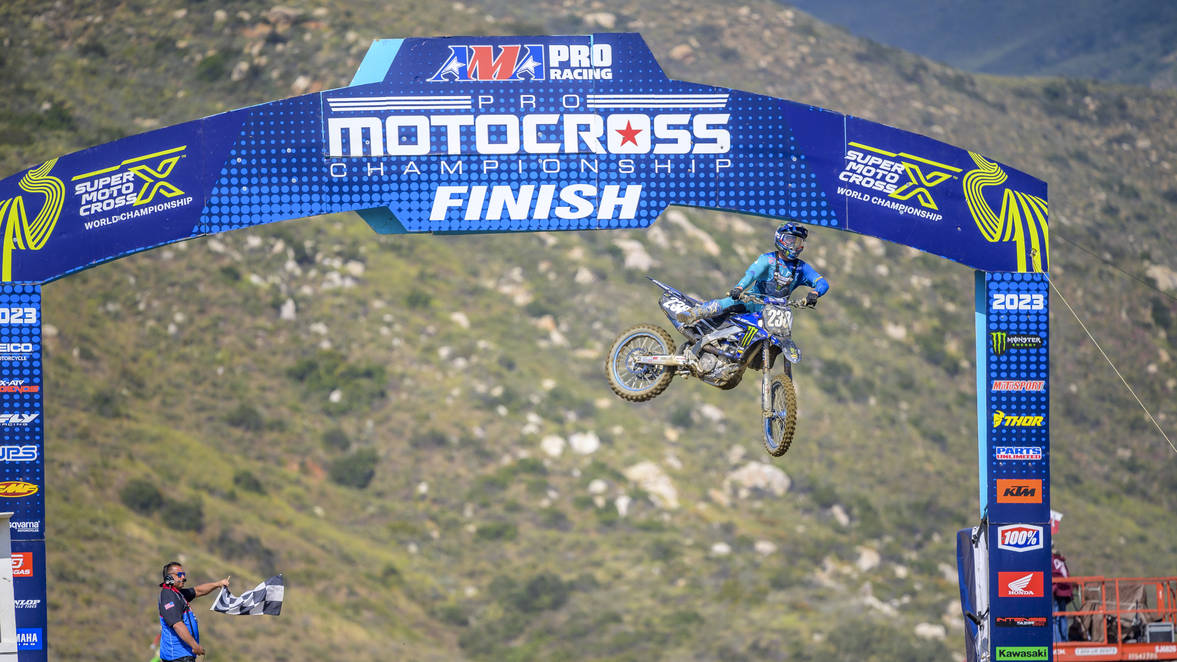 Monster Dominates the Podium at the '23 Moto Season Opener at Pala
Chase Sexton, Dylan Ferrandis, and Haiden Deegan all score finishes.
Northern San Diego County's Fox Raceway, on the grounds of the Pala Band of Mission Indians reservation, played host to the opening round of the 2023 AMA Pro Motocross Championship, presented by Monster Energy, on Saturday, with Monster Energy-backed racers Chase Sexton (Honda), Dylan Ferrandis (Star Racing/Yamaha) and Haiden Deegan (Star Racing/Yamaha) all scoring podium finishes.
The recently crowned Monster Energy AMA Supercross champion Sexton, who placed 2nd in the opening 450 moto to teammate and overall race winner Jett Lawrence, was the victim of a morning practice session crash, followed by some suspension questions that kept him well back of Honda teammate in the opening moto. But once Sexton shook off the effects of the crash, gained his confidence back – with a full shock change on his bike completed – the second moto foreshadowed what's to come for motocross fans around the world as he and Lawrence raced to a tight finish at the checkers.
Said Sexton: "We're off to a solid start, better than I thought after that first moto. The first moto was not good. We actually did a full shock change after the first moto for the second moto, and it was quite a bit better. And if we can keep making these improvements, we should be in a good spot."
Sexton would go 2-2 on the day, with Ferrandis right behind for third place with a 3-3 run, dealing with some early bike setup issues himself. Monster Energy/Kawasaki's Adam Cianciarulo would place a respectable 6th overall in the 450 class (6-7).
"I'm surprised to be up here," admitted Ferrandis. "The last few weeks we were struggling a little bit with the bike. The new 2023 chassis was way better in supercross – more difficult in motocross… at least for me. My frustration was terrible in practice, but we just improved session after session. So I'm happy and thankful for the way our team worked this out."
In the wild 250 motos it'd be Deegan leading the way for Monster Energy with a 6-2 two moto finish, recovering from an opening moto crash to fight back for 6th, and hustling all second moto for a strong 2nd place finish to take 2nd overall. Said Deegan: "This is my third National. There's no pressure since it's my first full outdoor season."
Rounding out the top ten in 250 class scoring at Pala for Monster Energy were Justin Cooper (Star Racing/Yamaha) in 5th, Jo Shimoda (Pro Circuit/Kawasaki) in 7th, Guillem Farres (Star Racing/Yamaha) in 8th, Levi Kitchen (Star Racing/Yamaha) in 9th and Carson Mumford (Pro Circuit/Kawasaki) in 10th.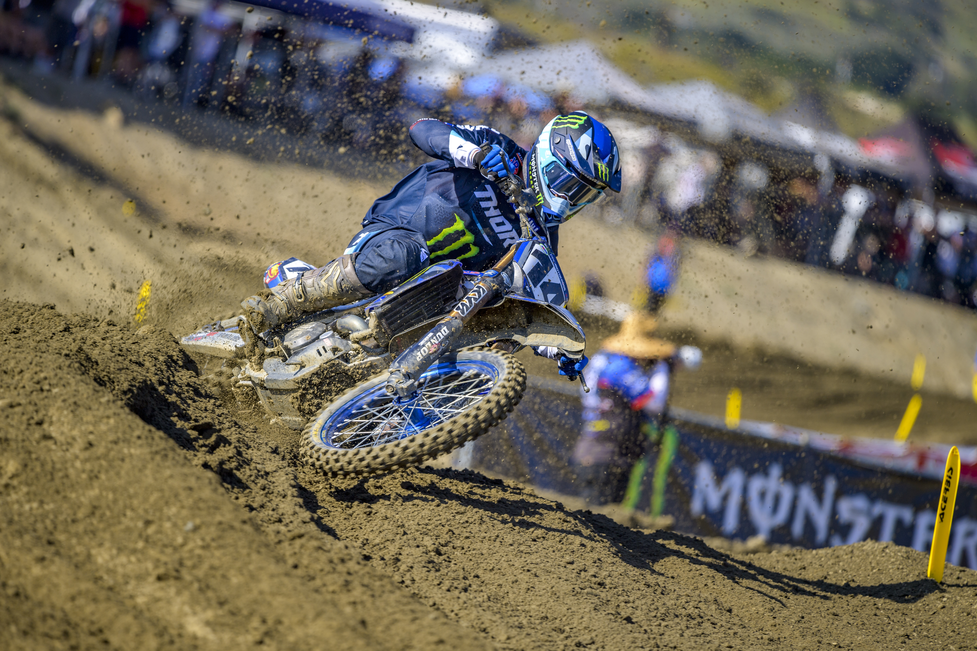 Pala MX
450 class results 250 class results
2nd - Sexton (Monster/Honda) 2nd - Deegan (Monster/Star/Yamaha)
3rd - Ferrandis (Monster/Star/Yamaha) 5th - Cooper (Monster/Star/Yamaha)
6th - Cianciarulo (Monster/Kawasaki) 7th - Shimoda (Monster/PC/Kawasaki)
Overall Standings (1 of 11 rounds)
450 class 250 class results
2nd - Sexton, 44 points 2nd - Deegan, 44 points
3rd - Ferrandis, 40 points 5th - Cooper, 34 points
6th ­- Cianciarulo, 29 points 7th - Shimoda, 33 points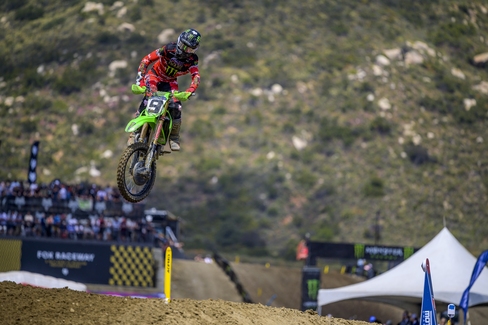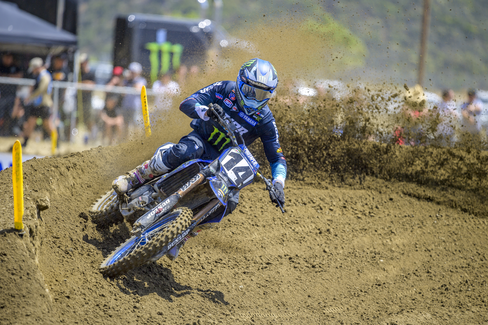 450
Moto 1
Ferrandis, who qualified in 5th (2:24.190 combined time), launched his YZ450 into 2nd place off the short start, with No.2 qualifier Sexton (2:23.053) pulling in right behind Ferrandis (and race leader Jett Lawrence) in 3rd place. Cianciarulo would make it up to 6th place later on Lap 1. As both Sexton (early practice crash, shock issues) and Ferrandis (chassis setup) dealt with gremlins, Lawrence took off. From there all three Monster Energy-backed 450 racers in the moto seemingly ran well, with few mistakes, as Sexton (2nd) and Ferrandis (3rd) took two of the podium spots, and Cianciarulo holding on strong for 6th.
Moto 2
Carbon copy of the opening 450 moto start at Pala with Ferrandis busting out in 2nd place, and Sexton close behind in 3rd. Cianciarulo would also start well inside the top ten (7th), but went down and came around in 23rd place at the end of the first lap. Sexton would get by Ferrandis on the opening lap, setting sail for race leader Lawrence. … In his pursuit of Lawrence, Sexton would actually record a faster lap time in Moto 2 than Lawrence (2:26.014 to 2:26.295), and closed the gap on Lawrence's lead to a fraction of what it was in the opening moto. No change in the final Moto 2 results as Sexton and Ferrandis mirrored their Moto 1 finish, going 2nd and 3rd, respectively. And battling tough the entire second moto, Cianciarulo would remain on the lead lap, placing a respectable 7th in the end.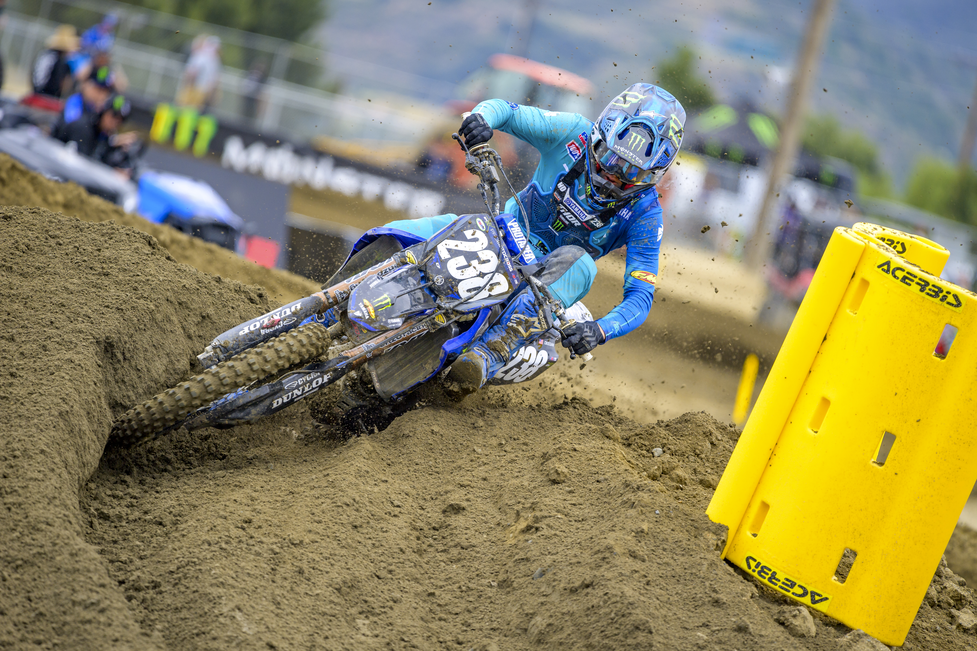 250
Moto 1
Shimoda would pull the top start for Monster Energy in the season's opening 250 moto, piloting his KX250 out to 2nd place off the start – then into the race led by the end of Lap 1. Shimoda's Monster Energy/Pro Circuit/Kawasaki teammate, Ryder DiFrancesco, would also start well, but lost a couple spots and pulled around in 6th place at the end of the opening lap. Both Cooper and Deegan would start in the top ten, coming around in 8th and 9th, respectively, on Lap 1. Around the 25-minute mark, Deegan would blink first, slightly tapping the foot of Jett Reynolds (Monster Energy/Pro Circuit/Kawasaki) and going down. Deegan was able to remount and come around in 15th place following Lap 2. … On Lap 3 Husqvarna's RJ Hampshire would snag the race lead from Shimoda, with Shimoda going down in a fast portion of the track on Lap 5 – dropping him back to 5th place. With two laps remaining, Shimoda had worked his way back up into the top four, and was in position for a podium spot, but would have to settle on 4th place. Cooper was right behind in 5th, as Deegan salvaged 6th place – which would bode well for his overall podium finish.
Moto 2
Reynolds grabbed the early, albeit brief, lead down the short start chute, with Hunter Lawrence (Honda) collecting the holeshot and early race lead. DiFrancesco would come around the first corner in 4th place, with Deegan in 5th. At the close of the opening lap, Deegan had ripped up to 3rd place, with DiFrancesco holding on to 6th and Cooper in 9th. On Lap 9 (of 15) Deegan would blast past former World Champion Tom Vialle (KTM) and into 2nd place. Cooper would continue to ride strong all moto, making it all the way up to 4th place, with Farres scoring a career-best 5th, Shimoda in 6th, Kitchen in 7th and Mumford in 8th – giving Monster Energy six of the top eight spots to close the day in 250 racing at Pala's Fox Raceway.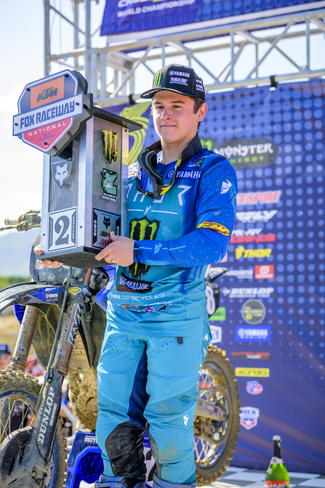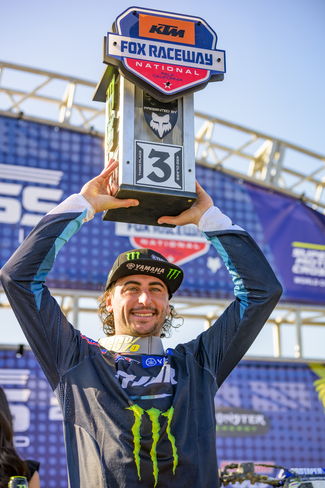 Notes & Quotes
"That was a grown man pass," said NBC announcer James Stewart on Deegan's second 250 moto pass on former World Champion Tom Vialle (KTM).
Sexton on his morning practice session crash: "I haven't really crashed that hard in a long time. It'll get you rattled a little bit, but I was able to bounce back and have a descent, solid day."
"Coming back from injury is never easy," said Ferrandis, who was injured in supercross at Anaheim II and missed the remainder of the supercross season. "But you have to do it and it's what I did."
Said Deegan on the key to his podium finish, his first career outdoor podium: "My big thing is to have the fitness. Been working really hard at that."
Remember that points are doubled in the AMA Pro Motocross Championship regarding the year ending SuperMotocross season points (two motos vs one main event in supercross). So there's a total of 50 points to be had if a racer sweeps both motos, vs just 25 for a SX win.
Heading into Pala, Sexton led the SuperMotocross No. 1 seed chase over Cooper Webb (KTM) by 68 points, and increased that lead to 78 points with his 2nd place run at Pala (Webb was 5th).
Justin Cooper got off to an excellent start in the 250 timed qualifying session at Pala's Fox Raceway, setting the fastest time in the opening practice session, and winning the overall fastest qualifying time (and the top gate pick) by nearly a second over Max Vohland (2:21.308 to 2:22.200).