All NEWS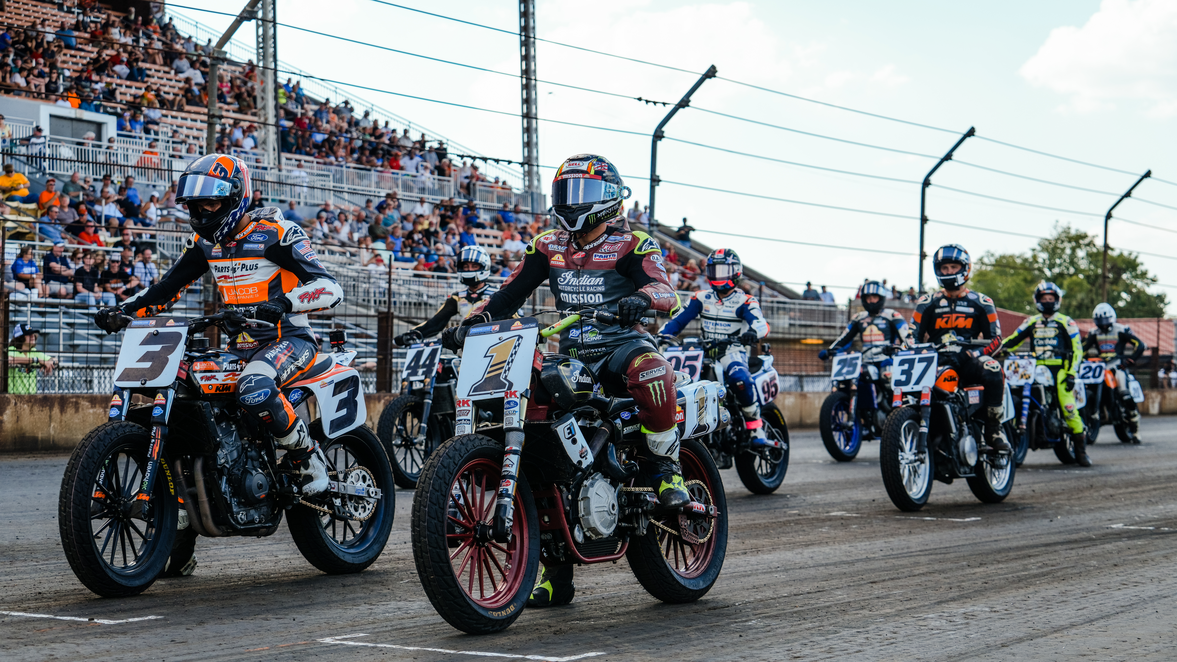 Monster Energy Interview: 2023 American Flat Track Champion Jared Mees
Newly crowned premier Mission SuperTwins class Grand National Champion, Jared Mees won his 9th championship.
If the late, great Evel Knievel were still with us, and you gave him the choice of tickets to any motorcycle racing event, there's a solid chance he'd pick American Flat Track.
And the first guy whose hand Evel would reach out and shake? That'd be the newly crowned premier Mission SuperTwins class Grand National Champion, Monster Energy's Jared Mees.
There's no hiding the fact that Evel was a big fan of the V-twin motorcycles, having performed his death-defying jumps on a wide range of the classic V-twins bikes over his illustrious career. And the reigning King of the V-twins, raced on America's oldest form of motorcycle racing – flat track – is Mees.
This past weekend at the Illinois State Fairground in Springfield, Mees won his 9th Grand National Championship aboard his purpose-built Indian Scout FTR75, tying him with the equally legendary Scotty Parker for all-time Grand National Championships.
Before we get into it with Mees, for those that aren't quite up to speed on American Flat Track (AFT), the sport is a rather basic form of racing and features a number of track setups unique to the sport – Mile, Half-Mile, Short Track and TT (which stands for "Tourists Trophy") – with the Mile events being the marquee races on the American Motorcyclist Association's 18-round tour. Beyond that, AFT's demographics are a bit different than that of SX & MX, with much of the somewhat older fan base being able to recite the best lines from motorcycling's seminal movie: "On Any Sunday." And it's not uncommon to see guys set up in the parking lots of the races, hawking old parts out of a van or car trunk. AFT is about as grassroots as it gets with motorcycle racing here in the States.
But what separates AFT from the other forms of motorcycle racing, is the physical skill and nerve that it takes to, quite literally, pitch a motorcycle sideways at 100 mph and drift it around the corners of a compressed dirt track – on that's normally reserved for horse racing. It's certainly a sight to behold, and Mees is the best in the world at this craft.
With that, here's a Q&A with Monster Energy's recently minted champion, getting his take on the season finale, the team surrounding him, and what it means to tie Scotty Parker's all-time Grand National Championship haul.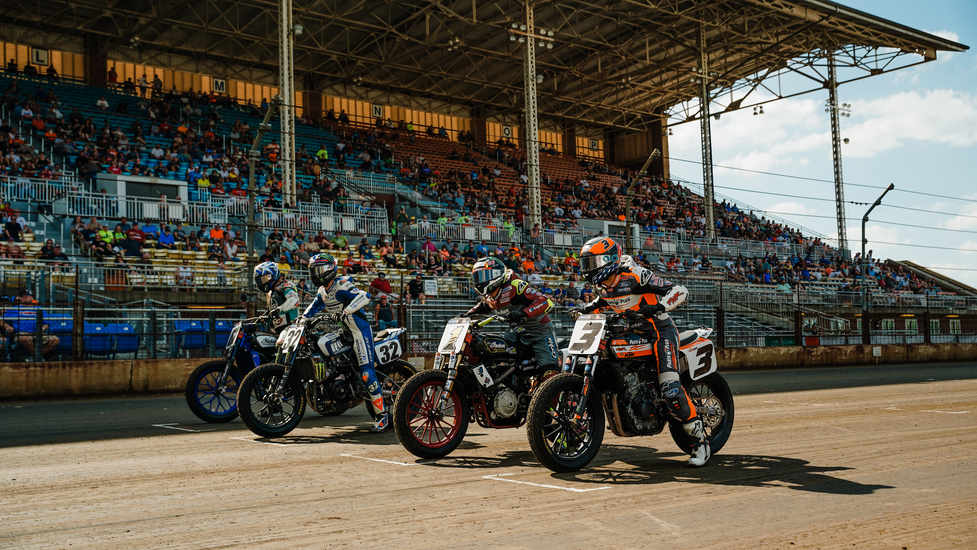 Yeah, Jared, congrats from everyone at Monster Energy on your title – No. 9. That's awesome. Let's start by getting your feelings on tying the great Scotty Parker for the most AMA Flat Track all-time Grand National Championships.
It's definitely something I had a goal to do years ago. It was a massive goal, and most would have laughed about me thinking that I was going for it.
Bit more on Scotty Parker. You were more or less a kid when Parker retired, with 9 Grand National Championship titles, in 1999, coming back in 2000 to race a limited schedule – which included a victory at Springfield. At that point in your young career, did it ever occur to you that you might be in the position you are now – tied with who you've said is the "Greatest flat track racer of all time?"
Parker was always an icon when I was coming up. He was obviously the G.O.A.T. (Greatest of All Time) and everybody knew who Scott Parker was in the sport of flat track. Unfortunately, due to my age, I never got to race him at the Grand National level, but I sat and watched many video clips of him. And when I move from Pennsylvania to Michigan (AFT's hotbed state) in 2005, Parker and Jay Springsteen's (fellow AFT multi-time Grand National Champion) state, I was well aware that these guys were very well known.
Talk about your relationship with Parker over the years. And was he on hand at Springfield this past weekend?
He wasn't present (at Springfield), but we have a good relationship. I call Scotty a friend. Hell, one point in time when he was retired and building a few houses, I helped him a couple of times at his place. I think he paid me $10 an hour (laughter). He lives like 10 minutes from me here in Michigan. Great dude.
That's awesome. So, in advance of the Springfield Mile Doubleheader, there didn't seem to be any question as to who had the decided advantage heading into the races. You'd won the previous five of six Springfield Miles and ran the table this year with the Mile races, winning Sacramento, the Red Mile and DuQuoin Mile. You had a slim one point lead on fellow Monster Energy racer Dallas Daniels (Yamaha), but the Mile was not one of Daniels' specialties. Talk about your mindset heading into the Springfield weekend.
I knew going in I had a great shot at this, but you know Dallas has been really tough all year. I needed to connect the dots. I have done well over the years with stacking the pressure on myself. Springfield has been my house for a little while, but sometimes that can play against you if you allow it.
When you grabbed the checkers in the opening Springfield Mile on Saturday, did that give you some additional confidence heading into Sunday's race – as well as knowing that you'd have to finish 6th or better on Sunday following Daniels' 5th place finish on Saturday?
For sure. I knew Saturday's race was going to set the tone. With Dallas getting 5th and myself getting the win, putting 10 points on him was what was needed. I had some room to work with.
On Sunday, you've got an 11-point lead (367-356) when the flag flies on the Springfield II SuperTwins start. What was going through your head at that point on the starting line?
Stay clean, think slow. I got together with Briar Bauman and checked back a few times, and we had a good gap (on the rest of the field, including Daniels). I did want to win the race, but there was only a certain amount of aggression I was willing to put into it. I wouldn't say I froze on the last lap, but I wanted to make it clean.
Was the Springfield race surface typical to what it's been in the past, or were there certain challenges that had to be met last weekend in order for the Indian Scout FTR750 to handle the Springfield dirt?
Saturday was different. More broken up, and we hadn't seen that (type of surface) in a while. Sunday was typical.
You crossed the finish line in 2nd place on Sunday as the 2023 AMA Grand National Champion. What was the first thing that went through your head as the checkers flew?
I guess, to be honest, why didn't I try just a little bit harder to finish 1st (laughs)? But the corner before, I was like, 'Don't press it. Don't press it.' I then came around and saw my team and just couldn't wait to sit down and take it in.
BAM! You nailed that right there. The Team. One of the key aspects to your success this season and season's past has been the work of your crew chief, Kenny Tolbert. Daniels mentioned this in an earlier interview, stating that Tolbert's probably the best in the business. That said, are mechanical failures the last thing on your mind when you're on the starting grid?
Kenny is very good and what he does. Failures are always on our minds because anything can happen. I wouldn't be where I am without him. 11 years together and seven championships is a pretty good record. I will admit, I'm relentless on getting better and always requesting and asking for more. And when it doesn't happen, I ask 'Why?'
I really also have to give a shout-out to Jimmy Wood with Ohlins suspension. I have been with Jimmy since 2015, and we have made a great team out of all of us. Jimmy knows the game well, being a past Grand National flat tracker himself. We have a great deal of communication, and he reads me like a book. So it makes it easy. At the end of the day, I have the final say of what I want, but I do rely on Jimmy to help me make the call. Jimmy has picked the slack up for Kenny. Kenny picked the slack up for Jimmy and, well, I guess if either of them are off, that's where I come in.
One guy who was tuning into Springfield, now that he's just retired and has some race day time on his hands, was Monster Energy's Kurt Busch. He's a pretty big fan of dirt track. Do you have many buddies on the four wheel side of dirt track? Is there a mutual respect between the sports of two wheel and four wheel round 'de round dirt track racing? And, in time, is that (cars) something you'd possibly be interested in racing?
I never knew he (Busch) was tuning in. Love to meet the guy. That is awesome. No, I do not have much relationship with the car guys very much. More the motocross guys, but that is very special, he was tuning in. Never thought about racing cars, but thanks for the thoughts.
Right on. Well, again, congrats from everyone here at Monster Energy on your record-tying 9th Grand National Championship.
Thank you. I have been with Monster since 2015. Love supporting the brand and the relationship there is first class. They've always been on top of it, and it's crazy to think that with all the athletes they have. I'm 37 years old and would say my years are counting down, but I hope that Monster will be on my side to finish my career with me.