All NEWS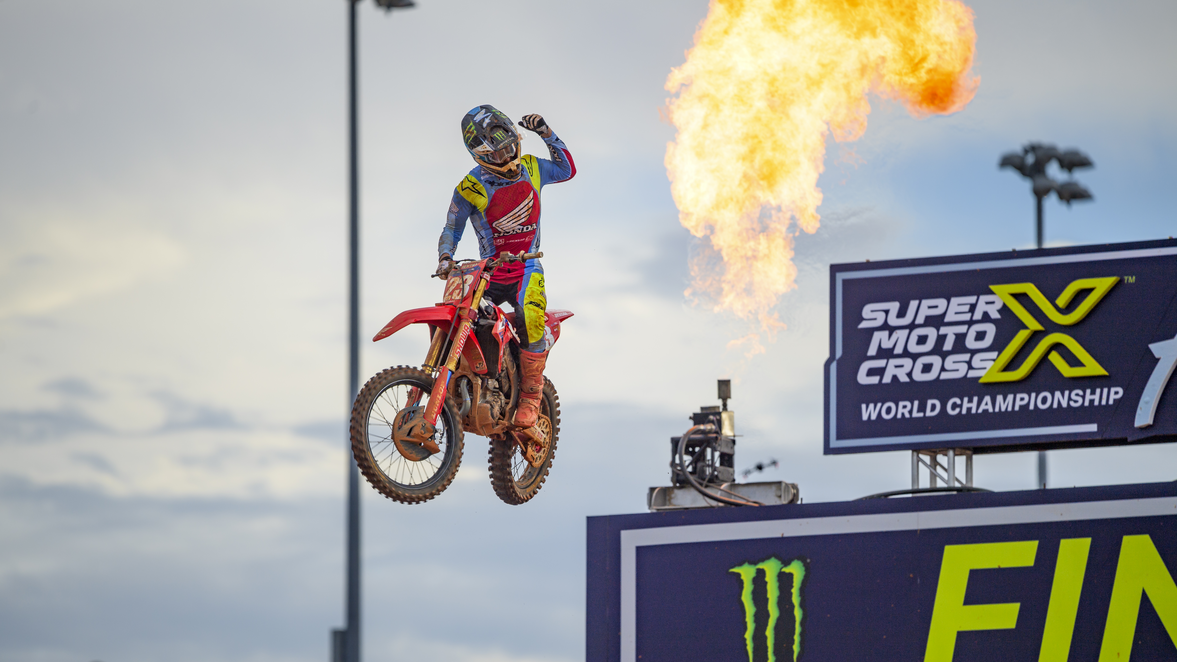 Sexton and Shimoda Take The Opening Round of SuperMotocross
Chase Sexton and Jo Shimoda were victorious in the 450 and 250 class at Charlotte Motor Speedway's zMAX Dragway in Concord, N.C.
The opening playoff round of the series to decide the world's best combined supercross/motocross racer, the SuperMotocross World Championship (SMX), went to two Monster Energy-backed racers as Chase Sexton (Honda) and Jo Shimoda (Pro Circuit/Kawasaki) were victorious at Charlotte Motor Speedway's zMAX Dragway in Concord, N.C., on Saturday.
Defending Monster Energy AMA Supercross champion Sexton would go 1-1 in the two moto format at zMAX Dragway, dominating the overall 450 class while snapping the summer-long 11 race win streak by Honda teammate, Jett Lawrence.
"I think I proved my point today," said a confident Sexton following the race.
Sexton entered the weekend as the No. 1 overall qualifier with 710 points, and with the 1-1 450 class finish on Saturday, takes a three point lead (25-22) over Suzuki's Ken Roczen into the second playoff round (Sept. 16 in Joliet, Ill.). Also on the 450 class box at zMAX Dragway for Monster Energy was Dylan Ferrandis (Star Racing/Yamaha), who put in a solid 2-4 effort for 3rd place. And making the top five for Monster Energy was Jason Anderson (Kawasaki), who raced to a 4-5 5th place finish.
In 250 class SMX action Shimoda came ripping back from a 4th place finish in the opening moto (won by Monster Energy/Star Racing/Yamaha's Haiden Deegan), to win the decisive second moto – his 4-1 giving him the overall victory ahead of KTM's Tom Vialle and Deegan in 3rd.
Said Shimoda, who wasn't sure he'd won until a Monster Energy/Pro Circuit/Kawasaki team member broke the news to him at the finish. "It's hard to do 4-1 for a good overall, so I was thinking maybe 2nd or 3rd. But heard that I got the overall and I was super stoked. We only have three rounds so it's nice to start the first race really good."
Deegan rounded out the podium in 3rd (1-5), with Ryder DiFrancesco (Monster Energy/Pro Circuit/Kawasaki) in 4th (7-3) and Jordon Smith (Monster Energy/Star Racing/Yamaha) in 5th (8-4). All totaled in the 250 class, Monster Energy racers took the win, two podium spots and seven of the top ten spots.
zMAX Dragway SMS Results
450 class results 250
1st - Sexton (Monster/Honda) 1st - Shimoda (Monster/PC/Kawasaki)
3rd - Ferrandis (Monster/Star/Yamaha) 3rd - Deegan (Monster/Star/Yamaha)
5th - Anderson (Monster/Kawasaki) 4th - DiFrancesco (Monster/PC/Kawasaki)
FINAL Overall Standings (1 of 3 rounds)
450 class 250
1st - Sexton, 25 points 1st - Shimoda, 25 points
3rd - Ferrandis, 20 points 3rd - Deegan, 20 points
5th - Anderson, 17 points 4th - DiFrancesco, 18 points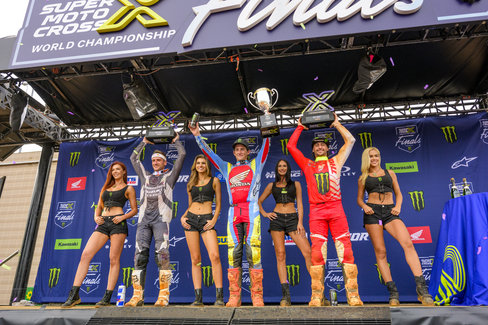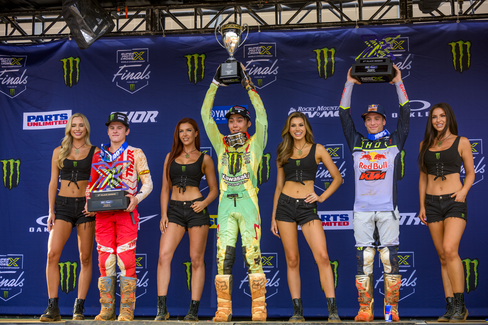 450
Moto 1
Off the split start, Sexton, who opted not to take the bridge, came out in 2nd place behind Justin Barcia (Gas Gas). … On the second lap Sexton chose to go under the bridge a second time, and this time it worked as he got past Barcia for the lead. … The MX Nationals style format, which calls for 20 minutes of racing plus two laps, had Sexton well out in front by the moto's 15-minute mark. … Anderson would get past Jett Lawrence and move towards to front runners, after which Lawrence would go down while attempting to pass Anderson back. … Ferrandis would run in 2nd place for much of the contest behind Sexton, and finished that way. … Monster Energy's Sexton 1st, Anderson 2nd to close out 450 Moto 1.
Moto 2
Sexton got another good start, and had Moto 2 leader Roczen in his sights early. … Roczen runs strong up front, leading Sexton and Anderson through the midway point of Moto 2. … With roughly six minutes remaining, Sexton catches – and passes – Roczen, then opens up a four-second lead ahead of Roczen and a charging Lawrence. … Lawrence tries, in vain, to catch Sexton as his Honda teammate backs up his opening 450 moto victory with another in Moto 2. Ferrandis places 4th to finish on the podium in 3rd overall.
250
Moto 1
Monster Energy/Pro Circuit/Kawasaki's Seth Hammaker, the day's top qualifier, takes the early lead in the opening SMX 250 moto. … Tough news for MX Nationals' 250 champ, Hunter Lawrence (Honda), as he's hung up at the start, then later tips over. … Levi Kitchen (Monster Energy/Star Racing/Yamaha) would take over the lead from Hammaker, with Deegan and DiFrancesco running in 2nd & 3rd in the all-Monster Energy podium position with 13 minutes plus two laps remaining. … Kitchen and Deegan would hook up in an excellent battle for the lead, with Deegan making up time to catch his teammate in the Joker Lane. … With five minutes remaining, Deegan finally gets past Kitchen and sets sail for the checkers. Kitchen holds on for 2nd for the Monster Energy 1-2 finish in 250 Moto 1.
Moto 2
Vialle's up front early, chased by Shimoda, DiFrancesco and Hammaker. Moto 1 winner Deegan gets out in 6th, with teammate Smith a position ahead in 5th. … Smith then battles past Hammaker for 4th, while Shimoda put the pressure on Vialle at the moto's midway point. … Shimoda and Vialle begin to separate, with the overall on the line (Vialle 3rd in the opening 250 SMX moto, Shimoda 4th). Shimoda then flat tracks his way into the lead, past the former World Champion on a right hander leading into the rhythm section. … Opening up a 2.4 second gap on Vialle, Shimoda has the advantage in the tie breaker (with Vialle) if he can hold on and win Moto 2. And he runs the 1st place position in Moto 2 through the checkers to take the overall, ahead of Vialle and teammate DiFrancesco.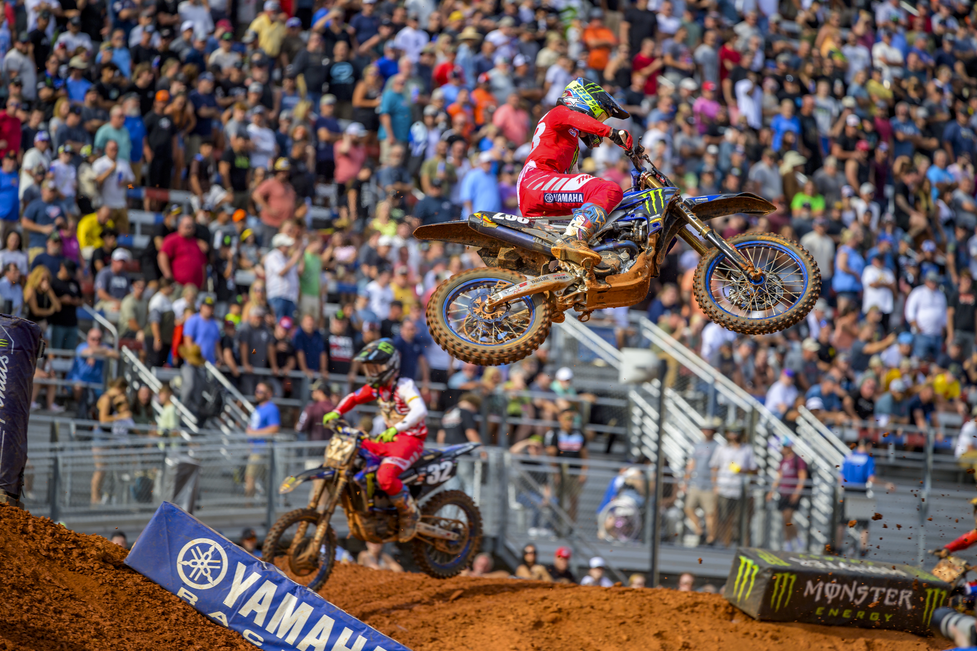 Notes & Quotes
"I definitely had a point to prove after that outdoor (MX) season I had. I was definitely disappointed with it. I found where I was with supercross right away. I was able to calm my nerves and focus on my riding." – Sexton
"One line was more physical than the other. I was just trying to go to the line where I could just save a little bit of energy. Then, when the berms got a bit bigger, I was able to go over the bridge, which made it easier." Ferrandis on zMAX Raceway line selection, which was key.
Added Sexton (on start gate selection): "I just kind of went by what rut I thought was best. I didn't want what happened to Deegan to happen to me. Went with my gut."
Questions as to bike setup were batted about all week amongst the SX/MX community. Sexton opted for the stadium (SX) setup, which certainly worked for him. Others went with the outdoor setup. It ended up being a coin toss as to which worked better.
"It was fun racing with Ken (Roczen) and I'm just happy for both of us to be up here." — Sexton on his practice buddy Ken Roczen.
Shimoda has all kinds of momentum now, winning three of the last four races – and both overalls – in 250 class racing. Shimoda went 1-1 at Ironman to close out the MX Nationals.
Despite winning the opening SMX 250 moto at zMAX Dragway, Haiden Deegan (Monster Energy/Star Racing/Yamaha was unable to overcome a tough start in the second moto and ended up with the 3rd place overall finish.
"I tried to cut under (in the second moto) like I did with Justin (Cooper, Monster Energy/Star Racing/Yamaha) in the first moto, but there was a line of guys there (in Moto 2) and that didn't work." — Deegan on his second moto start.
Back from injury, Austin Forkner (Monster Energy/Pro Circuit/Kawasaki) won the 250 class Last Chance Qualifier while being featured on NBC Sports.