All NEWS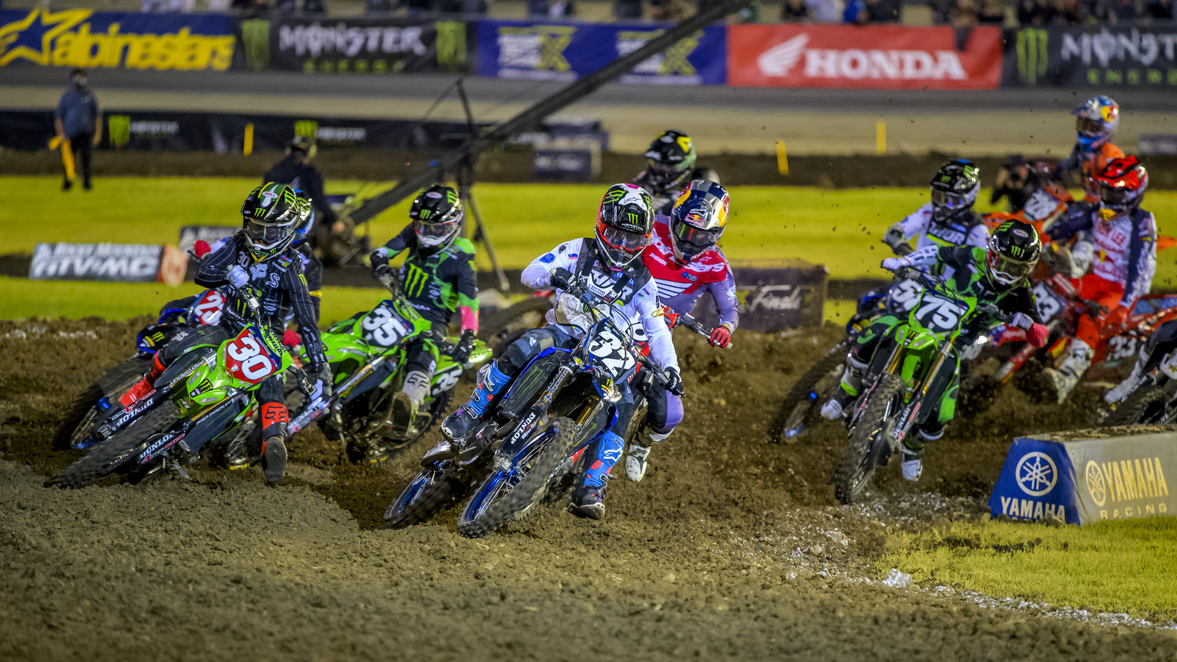 Supermotocross World Championship Round 2 Results 2023
Monster Energy's Shimoda & Deegan go 2nd/3rd on 250s, Sexton 3rd on 450s, at Chicagoland SMX Playoff Round 2
Back up on the box for Monster Energy racers Jo Shimoda (Pro Circuit/Kawasaki), Haiden Deegan (Star Racing/Yamaha) and Chase Sexton (Honda) as the 2023 inaugural SuperMotocross World Championship (SMX) ripped through Chicagoland Speedway over the weekend for Round 2 (of 3) of SMX to decide the world's greatest combined supercross/motocross racer.
SMX wraps up its three-round playoff with the Final round, Saturday, Sept. 23, at Los Angeles' iconic Memorial Coliseum.
Beginning with Saturday's 450 class, despite his podium 3rd place finish, Sexton's opening SMX round win in Charlotte, combined with his 1st place overall adjustment points, means he leads Honda teammate Jett Lawrence by two points, 90-88, heading into the final round this weekend in Los Angeles. Monster Energy's Dylan Ferrandis is in 5th place overall with 71 points.
Sexton overcame a couple mistakes at Chicagoland Speedway to put up a respectable 2-3 two moto finish on the hybrid SX/MX infield raceway. Ferrandis finished back in 5th with a 6-5 finish, with newly acquired Cooper Webb (Monster Energy/Star Racing/Yamaha) in 7th (8-7) and Jason Anderson (Monster Energy/Kawasaki) rounding out the top ten in 9th (13-6) following an opening moto crash.
Said Sexton: "I was nice to come home and race, but from yesterday (Friday practice) to today, I dunno, I just didn't really have that much speed. Changed bike setups – a lot - and, yeah, I was just straight up slower today. I was not happy to be on the podium, but it was somewhat damage control."
On the 250s Monster Energy enjoyed a slew of racers on the podium and in the top ten. Shimoda would lead the M-claw Chicagoland assault, added his 2nd place finish (2-2) to his opening SMX round victory, and sits three points back (89-86) of Honda's Hunter Lawrence for the overall 250 SMX title. Deegan joined Shimoda on the Chicagoland 250 podium with a solid 3-3. Rounding out the top ten in the class for Monster Energy were Jordon Smith (Star Racing/Yamaha) in 6th (10-8), Seth Hammaker (Pro Circuit/Kawasaki) in 7th (9-9), Levi Kitchen (Star Racing/Yamaha), who's also in 4th place in the overall SMX Playoff standings with 63 points, in 8th (6-12) and Ryder DiFrancesco (Pro Circuit/Kawasaki) in 9th (12-7).
Said Shimoda: "I knew it was going to be like this. Whoever takes it over at the end races is going to basically take it all. I know the team is working super hard behind me and all I have to do is bring everything to the table."
This Saturday's SuperMotocross World Championship Final round will be significant in that it pays out triple points for its finishing positions. In addition, the race purses are said to be the largest in supercross/motocross history, paying a cool $1,000,000 to the overall winner of the 450 class and $500,000 to the 250 class winner. The rest of the 450 and 250 field will share in a highly lucrative $10,000,000 total purse for 2023.
Chicagoland Speedway SMX Results
450 class results 250
3rd - Sexton (Monster/Honda) 2nd - Shimoda (Monster/PC/Kawasaki)
5th - Ferrandis (Monster/Star/Yamaha) 3rd - Deegan (Monster/Star/Yamaha)
8th - Anderson (Monster/Kawasaki) 6th - Jordon (Monster/Star/Yamaha)
Overall Standings (2 of 3 rounds)
450 class 250
1st - Sexton, 90 points 2nd - Shimoda, 86 points
5th - Ferrandis, 71 points 3rd - Deegan, 82 points
6th - Anderson, 58 points 4th - Kitchen, 1863 points
450
Moto 1
Sexton would get out in the opening moto in 3rd place behind race leader Jett Lawrence and Justin Barcia (Gas Gas) and Ferrandis would start well in 5th. … Sexton would make quick work of Barcia, and from there 'It was on!' The Sexton vs. Lawrence battle the fans came to see. … The two raced close for the opening five minutes before the slightest miscalculation by Sexton, exiting a sand section turn, allowed Lawrence just enough space he needed to extend the race lead. … Sexton's supercross-style bike setup would allow the reigning Monster Energy AMA Supercross champion to clock similar lap times to Lawrence's motocross-style setup – both on the same CRF450R race bike. … The racers would separate from the field, and finished in that order – Lawrence 1st, Sexton 2nd.
Moto 2
Sexton got out in 4th place to open the second moto, and got into 3rd place, past holeshot winner Phil Nicoletti (Yamaha), and chasing Lawrence and Suzuki's Ken Roczen. … Webb, running just his second race for Monster Energy/Star Racing/Yamaha, rocketed up to 4th place and near Sexton, followed by Ferrandis. … With eight minutes to go some strategy from the Honda team allowed Roczen to gain points on Sexton by having him get by Lawrence, with, eventually, Lawrence waiving Roczen by so as to gain maximum points on Sexton (as Roczen finished 2nd to Sexton's 3rd) with the "gifted" second moto victory.
250
Moto 1
Ripping the SMX 250 Moto 1 Chicagoland holeshot was Deegan, with KTM's Tom Vialle in 2nd, Hunter Lawrence in 3rd and Shimoda in 4th. … Shimoda and Lawrence would bring the fans to their feet early as the two battled hard for 3rd, with Lawrene holding the Pro Circuit/Kawasaki racer off this time. … Shimoda would then get passed by Husqvarna's RJ Hampshire as Deegan kept his lead over Lawrence from 1.3 to 2.2 seconds. … With 13 minutes remaining Shimoda got on his horse and took back 4th place from Hampshire, and put the hammer down. It was around this time that Deegan flinched in a rut and was unable to clear the finish line double jump. … With Lawrence now up front, Shimoda got past Vialle for 3rd, and began his hunt of Deegan. … Putting up the moto's fastest laps late in the contest, Shimoda took and outside line past Deegan, then immediately closed the gap on Lawrence – showing him a tire on the race's final lap. … In his fury to take the lead, Shimoda would catch a handlebar (his own) to the chin, cutting him open. From there he'd dial 'er back, settle on 2nd, with Deegan grabbing a hard fought 3rd.
Moto 2
Monster Energy/Star Racing/Yamaha's Justin Cooper grabbed the Moto 2 holeshot ahead of Shimoda, Lawrence and DiFrancesco. … Shimoda would take a hit from Lawrence on the opening lap, losing a position, then quickly battled back to regain 2nd place from the Honda racer. … At the 4:30 mark Shimoda got past Cooper for the lead, with Deegan riding fast and finding his way up to 4th place. … Cooper would then battle Lawrence for a couple laps before settling on 3rd place. … With Shimoda out front of by just 1 second, what appeared to be some sort of mechanical issue would allow Lawrence to take the lead as Shimoda noticeably slowed down. … Shimoda, who said at the post-race press conference that he backed off pushing the bike to insure he'd finish, came across in 2nd place with Deegan in 3rd.
Notes & Quotes
"I just wasn't really comfortable." – Sexton
Shout out to Monster Energy/Team Green/Kawasaki's Carson Wood for winning the inaugural Supermini World All-Stars race at Chicagoland Speedway and Monster Energy's Max Shane for getting 2nd.
"You jump the jump and look to the side and see all the people," said Wood of his experience at Chicagoland.
"I'm gonna go full Deegs," said Deegan from the Chicagoland podium regarding next weekend in Los Angeles.
Tough go for Monster Energy's Cooper and DiFrancesco as they managed to find each other and got tangled in the start of the opening 250 moto. Both rallied back in Moto 2.
Added NBC announcer Ricky Carmichael (of the aforementioned crash). "You hated to see that because Justin Cooper is very capable of running up front."
"The upper cut by the Renthal handlebar." – Carmichael on Shimoda's handlebar-to-the-chin blow in Moto 1.
"Race win pays $50 grand, 25 (grand) for 2nd. Loses some money but survives to bring the championship fight down to next weekend in Los Angeles." – NBC announcer Jason Weigandt on Shimoda's reported mechanical issue that cost him the win in 250 Moto 2.
"That might pay dividends for this World Championship," said Carmichael of Shimoda's come-from-behind rush to 2nd place in 250 Moto 1.