/ /

Motor

All NEWS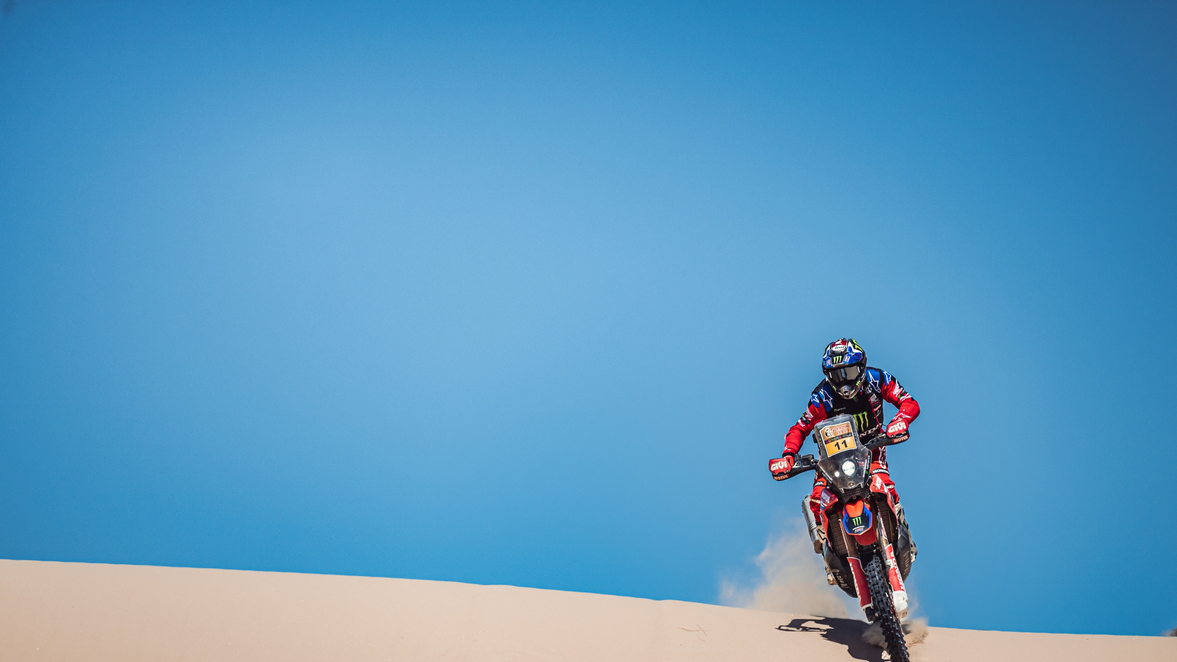 Tosha Schareina Places 2nd Overall at WRRC 2023
Spain's Schareina leads the Monster Energy/Honda HRC & HGA team at Mexico's World Rally Raid Championship round
Five grueling stages run through some of the toughest off-road conditions throughout northern Mexico, Monster Energy/Honda HGA's Tosha Schareina emerged as the overall runner-up in the Sonora Rally after placing 2nd in the fifth and final stage today at Round Three of the '23 FIA/FIM World Rally Raid Championship in Mexico. All totaled, Monster Energy racers would capture an impressive five of the overall top ten positions, with Adrien Van Beveren (Honda HRC) taking 6th, Ross Branch (Hero Motorsport) 7th, Ricky Brabec (Honda HRC) 8th and Pablo Quintanilla (Honda HRC) 9th joining runner-up Schareina.
World Rally Raid Championship, Sonora Rally
Stage 5: Penasco to San Luis
2nd - Tosha Schareina (Monster/Honda/HGA)
4th - Ricky Brabec (Monster/Honda/HRC)
7th - Nacho Cornejo (Monster/Honda/HRC)
Final Overall Results
2nd - Tosha Schareina (Monster/Honda/HGA)
6th - Adrien Van Beveren (Monster/Honda/HRC)
7th - Ross Branch (Monster/Hero Motorsport)
Monster Energy's Joe Parsons summarized the up and down week for the Monster Energy-backed Honda HRC & HGA race program by saying, "All-in-all, all the bikes finished, everybody's healthy, so it all worked out pretty good. Of course you're always looking for a better result, but as long as we can keep rolling and collect valuable race data and getting everything read for Dakar – that'd be the plan."
Stage 5 saw Schareina attack the sand-dominated 139 km Special section from Penasco to San Luis with the same intensity that garnered podium positions for the Spaniard at each of the five stages (1st on Monday, 2nd each stage after that). Following a 259 km Liaison, Schareina brought his Honda CRF450 Rally through the finish line timing at 1:16:42, which was 2:41 back of stage and overall winner Daniel Sanders (Gas Gas).
Said Schareina: "Finally here. First time with Honda. First stage win (Stage 1) and a 2nd place overall. Awesome beginning"
For American Brabec the overall finish was a bit bittersweet, considering he would have likely made the overall podium had it not been for a crash that led not only to a broken motor, but also a time penalty from race officials for swapping out the broken motor for a new one.
Said Brabec of his overall result: "Yeah, you know, it's a good feeling to be at the finish of another rally. Not where we wanted to be (results wise), obviously. But it's always nice to finish a rally after five, six days of racing. And to finish in one piece is always a positive. So I'm happy we did this and also happy it's close to home (California)."
For Van Beveren, who won the previous World Rally Raid Championship round in Abu Dhabi, the 6th place effort at Sonora, which included some frustrating navigation issues that cost him all sorts of time, was certainly not the result he was looking for either.
"I'm happy to finish the race. A rally is always a success to finish I would say. The most important," explained Van Beveren. "The team did an amazing job for us. I'm not happy with the results. I was expecting much more from Mexico. This place is really nice, and for sure there is some big potential. But it was their first time and we will forgive them. The course was too small. Too straight and too fast. Not enough technical stuff in my opinion, but it is the same for everyone – and they were better than me this time."
Brabec and Van Beveren's teammates, Cornejo and Quintanilla, echoed those sentiments.
"Five days in Mexico. Wasn't an easy one," said Cornejo. "Happy to make it to the finish in one piece, but was not happy with the result. Both times I've been here, also in 2021, I wasn't able to ride like I know I can. Hopefully I can come back and redeem myself next year."
Added Quintanilla: "Yeah, we finished the race. Not the best race for me, but at the end it's always good to have the experience. It was a new event for everybody and I think this place (Sonora) has a lot of potential. Thank you to the Monster Energy/Honda HRC for all the support this week, along with Mario, my mechanic. Now we have a small break. We will use this to rest a little bit and to be focused and better for the next race."
Next up…
The FIA FIM World Rally Raid Championship takes a four month break before returning to action, August 26 to September 1, for the Desafio Ruta 40 Rally in Argentina.
About the Sonora Rally
Overall the Sonora Rally will cover some 1,249 kilometers over five stages (+ a prologue), which include rocky tracks, dunes, dust and hot temperatures – testing man and machine to the fullest in this North American rally with global implications.
The FIA/FIM World Rally Raid Championship schedule is the Sonora Rally in Mexico, April 22-28. For more information on the World Rally Raid Championship, including live timing and scoring, check out the official series website here.