/ /

Motor

All NEWS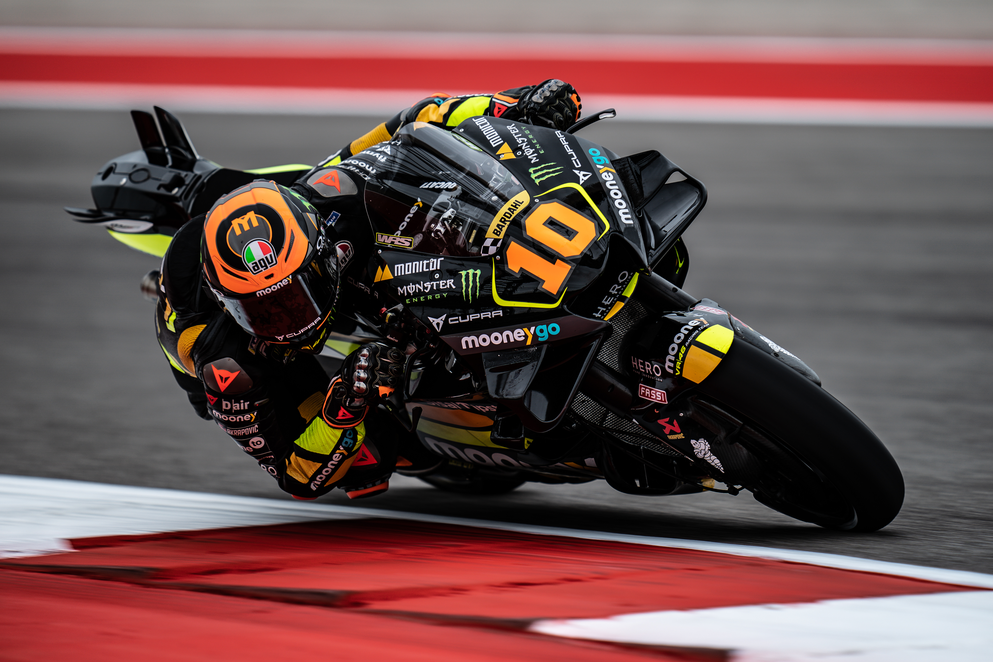 Weekend Podium Domination from MXGP, Grand Prix, Supercross, and NHRA
Our Monster Energy athletes finished the weekend in style, securing the podium from start to finish.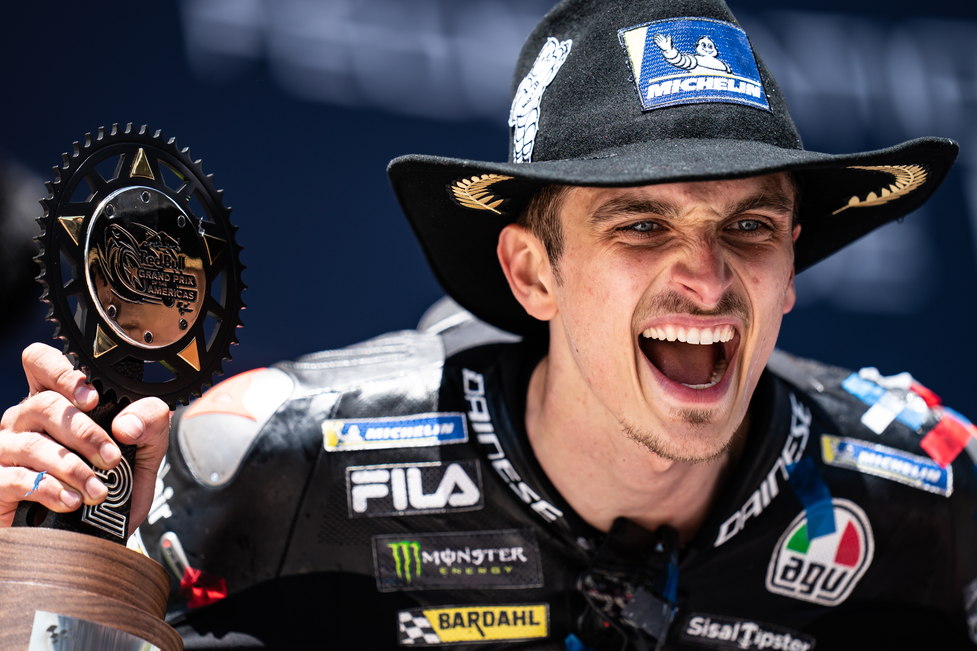 MOTOGP
Monster Energy Sweeps Podium at Grand Prix of the Americas!
Monster Energy's Alex Rins (Honda) took advantage of a crash by Francesco Bagnaia (Ducati) and won Sunday's Grand Prix of the Americas at Texas' Circuit of the Americas, round 3 of 21 on the MotoGP series tour. Monster Energy's Luca Marini (Mooney/V46 Racing) and Fabio Quartararo (Yamaha) completed the COTA podium sweep, joining Rins in 2nd and 3rd, respectively.

Bagnaia, who was the fastest Tissot Spring qualifier on Saturday, led the MotoGP main event early, taking the holeshot with Rins hot on his tail. Quartararo would move early as well, getting out in 4th place behind a hard charging Jack Miller (KTM), with Marini in 5th early. As the laps clicked off, Bagnaia did his best to create a gap between himself and Rins, but Rins was steadfast in his effort to stay with the No. 1 Ducati.

In the heat of battle, the defending MotoGP champion Bagnaia would blink first, losing the front end of his Ducati in the high speed Turn 2, and sliding into the catch gravel as Rins blew by for the lead. Rins would then run unchallenged, delivering the Honda marque its first victory of 2023.

Said Rins of his great successes at the COTA track: "We got the victory with Moto3, Moto2, Suzuki and then Honda."

With the win, the Spaniard moves into 3rd on the Monster-dominated leaderboard, behind Bagnaia in 2nd and Marco Bezzecchi in 1st.

Next up on the MotoGP tour is the April 29th running of the Gran Premio MotoGP in Spain.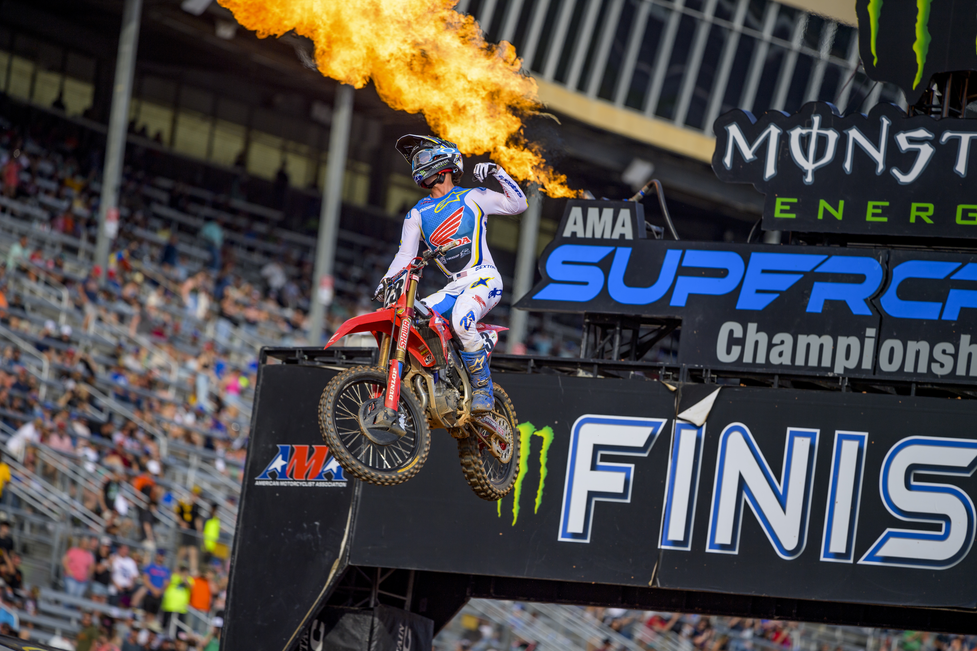 SUPERCROSS
Sexton Leads from Start to Finish in Atlanta
It was only a matter of time before Monster Energy's Chase Sexton (Honda) exorcised the crash demons that have plagued him throughout the '23 Monster Energy AMA Supercross season and put together a race in which none of the top SX racers on the planet were able to touch him.

Atlanta Motor Speedway — a venue combining the precision timing and high wire bravery of supercross with the breakaway speed sections of outdoor motocross — hosts a hybrid track that was perfect for Sexton who, when he keeps 'er on the rails, is as fast as they come.

Winning by more than seven seconds over 2nd place Justin Barcia (Gas Gas), Sexton took a chunk out of 5th-placing Eli Tomac's (Monster Energy/Star Racing/Yamaha) stronghold on the 450 class's top spot, pulling to within 17 points, 292-275, with four races remaining on the 2023 Monster Energy AMA Supercross schedule.

Said Sexton: "To lead one start to finish feels really good," said Sexton. "I haven't done that since San Diego last year. The track was really gnarly, so I had to be on my toes and that was a good test of the progress we've made mentally and with the bike. It was just a fun race."

In 250 class action, the rivalry between Monster Energy/Star Racing/Yamaha teammates Jordon Smith and Haiden Deegan wicked back up, with Smith this time getting the better finish, nailing 2nd place at Atlanta Motor Speedway ahead of Deegan's solid 3rd.

And on another high note for Monster Energy, Atlanta Motor Speedway marked the return of Jo Shimoda (Pro Circuit/Kawasaki), who'd missed the entire season up to this point with a shoulder injury. Shimoda, the '22 AMA Pro Motocross Championship runner-up, placed a very strong 4th on Saturday.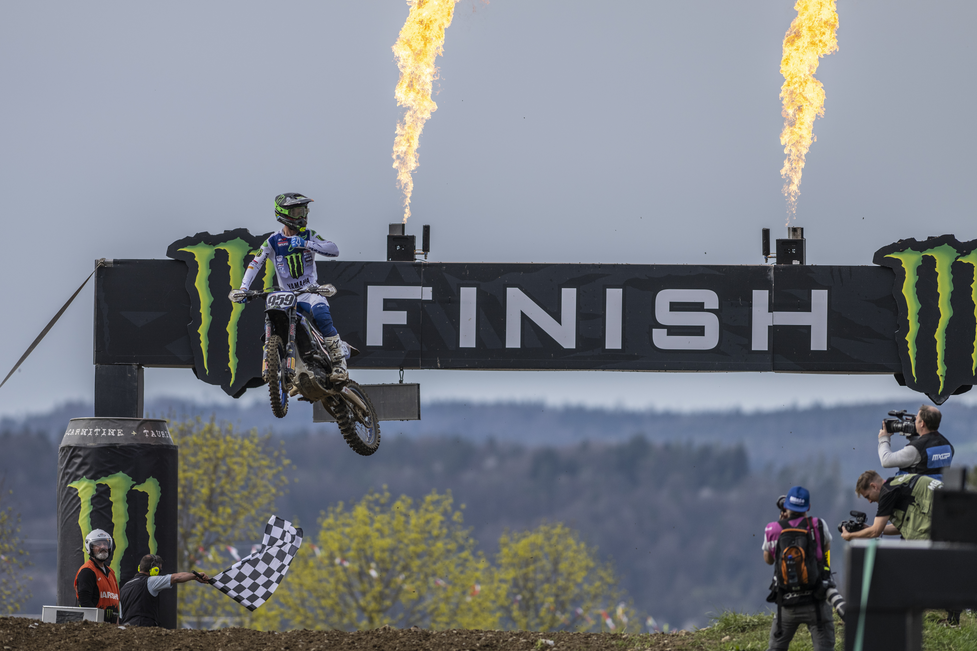 MXGP
Renaux & Geerts Both Podium at Grand Prix of Trentino
Monster Energy's Maxime Renaux (Yamaha) scored his second-straight podium on the '23 MXGP circuit, parlaying an excellent 2-2 finish for 2nd place overall in the MXGP class at Sunday's Grand Prix of Trentino in Italy. And in the support MX2 class, Monster Energy's Jago Geerts (Yamaha), the overall series point leader, would go 1-7 to take a 3rd place podium finish at Trentino.

The tight and tough-to-pass Trentino circuit provided some close, thrilling battles for the Italian MXGP fans. In particular, Renaux and KTM's Jorge Prado battled hard all day, with Prado's opening moto victory (to a 3rd place behind Renaux in the second moto) being the difference.

Said Renaux: "It was a good weekend and a good Grand Prix overall. Missing the GP win for a point is a bit disappointing but Jeffrey was too quick in the second race. I tried to fight and it brought me to second place. It is a really good result, and I am still adding points to the championship which is the most important."

In MX2 class action, Geerts drew first blood with a dominant opening moto, taking the lead out of the first corner ahead of KTM racers Andrea Adamo and Liam Everts and running it all the way to the checkers in 1st. In the second moto Adamo crashed into Geerts, who went down. Geerts then crashed again before finally getting things back together. But by that time he was back in 20th place – and out of contention for the win. Despite that, Geerts put on a heroic effort to get back to podium position, racing all the way back to a commendable 7th place in Moto 2 to secure 3rd place overall (1-7). Geerts still enjoys a solid 22-point lead in the MX2 standings over Adamo (205-183).

Added Geerts: "The first race was very good for me as I felt good and won it. I didn't have the best start in the second race as I went down twice. But I picked it up and push to get to 7th place and 3rd on the podium which is important for the Championship."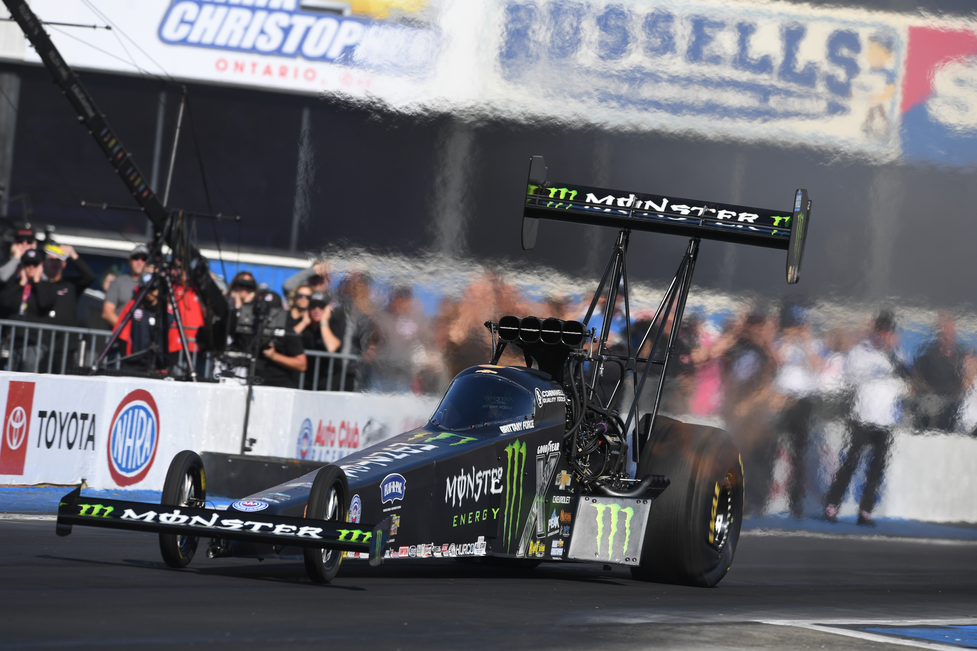 NHRA
Brittany Force Takes Third on the Las Vegas Strip
Entering the ground-pounding, earthshaking NHRA Four-Wide Nationals at the Strip at Las Vegas Motor Speedway as the No. 1 qualifier, Brittany Force and her 11,000 horsepower, nitromethane-burning Monster Energy Top Fuel dragster won the first-round quad with a 3.785-second pass at 325.77 mph and a .055-second reaction time. She'd take down rival racers Antron Brown and Tony Schumacher, before doing the same to Leah Pruett, Rob Passey and Brown again in round 2.
But Brown got his revenge in the final quad, pipping her 3.769-second pass at 3.760.
"Vegas Four-Wide, it's tricky, it's tough," said Force afterwards. "We only race the four-wides twice a year. There is a lot going on. There is a lot of prep, a lot of work this team has to do going into the weekend during qualifying then preparing and getting into race day."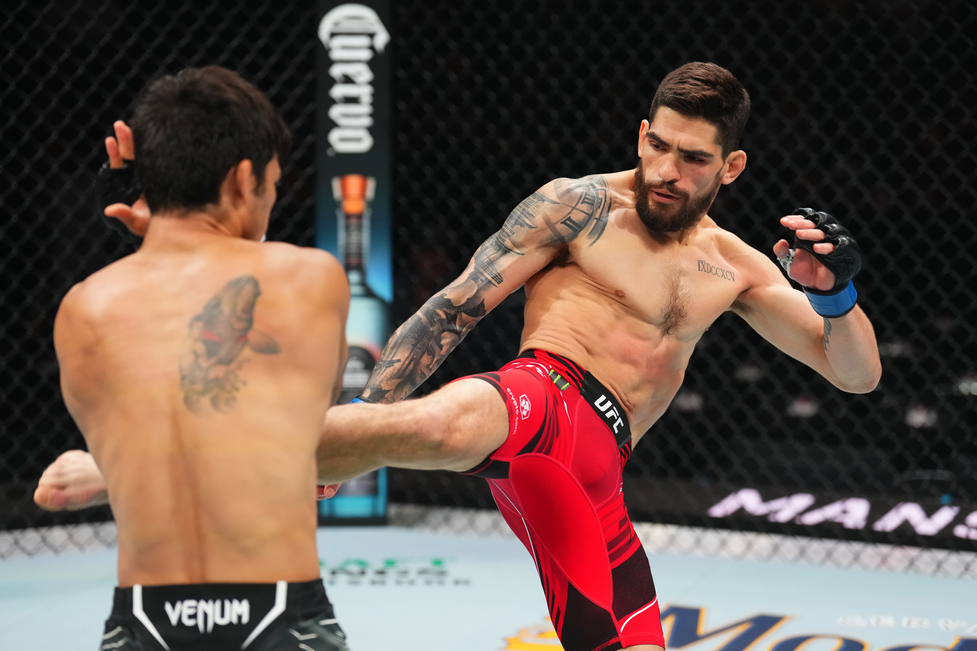 MMA
Gaston Bolanos Defeats Aaron Phillips in UFC Debut
'The Dreamkiller' has arrived in the UFC! Monster Energy congratulates Gaston Bolanos on defeating Aaron Phillips in the Bantamweight Division fight at UFC Fight Night in Kansas City on Saturday.

In Saturday night's prelims fight inside T-Mobile Center, the 30-year-old from Lima, Peru, went the distance for three rounds to clinch the victory by unanimous decision (29-28, 30-27, 30-27).

Bolanos (7-3) came to Kansas City looking to make his debut as a professional fighter in the Ultimate Fighting Championship promotion. The fight also marked his first outing at bantamweight (135 pounds) after competing at featherweight. Previously, the Peruvian MMA athlete made a name for himself in the Bellator MMA promotion as 'The Dreamkiller' and most recently defeated Daniel Carey by TKO at Bellator 277 in April 2022.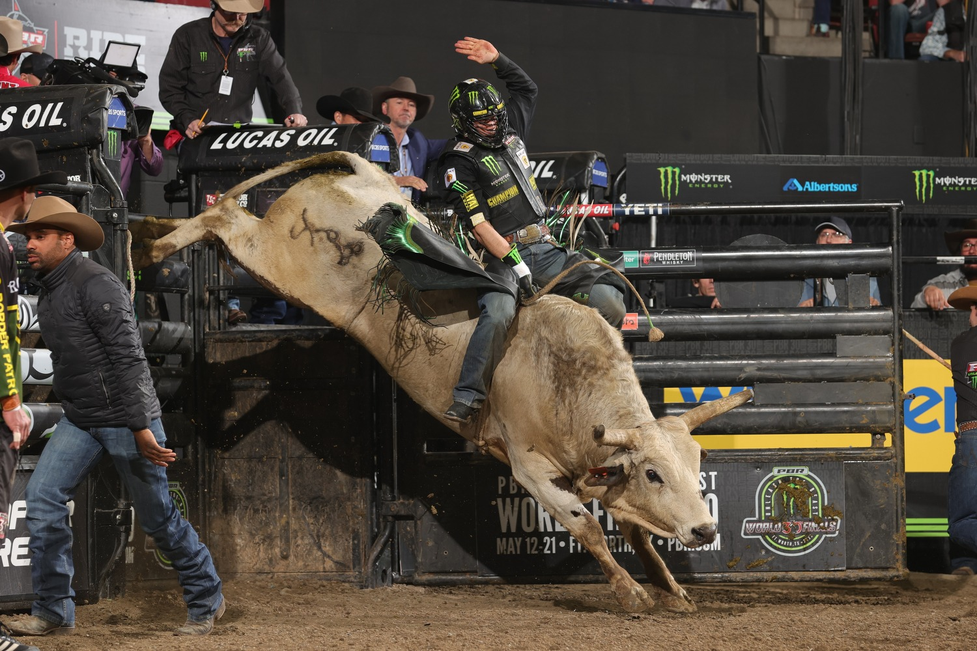 PBR
Pacheco Takes Second in Montana to Stretch World Standings Lead
With only the tail of his rope in his hand for the last three seconds of his qualified ride in the Championship Round, Kaique Pacheco's bronc style ride atop Pookie Holler pushed his lead atop the PBR world standings to 118.5 points.

"That's really important for me," Pacheco said. "I give everything I can to ride my bull." It was the third and perhaps most difficult matchup with Pookie Holler; and with only three regular-season events remaining, it was also the most important as the 2018 World Champion looks to win his second PBR title. "He's hard to ride," Pacheco said, "but when I have an opportunity to pick him, I will pick him." Pacheco was three for four and finished the three-day Billings, Montana, event second in the average. He and his Monster Energy teammates — Boudreaux Campbell (who was competing despite the swelling from a broken jaw) Derek Kolbaba and Chase Outlaw — will now travel to Washington for a rare mid-week event in Everett on Wednesday and Thursday followed by a two-day event in nearby Tacoma on Saturday and Sunday.

Two-time World Champion Jose Vitor Leme, who had hoped to be in Billings, is not expected to be in Everett or Tacoma to assure his groins are 100 percent healthy for the PBR World Finals next month. Leme said he does not want to aggravate or reinjure himself because he believes this year's title will be won or lost in Fort Worth. Leme has won three events and has covered 61 percent of his bulls and is confident he can battle Pacheco for the gold buckle and the $1 million bonus. The 2022 reigning World Champion Daylon Swearingen meanwhile had hoped to return by season's end, but indicated this weekend he needed a few more weeks to recover from a groin injury suffered early in the season to be ready for the PBR Team Series in July.