All NEWS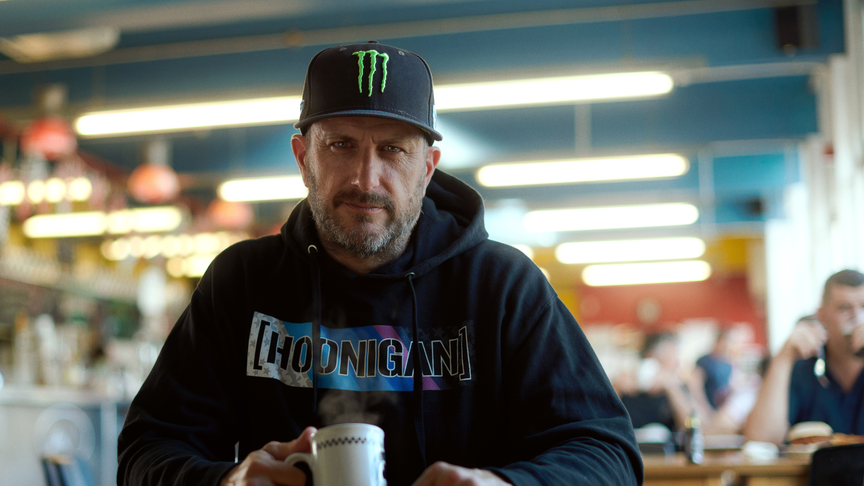 43 Forever – In Memory of Ken Block
A legend on screen and behind it. Ken Block inspired a whole generation of action and motorsport fans.
The Monster Family is mourning the loss of a true icon and trailblazer following the tragic death of pioneering rallycross athlete and long-time brand ambassador Ken Block. On January 2, 2023, the 55-year-old rally driver and entrepreneur was killed in a snowmobile accident in a remote area of Utah's Wasatch County.
Monster Energy sends its heartfelt condolences to Ken's family and friends in this difficult time.
"Ken has been part of the Monster Family since 2005," said Monster Energy Chairman and Co-CEO Rodney Sacks. "He was one of our first brand ambassadors and was instrumental in exposing the Monster lifestyle to the world. He embodied it. He didn't even need to say a word — he just did what he did, and proudly wore the M-Claw. His Gymkhana videos alone have hundreds of millions of views… he was simply a legend. Our love goes out to Ken's wife and children. We'll miss you, Ken."
News of Block's passing led to an outpouring of tributes and gratitude from across the globe. It's safe to say that very few individuals have exerted a similar impact on the world of action sports and motorsports – both behind the scenes and in front of the cameras – as Ken Block.
Born and raised in Long Beach, California, Ken Block made his mark on skateboarding and streetwear as a successful entrepreneur in the early 1990s. Working closely alongside business partner Damon Way, he co-founded some of the day's most influential apparel and footwear brands, including Eightball Clothing, Droors Clothing, DC Shoes, Type A Snowboards, and Dub Brand Outerwear. The DC Shoes Company proved one of the most successful business ventures in boardsports history, and Block and Way sold the brand to Quiksilver in 2004 for a reported $88 million.
In the early 2000s, Block pursued his love for racing sports as a rallycross driver and competed in the FIA World Rallycross Championships. He also established his own motorsport company, Hoonigan Industries, as a new type of lifestyle brand for motorsports fanatics, infused with the spirit of action sports, and represented Monster Energy as a pro athlete.
On social media, over the past 15 years, Block built a following of millions of viewers worldwide with the series of 'Gymkhana' videos documenting fast-paced stunts and 'drift' precision driving in urban environments. Over the years, the 'Gymkhana' video series has generated more than 550 million views with inconceivable stunts and boundary-breaking feats on wheels.
"This is a very sad day for the Monster Family," added Vice Chairman and Co-CEO Hilton Schlosberg. "We have lost one of our OGs… Ken was one of our first, one of our biggest, and one of our best. And he was a true gentleman. He was a very special individual who pulled off the most incredible feats. Although the man left us far too soon, his name will live on forever. I can't believe I'm writing these words today… he will be very sorely missed. Our deepest condolences to Ken's beautiful wife Lucy, and his amazing children Lia, Kira, and Mika. Rest in peace, my friend."