/ /

Motor

All NEWS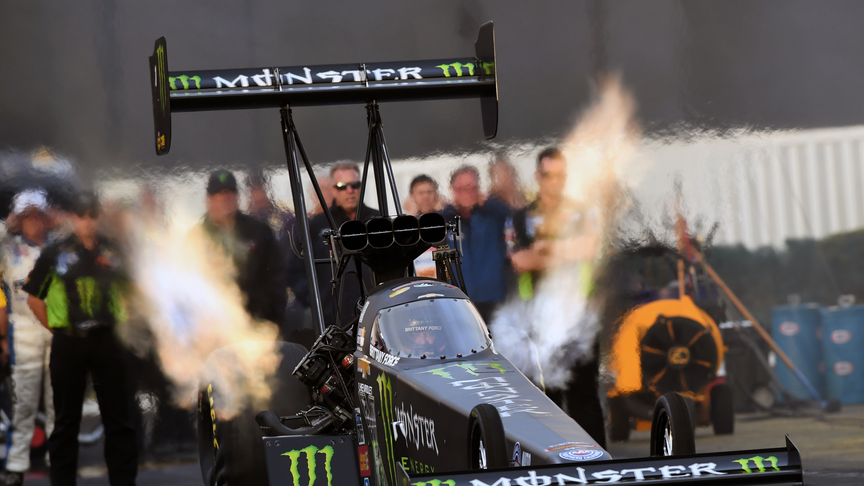 Checking In with Brittany Force
At the season-opening 2018 Lucas Oil NHRA Winter nationals Pomona, reigning Top Fuel World Champion Brittany Force was caught up in a horrific accident
As we all know by now at the season-opening 2018 Lucas Oil NHRA Winternationals at Auto Club Raceway at Pomona in Southern California, reigning Top Fuel World Champion Brittany Force was caught up in a horrific accident when her Monster Energy Dragster smoked the tires during the first round of eliminations and then immediately careened from the right line to the left and clouted the trackside retaining wall. From there the car then ricocheted violently into the right lane wall, the rear wing and nose of the car absorbing most of that secondary impact. Spewing fuel and trailing fire, the car ultimately came to a rest in the traps at the far end of the 1000-foot track.
Immediately whisked to a nearby hospital, CT and MRI scans were taken of the shaken driver, all coming up negative. The next morning Force was released from the hospital, suffering a concussion and severe bruising. Over the weekend, we caught up with the 32-year-old racer to see how she was doing. In good spirits, but still a bit lethargic from what shook down at Pomona, Force, who was looking forward to watching the Daytona 500 that Sunday afternoon, talked about her immediate past, present, and future.
Brittany Force's Thoughts and Feelings After The Crash
"I'm doing good," offered Force from her living room couch. "I've just been at home resting and sleeping a lot and taking it really easy. I'm super-sore from everything, but I did MRI scans and CAT scans and everything came out good. Bruising was the biggest thing."
"You know, I don't remember any of the crash. The last thing I remember is staging the car. The next piece I remember is that I was standing up in my car. I heard they pulled me out. I remember them holding me under my elbows and helping me stand. I remember looking at the front of my car and thinking, 'Oh my gosh, somebody wrecked their car!' Then I saw the black and green and realized it was my car. I was so confused. I didn't know I was in a wreck. I was just looking down at this mangled car in front of me. It was really a roller coaster starting there when I started to figure out everything. The next thing I remembered was being in the hospital and my whole family was there."
Force continued on to explain that she still doesn't totally comprehend what made the 12,000-horsepower-motivated car act as wickedly as it did. "From what I heard, the car started to get out of the groove as it was spinning the tires and it went towards the right. I started to bring it back in towards the left, but as I did that, one of the tires was out of the groove, so one was spinning and one was charging forward. That's what made the left turn and sent me across the race track. From there it was not fixable."
When asked what she thought of the crash once she watched playbacks of it, Force admitted she was shocked. "You know what? I watched the crash only once on my sister's iPhone and, jeez, it was way worse than I thought it was. I'm still shocked. I really haven't watched it all the way through. I really don't want to until I get back into the car because I just don't want those images of how terrible it was. My biggest fear has always been to be trapped in that canopy. I didn't realize that when I crashed, the car was tipped over and up against the wall. That really freaked me out. And then it caught on fire. A lot of those big fears I've always had about driving, I saw it there in that video, so I told myself, 'I'm not going to watch it anymore.' Right now, I want to watch the whole thing through and figure out each step and wherever everything went wrong. I can't bring myself to that right now until I get back into the car and make some runs down the track."
"Obviously, that first run back is going to be a little tough; that one is definitely going to be tough. I think once I do it once, I'll be fine. I've always known that this sport can be extremely dangerous and things can be wrong. I've been out here six years and nothing terrible has happened, and I've always kind of wondered, 'When is the day? When is it going to happen?' In this sport, we go 330 miles per hour in less than four seconds and something is bound to happen. It can't go perfect every single run, so I've always been kind of wondering, 'When is that day going to come?' I mean, six years out here and I've never had an issue. That first round back is definitely going to be a little nerve-racking, but once I do it I'll be good, and then I'd like to go back and watch the footage of the crash again and see everything slowed down and in slow motion."
"You know, looking back on it, the fact that I came out with just bruises and being stiff and sore and all that stuff, that seems incredible to me that it wasn't something more serious than that. For how horrific that crash was, the fact that I didn't break anything or that it wasn't more serious is pretty incredible. That just shows the safety that we put in these cars."
This forthcoming weekend brings the second round of the 2018 NHRA Mello Yello Drag Racing Series at Wild Horse Motorsports Park in suburban Phoenix, Arizona. Will Brittany Force be present at the NHRA Arizona Nationals and ready to race?
"That's the plan. I'm going to the doctors this week. Honestly, it's going to be how I feel. Right now, I'm definitely feeling better today than I did yesterday. For the first few days after the crash it started getting worse and worse, and now I'm starting to feel better each day, which I think is a good thing. I don't want to get into that car unless I'm 110-percent back to normal. I just need to give it time. Phoenix is next weekend and I still have some days to recover, but I'm feeling hopeful for it. My plan is to be back by Phoenix."