/ /

Motor

All NEWS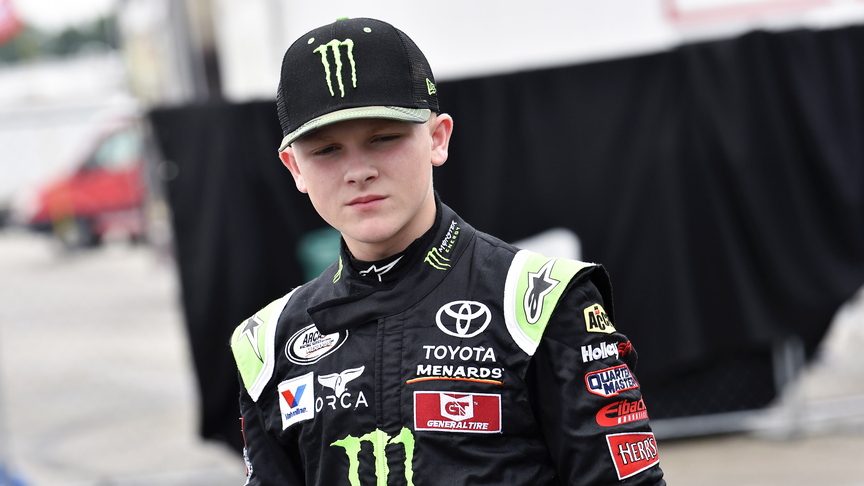 Ty Gibbs: The Cant' Miss Kid
While the NASCAR Monster Energy NASCAR Cup Series contingent rolled into the outskirts of sweet home Chicago to get their respective houses (and cars!) in order for Sunday's main event, one Tyler Gibbs, aged 16, was back home in Charlotte, North Carolina getting his head wrapped around a local Late Model race he'll run in later this evening
While the NASCAR Monster Energy NASCAR Cup Series contingent rolled into the outskirts of sweet home Chicago to get their respective houses (and cars!) in order for Sunday's main event, one Tyler Gibbs, aged 16, was back home in Charlotte, North Carolina getting his head wrapped around a local Late Model race he'll run in later this evening

"Right now I'm at the racetrack and ready to go racing," smiled Gibbs, grandson of legendary NFL football coach Joe Gibbs. "There is a Late Model stock car race running here this weekend. It's not really a scheduled thing. I'm just going to go and get some seat time and to have some fun."

Tyler Gibbs, son of Joe Gibbs Racing mastermind Coy Gibbs, is now front and center in the family racing business, this summer a racing crash course of ARCA, NASCAR K&N Pro Series, Late Model and Trans-Am races put on a syllabus and placed before him.

"Yeah, it is really cool to climb into all of these different race cars," explained Gibbs. "It's really cool to get to drive a lot of different things from these roadcourses this year and to these big ovals and stuff, it's good to race different stuff. I'm going to race a little bit of dirt this summer too. It's pretty fun to try all these different things and even more importantly, to have a lot fun doing it."

"Yeah, I like the variety of all the races and tracks too," he furthered. "You can't get too caught up in what you're driving. Like driving the ARCA car on a bigger track, that's really fun and the car drives really good compared to a Late Model or going to a dirt track, so you can't get caught up in it. I love the bigger, faster tracks, but the smaller tracks make you a better driver. I guess I'm focused on a lot of stuff; we've got a lot of stuff going on. I mean it is only June and already summer is keeping us very busy with the racing. I think now we'll go racing for 12 weekends in a row. I'll be racing every weekend."
Off to a very respectful start in '19, Ty's first big time win came at Myrtle Beach, South Carolina and Myrtle Beach Speedway last February fought off Justin Milliken to win the ultra-competitive Icebreaker Late Model race.
"That was my first win," said Gibbs. "To go out there and win that race was pretty cool. I didn't really expect it because it was a really hard track and a totally new car and a different group of people, but going out there and winning that race was definitely a confidence-booster."
Most recently, Ty Gibbs scored his first ARCA Menards Series win when he zapped rival Sam Mayer on the white flag lap to win the Day to Day Coffee 150 at World Wide Technology Raceway in Madison, Illinois.
"That was a really big win," pointed out Gibbs of the triumph he executed on the 1.25-mile circuit. "It was pretty cool because a lot of people were watching it too and we got a lot of TV time. Yeah, it was pretty cool that it came down to the wire there at the end and we got that last corner pass and won it. It was real cool that I got the race win there. We've been knocking on the door the whole year. Sometimes you do what you've got to do to win."
The Gibbs surname is a moniker with a lot of horsepower behind it in these here United States of America. Hall of Fame football coach Joe, as well as father Coy and late, great uncle JD, the Gibbs name is something young Ty knows he'll need to address along the way.
"The name Gibbs, it has its pros and cons, you know? I like it more than anything. I mean, you know that people are always going to hate on you and you have to ignore that in your life and just focus on what you're doing. I'm thankful that I got born into this great family and to be able to race. I'm the only one in my family who wanted to race, so I got lucky with that too. I really like it. I get a lot of backing and my family supports me a lot too. And my dad Coy, 'He really likes it. He runs the NASCAR stuff now, so he goes to a lot of my races and he gets to see what happens. He's like my boss and my dad, so it's a good deal."
No great shakes of a secret in NASCAR garageland that Joe Gibbs is totally into his grandson's racing exploits, and Ty, aware of it all, talked about it. "The coach is always into it," said Ty. "Whether we're racing RC cars or going out on the lake or anything, he's always excited to watch us do what we like to do. It's pretty cool to have him come to our races. I'm really close with my grandfather. He's almost like my best friend. We go golfing all the time and we do all kinds of stuff. He's pretty cool to have around."
Interestingly, when asked what contemporary race car driver impressed him the most, Gibbs answer leaped right out of him.
"I really look up to Lewis Hamilton," he declared with a big smile. "He's a really big role model to a lot of people and he's a really good driver and he's a super-nice guy off the track. That's one of the guys that I really look up to in racing."
And to race F1? Is there a shot at that?
"Yeah, F1, never say never. I like F1 a lot, but I like NASCAR. That's what I like the most and hopefully I can be in the pros one day. That's what I'm going to try and do. I don't really know my plan for next year yet, but this year I'm going to run some Trans-Am races, a couple more K&N races, a couple more ARCA races and two more Late Model races. You know, you fight so hard for the win and everybody is so good at this level of the sport that when you get that win, so much emotion goes through you. You worked your butt off to get a win, and when you finally do win it, it's a big deal. Yep. That's my goal in life. My goal is to be a top level driver."