/ /

Action

All NEWS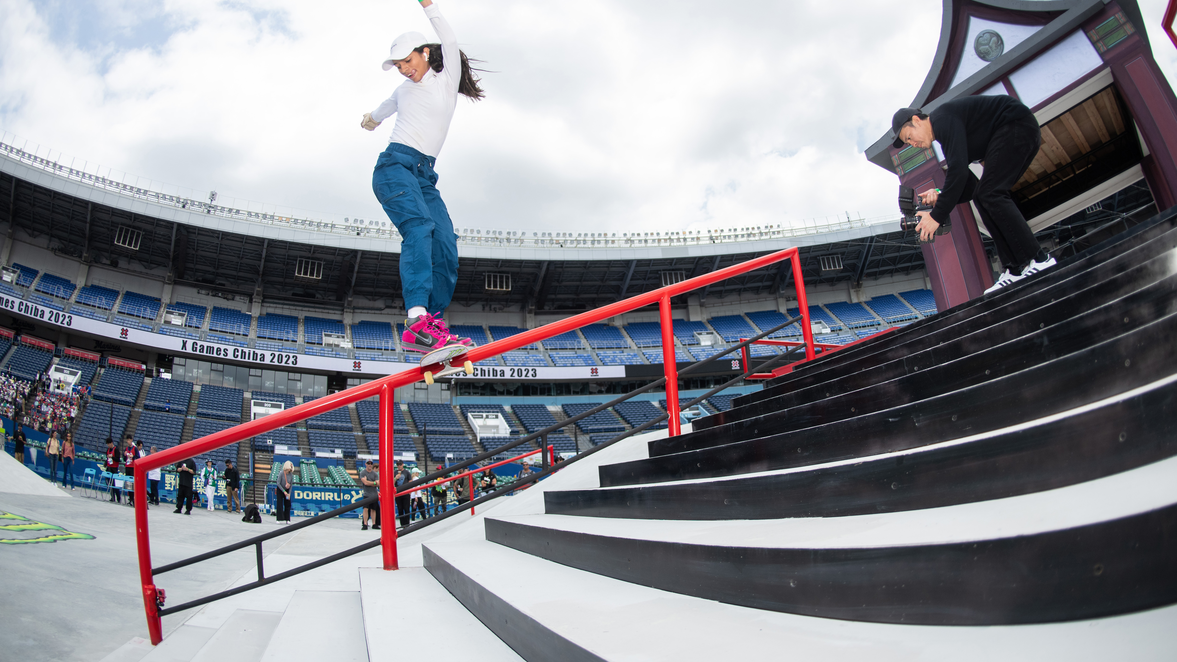 Day One | X Games Chiba 2023
Making the best of a rained-out day! On Saturday at X Games Chiba 2023, the Monster Energy Team claimed three medals: 2 gold and 1 silver
The second edition of X Games Chiba was off to a rough start when day-long rain shut down all competitions on Saturday. Consequently, event organizers decided to award medals in four competitions (BMX Park, Women's Skateboard Street, as well as Men's and Women's Skateboard Park) based on Friday's qualifier results.
The seven remaining medal events will be contested on Sunday.
Here's how it all went down for the team at X Games Chiba 2023 on Saturday:
BMX PARK
SANDOVAL CLUTCHES SECOND X GAMES GOLD MEDAL
BATTLING INJURY: Sandoval came to Japan not fully sure whether he would be able to compete. Two weeks earlier, the 28-year-old from Corona, California, had hyper-extended his elbow at the 2023 Monster Energy BMX Triple Challenge finals in Nashville. After missing most of practice in Chiba to protect the injured elbow, he not only battled through the pain but threw down the biggest airs of the contest. Beast mode!
SENDING IT BIG: "Going into qualifying we all knew that there was a potential rainfall the next day. So they let us know that this could be the final result. And that's why you see lot of guys push real hard," said Sandoval.
And push hard he did! On his second run, Sandoval threw down the biggest trick of the contest straight out the gate; a massive double flair aerial. He then combined 360 windshield wiper, no hander, 360 double downside tailwhip, massive 540 flair, handplant, can-can, no hander, and double tailwhip for 87.00 points and the gold medal.
BREAKING THE JINX: It's been a minute since Sandoval took home a medal at X Games. He already owned X Games gold in BMX Park from Austin 2015, but his most recent podium was bronze at X Games Minneapolis 2017.
"The last medal for me was back in 2017. I came here with the gameplan of putting down something solid, then push hard. Going into this X Games, I definitely had a better head on my shoulders," said Sandoval. Safe to say that he's officially back!
Sandoval now owns 4 X Games medals: 3 gold, 1 bronze.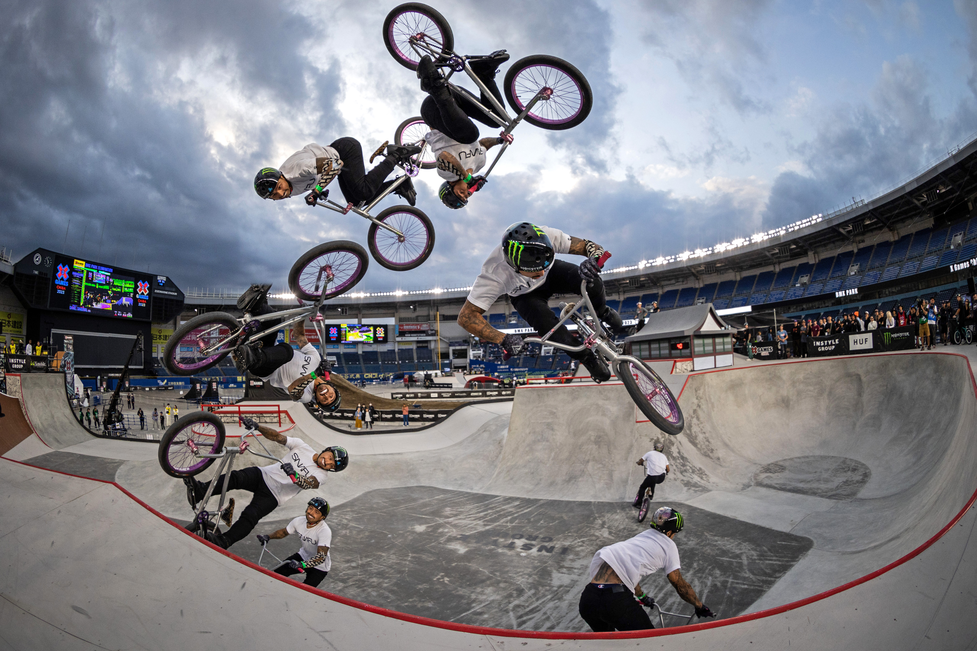 Women's Skateboard Street
LEAL DEFENDS GOLD MEDAL FROM CHIBA 2022
THE RIDER TO BEAT: At only 15 years of age, Rayssa Leal has evolved into the most competitive street skater on the circuit. Prior to coming to Japan, the Brazilian phenom earned her fifth consecutive victory in a Street League Skateboarding (SLS) competition at SLS Chicago 2023. And did we mention that Leal is also the defending gold medalist from X Games Chiba 2022?
STRAIGHT OUT THE GATE: At X Games Chiba 2023, Leal put down a winning performance on her first run, hitting the biggest obstacle on the course, a 14-stair handrail, with stylish moves. Her perfect run featured backside lipslide the 14-stair rail, kickflip up the platform, kickflip backside lipslide the small rail, frontside feeble grind, frontside bluntslide the small rail, backside 50-50 the curved ledge, and backside Smith grind the big rail for 88.33 points and the win.
MILESTONE ACHIEVEMENTS: Leal's second X Games gold joins a growing trophy collection. She is the reigning 2022 SLS Super Crown World Champion and claimed the silver medal in the Women's Skateboard Street event in the 2020 Tokyo Olympics. In 2019, she made history as the youngest rider to ever win an SLS tour stop at age 11 and last year became the youngest X Games gold medalist in Women's Skateboard Street. History in the making!
Leal now owns 2 X Games gold medals.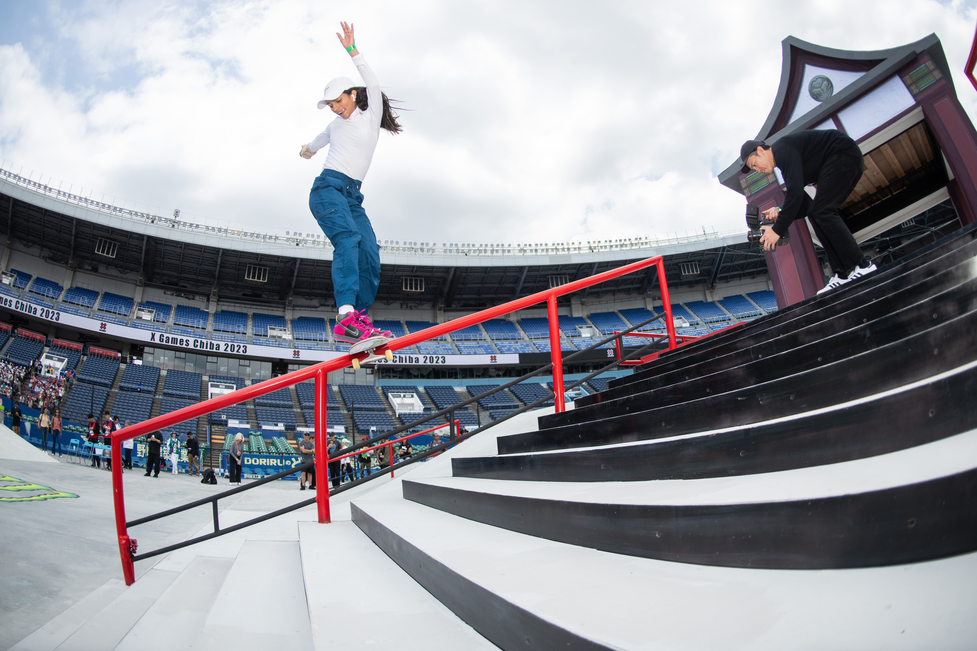 Women's Skateboard Park
MONSTER ARMY RIDER RUBY LILLEY CLAIMS SILVER
WHO'S THE AMATEUR NOW? Currently supported by the Monster Army athlete development program, 16-year-old Ruby Lilley from California has proven that she can hold it down against today's top pros. In 2022, she took second place in the USA Skateboarding National Championships and won the 2022 Red Bull Cold Bowl Philly Women's Invitational as well as Exposure Vert Open-Pro Finals. Lilley has officially arrived!
BREAKING THE AMERICAN DROUGHT: In 2022, not a single American rider was able to rise to the podium in Women's Skateboard Park at neither X Games Chiba and California. But thanks to Lilley, the drought is now over!
THREE TIMES IS THE CHARM: In her third X Games appearance, Lilley stole the spotlight by barging into second place. In her first run, she put together backside grab over box, backside air on big quarterpipe, backside nosegrind though the deep end corner, backside disaster the big wall, 5-0 grind to tailslide, lien disaster, crailslide, and 5-0 grind for 73.66 points and the silver medal. Here's to many more!
Saturday's silver marks Lilley's first X Games medal.