/ /

Action

All NEWS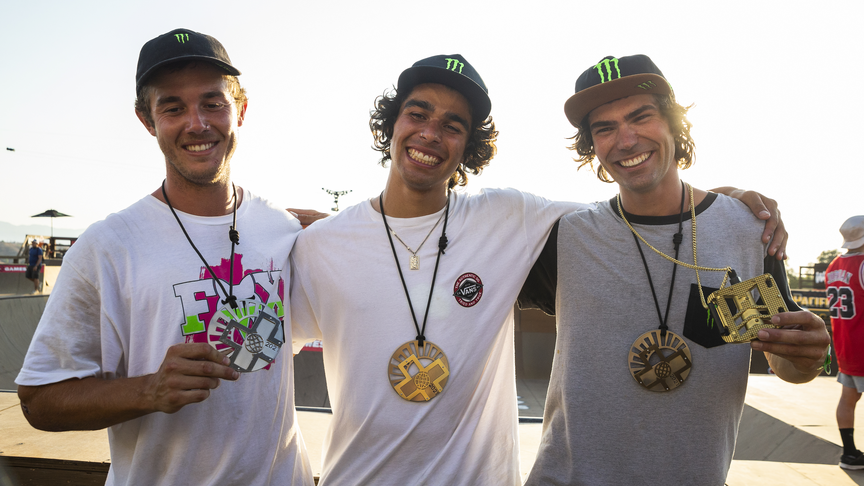 Dominating 2021 Summer X Games
Monster Energy Riders Claim Total of 20 Medals (7 Gold, 8 Silver, 5 Bronze) at X Games 2021
The world's premium action sports spectacle is officially back! The 62nd edition of X Games brought the stoke at three athlete training facilities across Southern California from July 14–18, 2021. Monster Energy congratulates its BMX, Moto X, and Skateboard athletes on a dominant performance at X Games 2021. During the four-day event and in two video competitions, the world-class team claimed a total of 20 X Games medals, including seven gold, eight silver and five bronze. Visit monsterenergy.com for exclusive content on all the team's highlights.
Supported by Monster Energy as the official energy drink partner, X Games 2021 saw more than 80 athletes from eleven countries compete for a total of 43 medals across 17 medal disciplines. The invite-only event brought out the best athletes in BMX, Moto X and Skateboarding for history-making performances streamed live to a global audience.
In response to the coronavirus pandemic, X Games 2021 was contested as a closed-to-the-public event at three locations: BMX team rider Pat Casey hosted BMX events at his Dream Yard on July 14. Next, Axell Hodges' legendary Slayground compound welcomed the world elite of Moto X on July 15. And finally, skateboarding events, alongside BMX Street, were contested at the California Training Facility (CA|TF) from July 16 to 18.
During X Games 2021, a total of 15.5 hours of competitions were broadcast live on ESPN, ESPN2, ABC and the ESPN App. Plus, all competitions streamed live on @XGames digital and social media platforms, supplemented by behind-the-scenes, athlete-curated and complementary content. Fans also had a chance to join a virtual online experience, X Fest, featuring games, giveaways, and content from sponsors including Monster Energy.
Here's the play-by-play of how the action unfolded for team Monster Energy at X Games 2021: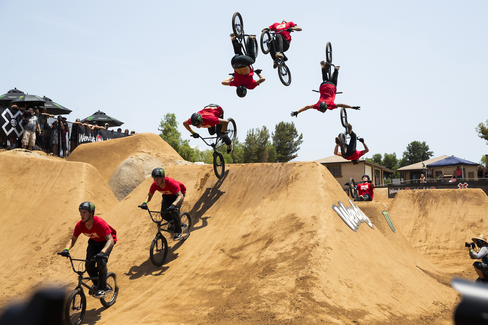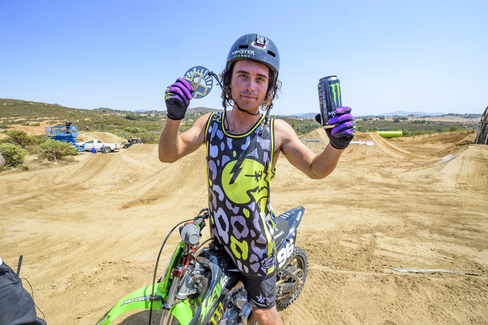 Backyard BMX Dream Yard
X Games 2021 kicked off with BMX competitions on Wednesday, July 14, at Pat Casey's backyard facility in Riverside, California, also known as the "Dream Yard". The results were indeed 'dreamy' for the Monster team with athletes claiming every single one of eight medals awarded that day across four disciplines!
In the highly competitive BMX Dirt competition, 27-year-old Monster Energy BMX team rider Pat Casey took the gold medal, a career-first X Games gold, on his home turf. The 'Lord of the Dream Yard' earned the top spot on the strength of moves like 360 downside tailwhip, truckdriver, downside tailwhip and his signature Cash Roll move as the finish. For a true upset, 20-year-old Monster Army rider Bryce Tryon earned the silver medal with an epic performance in his X Games debut. Rounding out the podium sweep, 34-year-old UK team rider Ben Wallace claimed bronze as his first medal since 2016.
The gold medal run continued in BMX Dirt Best Trick with 31-year-old Andy Buckworth from Lake Haven, Australia, claiming the win by landing a picture-perfect double backflip no-hander off the second-to-last jump. In an emotional moment, Buckworth received his first gold medal and second X Games podium after taking BMX Big Air bronze in 2010.
Monster Energy also swept the full podium in the Wendy's BMX Park final on Dream Yard's nearly 10,000 square feet ramp course. Showcasing his deep bag of tricks, 26-year-old Kevin Peraza from Tucson, Arizona, put down clean airs like a 360 double downside whip, huge flair, and 360 table transfer, alongside technical moves that included a 180 to Half Cab tailwhip and nose wheelie to 360.
Joining Peraza on the podium, Pat Casey claimed his second medal of the day and fourth X Games medal with silver by landing a huge flair, 360 over the spine, bar spin 360, opposite 360 transfer over the hip and a fakie tailwhip. The final medal went to Canadian team rider Mike Varga, who claimed bronze with a perfect run.
Varga also returned in full force in Dave Mirra's BMX Park Best Trick, contested in memory of BMX pioneer Dave Mirra. As the progression session unfolded, Mike Varga rose to the top by stomping a trick never landed before in competition: A perfect 1260-degree aerial (a total of three-and-a-half rotations) earned Varga the coveted Golden Pedal trophy, his third X Games medal after winning BMX Park Best Trick at X Games Minneapolis 2019. A truly epic day for Monster Energy BMX at X Games 2021!
FMX at the Legendary Slayground
The second day of X Games 2021 was dedicated to Moto X action at Axell Hodges' legendary Slayground facility in Ramona. The day's five motocross events included a brand-new discipline: Pioneered by Axell Hodges and Monster BMX rider Pat Casey, Moto X 110 revolves around riders taking on a smaller-scale dirt track peppered with jumps and obstacles on pit bikes.
When the dust settled, it was 24-year-old Axell Hodges who went the biggest on the smaller-scale course. Highlights included cliffhangers, extended suicide no-handers and cancan landings sideways on the saddle. 'Slay' also flexed his freestyle skills with precise manuals across the rainbow box, perfect backflips across the center jump, and a burly transfer air that cleared the entire quarterpipe landing to earn gold in the first-ever 110s event at X Games.
Monster Energy also claimed a medal in Moto X Freestyle on the updated course at Slayground that measured twice the size of regular X Games stadium set-ups. Australian team rider Josh Sheehan earned silver with a perfect first run including a no-handed superman into a 360 over the gap, huge kiss of death flip and double backflip, as well as a big flair on the quarterpipe for 89.66 points.
Next up, stylish aerials were the name of the game in the Moto X Best Whip event. Riders attempted the most contorted "Whip" aerials – throwing their bikes sideways in the air – over the massive dirt chasm at Slayground. Judges were impressed by 31-year-old Genki Watanabe from Osaka, Japan, who received the silver medal for his signature turndown whips, flying through the air backwards before pulling the bike back around.
Big airs became the focus in the Moto X QuarterPipe High Air final that saw riders gunning for maximum airtime on Slayground's 18-feet tall quarterpipe as the takeoff. In a close battle, the 'host with the most' Axell Hodges brought home silver by clearing 39 feet, 2 inches on his sixth and final run. The event ended with a history-making feat at Slayground as Colby Raha set a new height record at 40 feet, 9 inches.
The motocross action at X Games 2021 concluded with the Moto X Best Trick event on the twelve-feature course at Slayground. In a heated session, 27-year-old Harry Bink from Canberra, Australia, claimed bronze as his very first X Games medal with a special move: A perfect double backflip one-handed nac over the gap for 90.33 points and the bronze medal ended a successful day of freestyle motocross at Slayground.
Skateboarding at California Training Facility
On Friday, the Monster Energy team's podium run continued in Skateboard Park events hosted at the California Training Facility (CA|TF) in Vista. Owned and operated by the California Skateparks team, the compound boasts a full competition-grade concrete park that serves as the training grounds for some of the world's best riders.
In this elite field, an X Games rookie caused a huge upset in the Men's Skateboard Park final by clinching the win: Twenty-year-old Monster Army rider Liam Pace from Tucson, Arizona, took gold on the strength of several flawless runs including Indy 540s into the bank, Cab backside disaster, huge frontside wall bash to pull-out above the bank, and a kickflip Indy transfer clearing the entire tombstone obstacle. Watch out for this kid in the future!
Another force to be reckoned with is 19-year-old Mami Tezuka from Hikone Shiga, Japan. In the Women's Skateboard Park final, the X Games rookie held her own in an elite field and brought home the silver medal. Tezuka's highlights included frontside air over the volcano, eggplant and backside Smith grind in the deep end, Indy air into the bank, ollie up to frontside tailslide over the hip, and a huge stalefish transfer on her last run that earned rounds of applause from her peers.
Ending the weekend's BMX action on a high note, the Wendy's BMX Street final at CA|TF brought out eight of the world's leading freestyle BMX riders. At the end of the day, the silver medal went to new Monster Energy team rider Felix Prangenberg from Rossbach, Germany. In a series of perfect runs, the 23-year-old landed uprail to hard 540 the handrail, 360 bar spin fakie on the quarterpipe into a manual off the centerpiece, gap out to peg grind, and a bar spin to ice pick grind the big rail. Prangenberg was joined on the podium by 27-year-old BMX whiz kid Alex Donnachie from Perthshire, Scotland in third place.
On Saturday, Prangenberg upped the ante by clinching the gold medal in this year's X Games Real BMX contest. In the video competition judged by an expert jury, Prangenberg took the top spot with a 90-second video part captured on street spots around the city of Cologne by filmer/editor David Schaller. With "Sleep Paralysis" performed by Klaplong as the soundtrack, the video showcases technical BMX riding at its best in a real urban environment. Make sure to watch Prangenberg's gold-medal winning Real BMX 2021 video here.
The final day of skate competitions at CA|TF wrapped with another medal for team Monster Energy: 29-year-old Ishod Wair from Bordentown, New Jersey, claimed bronze in the Men's Skateboard Street final. In signature nonchalant style, the certified Thrasher Magazine 'Skater of the Year' (SOTY) hit the street course with moves like kickflip boardslide the bank rail, kickflip frontside lipslide the six-stair handrail, and a perfect switch heelflip down the eight-stair set to claim his third X Games medal.
One more thing! As announced during Sunday night's 'Best of X Games 2021' broadcast on ABC, Canadian Olympic skateboarder Matt Berger received the silver medal in the Real Street competition. Working closely with filmer and editor David Stoessel, the 27-year-old from Kamloops, British Columbia, produced a 60-second video part that convinced the judges. Set to the tunes of "Just As Bad As You" by Spoon Dogs, the segment features standout tricks such as big flip frontside bluntslide fakie, kickflip sugarcane grind, and a frontside crooked grind last trick that's a true must-watch. Better see for yourself and watch Berger's silver medal-winning video here.
And that's a wrap! Monster Energy athletes claimed an incredible 20 medals at X Games 2021 (7 gold, 8 silver, 5 bronze). The BMX team earned a whopping eleven medals, including five gold. The Moto X team took home five medals (1 gold), while Monster Energy skateboarders claimed four medals (1 gold).
Congratulations to all Monster Energy athletes on a dominant performance. And special thanks to the entire team at ESPN for making X Games history with this outstanding showcase for action sports.
Didn't catch the live stream? X Games fans in the United States who missed the action at X Games Aspen 2021 can re-watch all live broadcasts on the official X Games YouTube channel.