/ /

Motor

All NEWS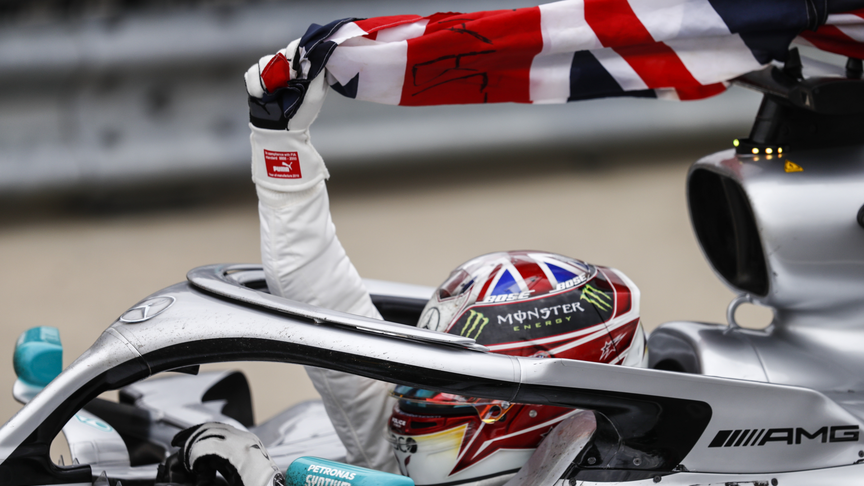 Best of British: LH44 Breaks Home Grand Prix Records
History was made at the 2019 British Grand Prix. Lewis Hamilton won the race for the sixth time in his career, and in the process became the most successful driver in the history of the event.
History was made at the 2019 British Grand Prix. Lewis Hamilton won the race for the sixth time in his career, and in the process became the most successful driver in the history of the event. The Mercedes-AMG Petronas Motorsport driver eclipsed four-time world champion Alain Prost, who had five wins at Silverstone, as well as F1 legend and double World Champion Jim Clark's British GP victories, which were secured at Silverstone, Aintree, and Brands Hatch.
Lewis celebrated with the thousands of fans who had made the race a sell-out, as he enjoyed the support on his home turf while Valtteri Bottas made it another one-two finish for the Silver Arrows. Here, the five-time world champion recalled his six victories at Silverstone.
We caught up with Lewis after the race, and he talked us through each of his six wins at his home Grand Prix - marking another record-breaking achievement for the 34-year old.
Reminisce In The Wins With Lewis Hamilton
2008
Lewis: "I remember the first Grand Prix win here in 2008. My first race in 2007 was actually really incredible. I luckily just got pole with a pretty decent lap but wasn't able to hold onto it in the race. After not being able to do it in the first year, I was so driven to make sure that I brought it home for England in 2008. Luckily it rained on the Sunday and I remember my brother coming into my room and saying, 'don't worry you've got this, it's raining, you've got this'. It was actually quite a cool moment, he gave me a bit of a boost. I went out, had the best start, had a couple of close moments in trying to overtake my team-mate and from then on just continued to lap at a crazy pace and outperform my rivals. And I think I lapped up to third place."
2014
Lewis: "This was the dream, to come into 2014 with the new hybrid era and arrive with a car that I could fight for a world title. This Grand Prix was quite crazy because I had a really bad qualifying session. It was raining on a certain part of the circuit and I remember starting the lap and I was a second down already in the first sector. I was like 'there's no way I am going to beat my time', so I backed off, only to find that other drivers had caught up. I was distraught, I couldn't believe that I had essentially given up. I flew home to stay with my dad, my step mum, and my brother for the night. I remember being in my room and I had my dogs with me. But, my dad was there and it was a really touching moment between us where he just gave me that lift that I needed. Came back the next day after a good home-cooked meal and knocked it out of the park."
2015
Lewis: "This was also a monumental period of time. It was a sell-out crowd It was an up and down weekend. I got pole but we got overtaken at the start of the race, I think the Williams had a much better start, so we fell back to third. I had to dice my way back through. At the end, we made a really great call to get onto the Intermediate tyres, which just happened at the right time. The clouds were coming in and the English weather told me that it was going to rain so I changed tyres. After that it was pretty smooth sailing and I won by 10 seconds."
2016
Lewis: "The best part about this Grand Prix was the crowd surfing. I don't know what came into my mind when I decided to do that, but I think I got out of the car after winning the race and I think I went up to go to the drivers' room behind the podium and I was like 'I've got to go back downstairs and see the crowd' so I ran downstairs and then I just saw the crowd. I got on the barrier, and I was trying to wave to everyone and then I just leaped out, which was the coolest thing that had ever happened to me at the time."
2017
Lewis: "This was a really cool year, with an incredible car, much, much faster. We won pole position, which was pretty awesome, matching some of the greats like Jim Clark. That weekend was a solid out-and-out weekend, I had a Grand Slam, where I was quickest in practice, quickest in qualifying, quickest in the race, and led every lap and then the fastest lap. Again, it was just another great moment with the fans. Every year I come back, it's another opportunity to connect with them and I think each year I notice more, or I feel like we are more united than ever."
2019
Lewis: "This was one of the best days I can remember having. I was just thinking about my first win in 2008 and the feeling I had coming out of Brooklands and going down to the old start-finish line and seeing the crowd felt so reminiscent of that. The excitement, the happiness, and the joy was exactly the same then. I have done so many races and you would think you would get used to it but it felt just as amazing as the first win I ever had here. It feels incredible. I am not one to look at statistics. I take it one race at the time and I like that approach. To then hear that I have six and to be up there with the greats...is one of the coolest things."