/ /

Motor

All NEWS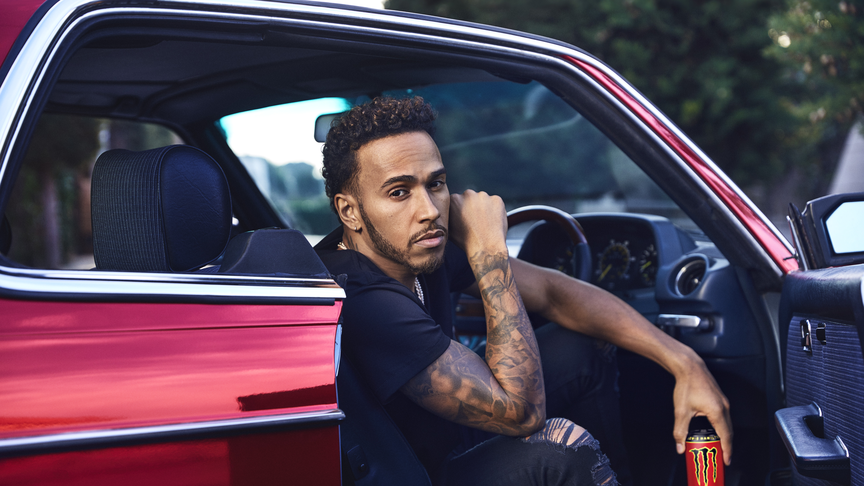 Lewis Hamilton: Cars, Cans and MotoGP
We caught up with Lewis to talk about his new signature Monster Energy drink, F1, MotoGP, and his passion for extreme sports.
Lewis Hamilton has the thirst to win his fourth Formula One world title. The Mercedes-AMG Petronas Motorsport Team star has launched his own drink, named after his racing number, 44, that he hopes will power him on to glory this season. The 32-year-old is currently second in the drivers' championship, with an impressive three wins and five podiums from eight Grand Prix. We caught up with Lewis to talk about his new signature Monster Energy drink, F1, MotoGP, and his passion for extreme sports.

LEWIS HAMILTONS NEW DRINK

How was it designing the flavour of the drink? Were you part of the tasting process?
Designing the flavour was a lot of fun, and yes I was involved at every stage of the way. I talked through the types of drinks and flavours I was into with the team at Monster Energy, and they came back to me with lots of options. I was genuinely surprised at how well they interpreted what we had talked through. Although I tested out quite a few flavours, it was actually the very first blend that I tasted that we went with. I can't remember why exactly – but I was actually sitting on the bullet train from Tokyo to Suzuka at the time when I had the very first sip – I loved it – that was it! Done!
Will you drink '44' during race weekends, or do you have your own bespoke formula to help with hydration and performance?
I'll definitely drink it out of the car during race weekends, and it'll be exactly the same as everyone can buy off the shelves – which I think is actually pretty cool! It's a bit of a dream come true to have my own drink, which I've helped design and create. It's exciting to know you've made something and put it out there; and hope people enjoy it as much as I do.
If so, what's in it and how does it work?
In the car it's either just water or my trainer mixes up a specific isotonic drink to help me with a fluid loss of up to two kilos during a hot Grand Prix, and cope physically during the race. Modern Formula One is so physical, so hydration is important over the whole weekend. The in-car drink does the job – but my new Monster Energy drink gets me up for the race and tastes a lot better!
DIET AND TRAINING FOR FORMULA 1
Diet is also important. I see you have cut out red meat, is there anything else you eat or take to stay in shape?
I have – weight, strength and endurance are the three most important things to balance now as a driver – and honestly it's tough! The day after a Grand Prix weekend is when you are the most sore, and that's when diet really counts. You want to eat to recover, but also you have to stay a set weight, so you can't pack in a load of protein or carbohydrate like pancakes or something that I'd really love to eat. I go for a balanced diet of fresh vegetables and lean meat like chicken most of the time.
The Monster tie-up suits your passion for extreme sports; will it open doors for you to try other things?
Definitely – it's one of the many reasons I wanted to work more with the team at Monster Energy. We've been talking through some potential projects already – but I can't say much more at the moment!
When you are pushing yourself to the limit, through F1 and your hobbies, do you have to find the edge of what you can do?
Success is what drives me. Ever since I started racing when I was a little kid, I've wanted to push myself, and be the best at what I was doing. I guess that's filtered through to my whole life. You have to really immerse yourself in what you are doing to find that edge – if you want to call it that. Otherwise what's the point – right?
Have you ever been warned about doing dangerous sports? Are you allowed to do them?
Haha – all the time. My family all independently give me stick all the time, I don't think that's too unusual though? Of course in the official sense I have a responsibility to my team and sponsors who work so hard, so, I wouldn't do anything to jeopardize that. F1 means too much me personally too – there's a big difference between having fun and taking unnecessary risks.
Valentino Rossi's also a Monster Energy athlete. Would you like to follow him in to MotoGP one day? Or at least a test?
I love bikes – I don't really drive too much off-track, I tend to ride my MV Agusta bikes around. The sense of freedom you get is amazing when it's just you and the bike. But racing one would be a whole different proposition. I'm a big fan of MotoGP; it's just a very cool series. I would really love to get my hands on a MotoGP bike one day!
LEWIS HAMILTON'S OTHER INTERESTS
You've also expressed a desire to race in NASCAR. Would you be willing to speak to Mercedes to allow you to take part in a race like Fernando Alonso did at the Indy 500?
Right now I'm solely focused on Formula One and achieving more wins and Championships so I need to be on my very best form without distraction. Formula One is the pinnacle of motorsport and although I admire all those racing in the Indy 500, it's not in my game plan to drop F1 for anything else. NASCAR is a really cool series and maybe sometime in the future, I'd love to have a closer look at it.
This season's F1 battle looks like it will be a real fight between you and Sebastian, what would be the dream result? Winning it with a week to spare or on the last corner on the last lap in Abu Dhabi?
For the fans, and the show; having a championship battle that lasts all season is definitely the way to go. I love racing, and achieving a fourth championship is my goal. Ferrari have proven themselves very quick already – so I think it's going to make for some very exciting battles and I'm sure that it will go down to the wire.
Do you have a motivational song you listen to before a race? If so, what?
I listen to different music all the time so there's not one particular song. Sometimes I create a Grand Prix playlist that you can listen along to on my Spotify profile. Just search Lewis Hamilton and you'll find it.
If you could give a sentence or words on wisdom to my five-year-old in achieving his dreams, what would you say?
Work hard at school. Always listen to your parents because sometimes when you think they're not right, they're smarter than you think. Brush aside people who stand in your way. Set the highest goals, work hard, keep the faith and never ever give up.
What are your simple pleasures in life?
Family, music, and friends.
If you could only ever drive one racetrack again what would it be?
Probably Macau, near Hong Kong. It's a crazy street circuit that we raced in Formula 3. Half of it is a flat-out dual carriageway along the seafront. The other half is super tight and twisty into the old town. You have to run super low downforce for the straight which makes it super exciting for the twisty stuff. For me, it's probably the best circuit in the world.
Some people say that you are the luckiest person in the world, what would you say to that?
I do feel super blessed for where I am in life. We came up from nothing; my Dad had four jobs to help me go karting, so let's be clear my success is based on hard work, perseverance, drive, determination, and dreaming big. This is what got me the opportunity to race in Formula One.
When was your last time you cried and laughed so hard your belly hurt?
Every time I talk to Kevin Hart!