/ /

Motor

All NEWS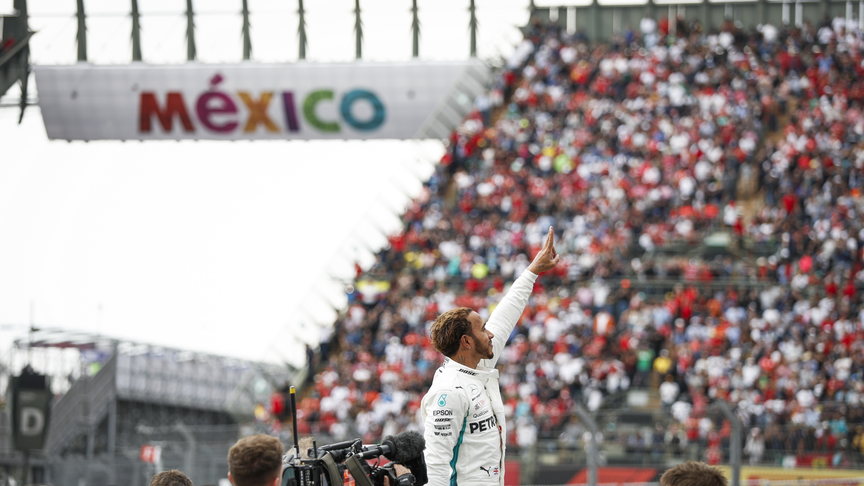 Up Close and Personal with Five Time FIA Formula One World Drivers' Champion Lewis Hamilton
Lewis Hamilton secured his fifth career F1 Championship at the 2018 Formula One Mexican Grand Prix. Hamilton's five titles now put him level with Formula 1 legend Juan Manuel Fangio. What's more with a record 71 wins and 132 podiums to his Formula One racing record, Lewis has cemented his spot as one of the most successful drivers in motor racing history.
But what about the man behind the visor? What drives Lewis to be such a competitive athlete? We had the opportunity to talk with the 33 year old after the Mexican Grand Prix. As well as grabbing insight into his life and inspirations away from the track, Lewis was quick to mention his love for Mexico; which always keeps him coming back to race at the Autódromo Hermanos Rodríguez with a smile.
"I never in a million years thought I'd be standing here today a five-time World Champion. I never knew that was going to happen and I am just so grateful to everyone who has helped me be here", explained Lewis. "I want to say a big thank you to all the fans here for making the Mexican Grand Prix as special as it is. I love it here in Mexico, it's such a beautiful country, and more so its people."
One of the major factors Lewis identifies himself by, as well as attributing to his success is staying positive and having a winning mentality. Qualities which he strives to emulate from his lifelong heroes: "The three people I've always admired are Muhammad Ali, Ayrton Senna, and Nelson Mandela," Lewis said. "Senna has been my hero since childhood."
During his childhood, everything was about racing. Racing has been his bread-and-butter since he was eight years old, but had that path not worked out, music and fashion would have been second choices. Even now both creative outlets still play a big part in Hamilton's life; from working in the studio, to visiting the latest runway shows.
"When I was a kid there was nothing other than racing. Just racing. But it could have gone so many ways. I could have become a completely different character. Who knows, I could have been in trouble! I also could have been in a band. Music has been a huge passion of mine," continues Lewis. "I started playing guitar when I was 13. In the studio, I can be me, I can be vulnerable. I can show a side of me that people don't get to see. As a kid, I wanted to blend in. It's taken a long time to find my own direction, which you can see in what I wear. I've made lots of mistakes, but that's how you find your own style. I like to go to the shows because you see the craziest, wackiest stuff. It's how it makes you feel that's important. Fashion is a very personal thing. I don't care what anyone else thinks."
While the music runs deep in Lewis, on the surface, the champion´s skin is full of ink. Clearly demonstrating his love for tattoos. "I love my ink," continues Lewis. "They all have a meaning. I'm very strong in my faith, so I wanted to have some religious images. I've got Pieta, a Michelangelo sculpture of Mary holding Jesus after he came off the cross, on my shoulder."
"A sacred heart on my arm. Musical notes, because I love music. The compass on my chest is there because church is my compass. Family is everything for me, so I have 'family' written on the top, across my shoulders. Faith', obviously. And I have 'powerful beyond measure' written on my chest – it's a short bit I took out of a quote from the writer Marianne Williamson. On my back I have the cross and angel wings: rise above it, no matter what life throws at you."
The child that grew up idolizing Ayrton Senna is now one the most decorated F1 racers in history. What's more, Lewis is regularly compared to another great, Michael Schumacher. Similar to Lewis, Schumacher also won his fifth title by the age of 33, which means that the odds of Lewis catching up to seven-time F1 champion Schumacher are looking favorable. Add his continued determination into the mix and arguably it will only be a matter of time before he surpasses the legendary German driver.
Lewis certainly has plenty of mileage left in him. His ambitions are as big as his record list and his legacy will continue to grow. His amazing skill behind the wheel and the confidence in his racing team, without a doubt, will catapult him to see the podium many more times.
Among his achievements off the track, Hamilton partners with Monster Energy and has recently launched his own drink called "44" in Mexico. He considers this collaboration as one of his dreams that have come true.
"I have been in contact with Monster for six years and I have always wanted my own drink, so for me, it's a dream come true. I am very excited to have worked on every detail of the product from scratch and finally see "44" in stores."
There are still two more chances to see Lewis in action this season - where he will race to lock in vital points to help secure the Formula One Constructors' title for the Mercedes-AMG Petronas Motorsport Team. Stay tuned for the Brazilian Grand Prix on the 11th of November, and the Abu Dhabi Grand Prix on the 25th of November.