/ /

MMA

All NEWS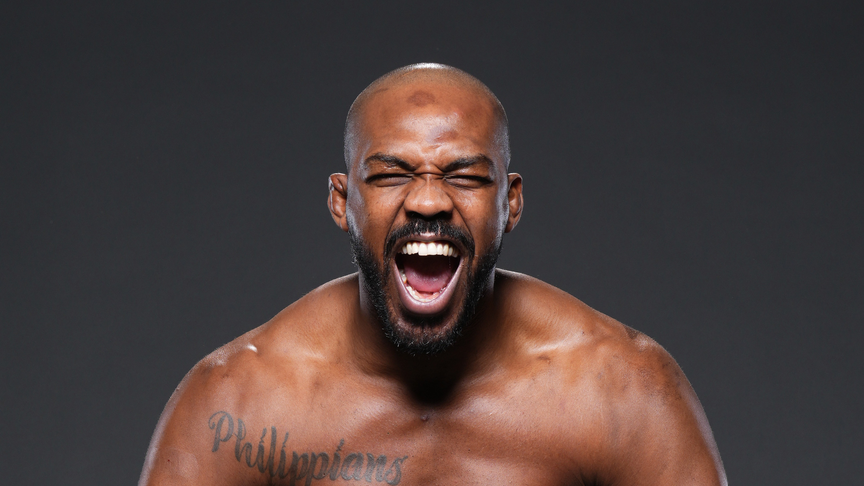 Jon Jones | The Beast is Back
In between his heavy workouts, we sat down with the beast himself to hear first-hand about his journey to the Heavyweight division.
He's already the best. He's done cutting. He's motivated.
Three years ago, Jon Jones had his last fight against Dominic Reyes at UFC 247 in the Light Heavyweight division. From there, he walked away from Light Heavyweight division for good. Feeling uninspired. He cleaned up the division, what more was there to do? Easy. He made the decision to go HEAVY.
His coaches said he needed the two to three years to prepare his body… Now, it's 2023 and Jon Jones has arrived, and he's coming back a Heavyweight.
On Saturday, March 4, Jon Jones Unleashed the Beast in his first Heavyweight fight against Ciryl Gane (UFC 285). In the first round, the referee called a stop to the contest at 2 minutes, 4 seconds, pronouncing Jones the winner and new UFC Heavyweight Champion. This marks the third-fastest submission in a UFC Heavyweight title fight.
He's looking to fight against the biggest and best Heavyweight fighters in UFC, and he's not backing down from anyone. In between his heavy workouts, we sat down with the beast himself to hear first-hand about his journey to the Heavyweight division.
THREE YEARS OF FOCUS
I would say for the first two years of my absence, I was focusing on me. I was focusing on gaining the weight properly. About a year ago, I felt like I was pretty much ready to fight. I've been ready for about a year now and I'm just grateful to have a guy that stepped to the plate.
MOVING TO HEAVYWEIGHT
When I fought Dominic Reyes, my goal was just to win another fight, and I noticed that my performance wasn't really the best. I started asking myself why I wasn't I performing at the level that I knew I could. Some of the answers that came to me was that I just wasn't happy.
I made up in my mind after that fight that I was going to leave the division forever, start challenging myself, start dreaming a little bit bigger, and decided that I'd never be a Light Heavyweight again...
IN A DIVISION OF KILLERS
I'm really honored to be in a division of killers. I want to eliminate some of these really great Heavyweights and for UFC to give me their best within these next three or four fights.
As a fight goes on longer and longer, I'm coming at you harder and harder. I'm calculating your movements, your offense, your punching power, all of it.
I'm fighting guys now that gets all my attention, that keeps me up late nights and keeps me in the gym for many hours, and I'm excited for this higher level of competition.
LIFE AT 250lbs
I've lost nothing and gained a whole lot of confidence. It feels incredibly natural to be a Heavyweight now. No more suffering and dieting and all that type of stuff.
I feel like I really look a lot like I used to, just thicker throughout my body. I love it, man, I love it. Both my brothers are heavyweight athletes and I feel like this is the weight that I was always supposed to be.
I get to eat comfortably. I sleep better. I think more clearly. I move more explosively. I feel like a better version of myself.
GAINS… BESIDES WEIGHT
I've gained a lot of explosiveness.
I've gained a lot of strength.
I've gained that ability to finish my takedowns in a different way.
It's the strength that I've never had to match a lot of skill.
ADVANTAGES OF BEING A FORMER LIGHT HEAVYWEIGHT
Things like weight cutting: the mental toughness that it takes to make the weight over and over again. A lot of Heavyweights haven't had to really experience that side of the game.
I train with Heavyweights all the time. A lot of the guys, they don't like to push themselves too hard. They don't like to exert themselves. They'll break a sweat, but they don't like to do sprints.
I am used to a quicker pace. I'm used to fighting slightly more disciplined fighters. Everyone talks about Ciryl Gane being so fast, I guess he's fast for a Heavyweight. No matter how much gain weight I've gained, my brain is used to seeing a certain speed of attacks coming at me. And so far as a Heavyweight, no one's been able to replicate it.
OPPONENT BREAKDOWN
Before this Ciryl Gane game fight was announced, I was just willing to fight anyone. I was just training for, for all three of those guys. Ciryl, Stipe and Francis. And now I finally got my opponent.
Ciryl Gane is a big challenge for your first fight back in three years. He's very versatile. He's very active. He's very athletic. I got my hands full with a guy like Ciryl and I'm very excited for it. It makes me feel alive and it's just such a magnificent challenge.
Stipe Miocic: I believe I will fight him in 2023. Uh, he's one of the toughest guys out there right now. He knows how to win. He has a great work ethic. Uh, he always comes with great cardio. He has knockout power. He's a great wrestler. He's the total package. I'm here to challenge myself against the best guys in the world.
Jon Jones is ready to Unleash the Beast in the heavyweights, and taking on anyone who is willing to put up a fight.