/ /

Motor

All NEWS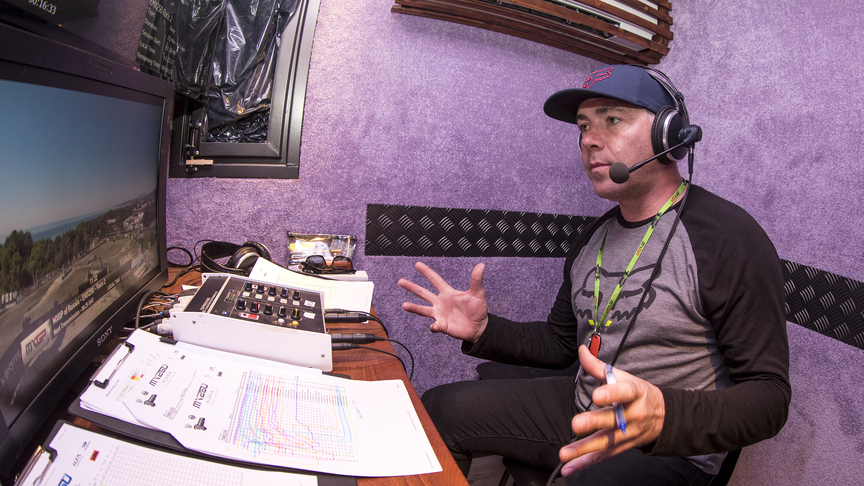 The Voice: The Life of an Official MXGP Commentator
We asked 'Maler' to tell us more about his 'world' and how he constructs a side of MXGP that not many know about.
Paul Malin opens his mouth and the sound of MXGP is instantly recognizable. The 46-year-old ex-Grand Prix and Motocross of Nations winner has become the voice and the face of the FIM Motocross World Championship over the last decade and his knowledge and ability to offer insight into a demanding sport is as familiar to the ears as the growl of the four-stroke machines that make up MXGP and MX2.
Being able to chat about a sport for the better part of a day (or across a Grand Prix weekend with Qualification Heats also broadcast) and feel comfortable in front of a camera is not as easy as people would think. We asked 'Maler' to tell us more about his 'world' and how he constructs a side of MXGP that not many know about.
"YOU CANNOT BEAT BEING PREPARED & I KEEP A LOG OF STATS & FACTS…"
Live commentary is not something you can just drop into…
It's been a major progression for me really. Even as a racer, eight-ten years before I stopped, commentary and the media side was something I was interested in and thought it might be an avenue I could pursue. I remember the first time doing live TV and you have all these voices with directors, commercial cue points, and restarts and terminology that goes into how a show comes together. It is a process of stop-start all the time and you notice things like the amount of times you say "hello" or "welcome" when you watch a show back! It has to be a seamless thing. I guess it is like riding in a lot of ways; you learn from your mistakes – or you hope to – there is no bigger mistake than messing up on live TV!
Up to seven races on a Sunday means plenty of chance for practice…
If you don't know too much about what is goes on at the circuit on a Sunday and what goes into a broadcast – with the quantity and variety support class races in one day – then it can be easy to sit at home and criticize. Sometimes I might miss stuff because there is so much going on. You might misidentify a rider and only realize when you watch back. Someone might be watching a single race on TV…but we might have had five races already by then! The timing is tight. Sometimes it might be just 10 minutes from one race to the next. Behind the scenes I'm collecting pages of information, getting organized for the next class so it all joins together. You have to concentrate. Riders' numbers can be the same and sometimes you wonder 'man: are we doing the 125 race or the 250s or MX2?!' Mentally it can be draining.
You cannot beat being prepared & I keep a log of stats & facts…
Because nobody will help you in that respect. I like to look at every situation and think 'OK, when was the last time a Kawasaki won two races in MX2?' or 'has this brand ever won at this track?' I think that is the kind of stuff the hardcore fan at home wants to know.
"THERE ARE SO MANY THINGS TO BE AWARE OF WITH COMMENTARY, NOT ONLY WHAT IS HAPPENING BEFORE YOUR EYES ON THE SCREEN…"
I've been there, got the t-shirt…but now I'm vying for it again…
I think ex-pros have a level of insight that is valuable. Especially in the commentary booth if not much is going on in the race. However, some riders were really high-achievers and if you have a conversation with them on the subject of racing then they are almost mute. They might be shy or not know how to articulate what they did for a wider audience. You get a real mix. You have guys that perhaps were not so good but really know how to explain themselves and with a wide perception of the sport. It's like coaching. I don't think you need to be an ex-world champion to be a successful coach. People always look at results, and a rider that was occasionally good might also have been one that understood many facets of the sport. Anyone can 'bench race' but when you put those headphones on then it can become very real and I see that with guests that come into co-commentate. I'm aware of my surroundings and I don't take it for granted that every GP will go smoothly because they don't and I've been in situations where I have temporarily lost timing screens and even images before; trying to look out a window and fudge my way through. People don't always see the technical issues or appreciate you are trying to keep a cool head. Live TV isn't perfect.
There are so many things to be aware of with commentary, not only what is happening before your eyes on the screen…
You have to preach to the converted but also to the person who might be watching for the first time. They might know that a KTM is orange and Husqvarna is white but last year we had HSF KTMs that were white! So you do have to cater for everybody and try to let them know who-is-who and what is going on. You also need to give as much information as possible to keep people engaged…otherwise, it is just a bunch of riders going around.