/ /

Motor

All NEWS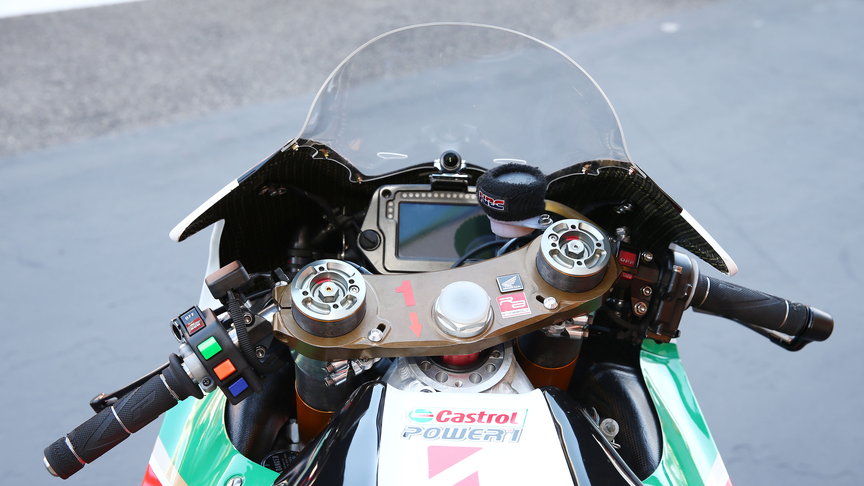 What do MotoGP Riders See and Use in a Race?
This weekend the Gran Premi de Catalunya Monster Energy will showcase the fastest motorcycle racers steering the pinnacle of road bike technology at speeds that will top 350kmph along the kilometer-long principal straight just outside of Barcelona.
These compact, cramped and explosive pieces of engineering are designed for one sole purpose: to meld with the Michelin tyres and obliterate lap-times. Unsurprisingly a MotoGP star's view and controls are entirely functional. This is not a comfortable ride.
Their 'cockpit' is something they'll tuck into at the soonest possible opportunity to minimize drag. Hunched into that bubble and hanging on to cope with dizzying levels of torque and acceleration, naturally, there is not too much to see or do. "We are obviously very limited with our view but the worst is being in the tuck position because your peripheral vision is a lot less and you are just staring into the dash and the triple clamp of the bike," says Britain's principal MotoGP ace Cal Crutchlow.
Being 'tucked in' represents a fleeting few seconds when, in fact, they can interact with the controls at their disposal. Crutchlow's LCR Honda, HRC's most advanced speed weapon, has several key options. "On the left side he has a standard clutch lever, a front brake lever adjuster, and then the pit lane speed limiter switch," explains Crew Chief Christophe 'Beefy' Bourguignon. "We then have the three-map button, what we would call torque, engine braking, and traction control."
"He can switch to have more or less engine braking and he'll try it during a run-on-track and say where it is better or worse and then we'll adjust the map for perhaps just one corner instead of two. He can see all of that on the dash because it is easy to get confused and you have to cycle through the three options."
The front brake lever adjuster is something that Crutchlow regularly twiddles. "I change the lever adjuster a lot each lap. It's a bit mad. I know Dovi [Andrea Dovizioso] changes his as well and the reason for that is that we both run the same master cylinder from Brembo and nobody else does! The bike shakes a lot and for that you want the setting to always be the same."
"Some riders brake with one or two fingers. I brake with three. I like the lever to be in the same position and for the brake to be there initially but then to release and brake again," #35 says. "That's our style. I can ride around most things like vibration, something hanging off the bike, or an injury but I do not like a spongy brake."
Buried beyond the vast triple clamp is the dashboard, surrounded by LEDs and a screen barely bigger than an iPhone 6. Surprisingly Crutchlow spends quite a lot of time looking at it. "He'll have the RPM, the best lap-time, the difference compared to his best split and information about his engine maps," Bourguignon says. "Some riders don't want to see that and instead prefer a light, like 'green' for an improvement, to understand if they are going well or they should finish the lap or scrub it to be ready for another one. Cal likes the numbers and, incredibly, he can tell you exactly the fractions of a second of his splits. We can also now send more messages to him as you see on TV and things like 'change tyre' but we try not to use it too much because when he's racing it is better he just focuses on that. We have some LEDs here that are warning lights, so if something goes wrong then he'll know there has been an engine failure or similar. Dorna can also send messages like 'ride through penalty' or 'red flag' or even show a chequered flag."
The right side of the handlebar holds the crucial elements: throttle and brake. The Kill switch to shut off the engine is also located here. "The bar position is a very personal thing," reveals Bourguignon. "Honda will recommend some settings but the offset can change, so back or forwards, as well as the angle. It depends on the size of the motorcycle but we see more and more people opening the bars to have more power and control on the bike."
Even though a tumbling trip through the gravel is an expected part of racing the LCR team and management are likely to wince when the RCV starts bouncing on its head. This is a pricey end of the motorcycle. "It's really costly, every electronic part," Bourguignon says. "Every pressure sensor can be 2000 euros. They are special parts and not mass-produced. Each cable and component is also protected by custom-made pieces. The bikes are heavy and if one lands on the front then the dash, the harness, the wires, the sensors, gyro…you can quickly spend between 50-80,000 euros."
When Crutchlow has the best view of the racetrack it is normally empty. He has already grasped victory this year, in Argentina, but is one of a gaggle of racers in a series that has squashed even closer in terms of competitive parity. There is little to no doubt the increased entertainment factor of MotoGP over the last half-decade and we'll be braced for more at Catalunya.