/ /

Music

All NEWS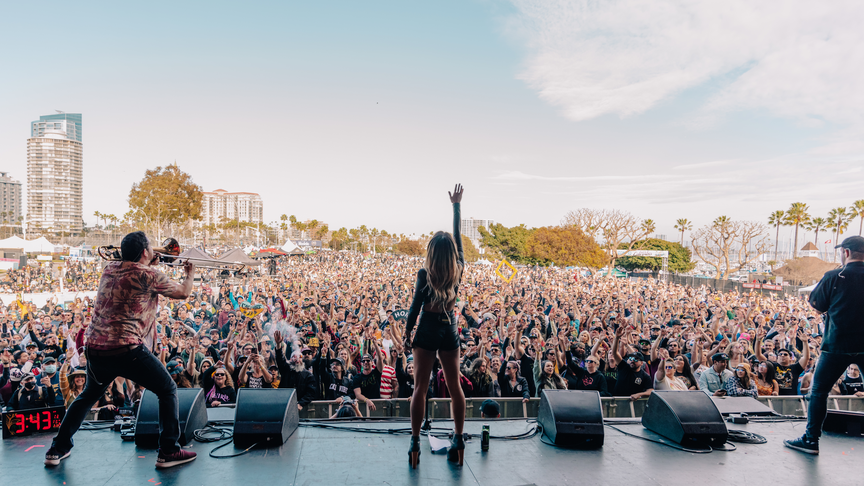 Monster Energy Music Festival Essentials
Fall is an exciting time for Monster Energy and especially for our hard rock and metal fans out there! September marks the beginning of our Fall Festival season, a time which sees some of the biggest festivals in the rock and metal genres happening all around the country. Fall Festival season will kick off with River City Rock Fest on September 22, followed closely by Louder Than Life, Rock Allegiance and Monster Energy Aftershock. We have so many Monster Energy artists performing this year including Chevelle, Suicidal Tendencies, Islander, Five Finger Death Punch, Asking Alexandria, Papa Roach, Of Mice & Men, Fozzy, Jonathan Davis and Black Veil Brides, not to mention the countless other incredible artists who are going to tear it down on those stages weekend after weekend.
Going to a festival is a big deal, and we want you to be fully prepared to have the most kick-ass time possible, that's why have prepared this for you!
Cell phone & portable phone charger: How are you supposed to get an Instagram selfie with your favorite band, or be able to brag to all your friends who aren't at the festival about the awesome time you're having, if your cell phone goes dead? Make sure you bring a back up battery charger and cable.
Bandana: When there's 20,000 music fans whipping up a circle pit, that dust is going to be flying. If you want to get in the middle of the action, bring a bandana so you don't have to breath everyone elses dust!
Hand sanitizer: Festivals aren't the cleanest…you're outside, in the dust and dirt all day moshing up a storm. Let's be honest, the portapotties aren't the most sanitary place to be either. So before you head to one of the incredible food vendors these Festivals have in store for you, make sure you hit the hand sanitizer.
Rain Jacket/Poncho: Hey…you never know, it might rain, and no one wants to get stuck in a storm while trying to mosh to their favorite band.
Durable/inexpensive shoes: You're going to be on your feet A LOT. Make sure you have some comfy kicks to get you around all day. But remember, after 239408 mosh pits in the dirt and dust, your favorite kicks may end up in the trash so don't bring your best sneakers.
A hat and sunglasses: You're going to be outside all day walking around and checking out those stages. How are you going to crowdsurf to your favorite band if you've got sunstroke? Here's a tip, get cheap sunglasses, there's a chance you're going to lose them, especially when there's a wall of death!
A Sharpie: We'll have a ton of these at the Monster Energy area for signings with your favorite artists, but you never know, you may catch a glimpse of your favorite band walking around the festival grounds and want to get that autograph!
Earplugs: We all love loud music, and let's be honest, we want it turned up to 11 whenever possible! We want you to be able to enjoy live music for many years to come, so have a set of earplugs on hand just in case your ears and brain need a little break.
Lastly but most importantly: make sure you have a can of Monster Energy ready to keep you energized for the entire day! If you can't find one before you walk through that festival gate, don't worry, we have a whole Monster Energy dedicated area complete with artist signings and meet and greets, a viewing deck and all the Monster Energy you can handle!

- Make sure you grab a map of the festival site.
- Check the schedule and plan which band's you're dying to see – many bands may be playing at the same time, so planning in advance will help you maximise the artists you can see and help you have a more kickass time.
- Check the weather report, this way you'll know whether you're going to wear a tank top, or a raincoat!
Set a meeting point. This way if you lose your friends and your phone does go dead, you can still meet up.
- Check out all the food vendor options. There are a ton of options and we don't want you missing your favorite band's set while you're trying to decide what to eat.