/ /

Music

All NEWS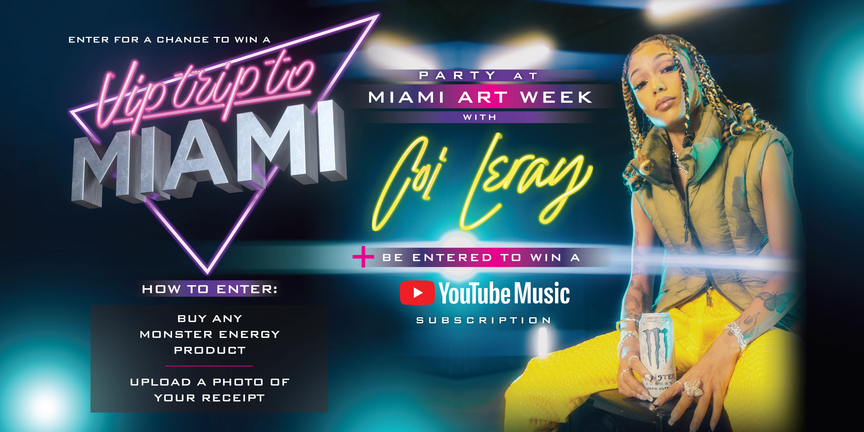 Party With Coi Leray in Miami
In an exclusive interview, the Ultra team sat down with Coi to talk more about this once-in-a-lifetime partnership and give a behind-the-scenes look into the mindset of Coi Leray.
Big Trend Setter Coi Leray is bringing the energy by partnering with Monster Energy's Zero-Sugar Ultra for 2022. Even better, Coi will join fans on a VIP Trip To Miami, where they will be living the Ultra Life by scoring access to an exclusive party experience at Miami Art Week. The fans will feel Coi's Ultra energy by attending an unmissable live performance with the hip hop legend.
Getting hyped? So is Coi. In an exclusive interview, the Ultra team sat down with Coi to talk more about this once-in-a-lifetime partnership and give a behind-the-scenes look into the mindset of Coi Leray.
It's Ultra clear that Coi is all about the energy both on the stage and off. She's fueled and fired up to meet her biggest fans and party with them in Miami. With that, she has some advice not only to win a trip to Miami but also win in life: "I want to tell my fans that are entering that don't let nobody tell you who you are. Always keep going no matter what, and no matter what you do, put your all into everything. Make sure you give lots and lots and lots of energy." What's her formula for success? "Energy, consistency, motivation, good people, loyalty, love, and Ultra." Coi's here to empower her fans through her actions and music, and the first way to start: entering the VIP Trip To Miami!
There's no doubt Coi is a trendsetter, she embodies the Ultra lifestyle of living loud and not taking shit. The "Twinnem" artist is rising to the top and has no plans of slowing down. But, being bold in the music industry isn't always easy: "Being a young, black female artist in this world, means you have to have thick skin and be ready for anything. In this industry and in the world, things can get hectic and crazy. I surround myself with good people and make sure I'm prepared for those trials and tribulations, and after that, it'll be alright."
Her unwavering focus and good energy are supported by the people around her. Coi surrounds herself with energetic badasses who encourage her to be her best and highest self, and that crew is what motivates her to keep going and pushing the boundaries. "What motivates me honestly is my people, my family, and everyone around me. You know, there's a lot of people that believe in me and put their time into Coi Leray as a whole. That makes me want to keep going so we can all be bosses and be at the top."
But she won't lie to you, the shit thrown at her online can sometimes be a hard pill to swallow. She's making a name for herself in music and claps back when someone fucks with her. We asked her if criticism affects her energy and mindset or drives her to prove the haters wrong: "With public opinion, I'm not going to lie, you can't expect humans to be anything but be human. So sometimes, it can affect me but like I said: You have to surround yourself with good people. I have my friends and my family to always remind me and help me get on my feet, stay away from the negative bullshit. There's always going to be hate, someone's always going to have something to say. If you can try to block it out as much as you can, you're going to make your way to the top."
She's blocking out any bad vibes that get in her way and is fired up to bring her music to the next level. You'll definitely hear it at her exclusive Miami Art Week performance. Coi writes from personal experience and is always learning and developing new content. Her songs are based on what she's personally going through. "Everything I go through, I put it in my music. I've worked with a lot of great people in this industry that I've learned a lot from, it's the reason why I have my hits today. I take the advice they give me and use it when I'm in the studio." Her goal is to keep expanding her audience and make music for all generations to listen to. "I want to make music for everybody. I have always wanted to be the female artist that the guys, the kids, the moms, the dads, and the older people feel comfortable listening to. I want guys to blast my songs in their cars with the drop top-down and I feel like not every female artist can do that."
After some major collabs in 2021 with artists such as Lil Durk and Pooh Shiesty, Coi is ready to collab with some female artists. "If I was to pick one artist to collaborate with right now, I would choose Doja Cat. She's a female artist that really puts a lot of work into what she does. She goes hard from her choreography to her stage presence, to her looks; it's super inspiring."
Coi Leray is versatile in her songwriting. When breaking down her favorite songs, it's hard for her to choose just one. "They are all so different. I love 'No More Parties' and 'Twinnem,' but 'Big Purr' is also my favorite. They have three different vibes. 'No More Parties' talks about real life, making people settle down and understand the reality of things. Then you have 'Big Purr', that's my alter ego where I shake my butt and turn up. And then, you've got 'Twinnem', and that's meant to explain to the world about what it means to be loyal and just have fun." You can hear all these songs and more by entering to win Monster Energy's Ultra VIP Trip to Miami.