/ /

Action

All NEWS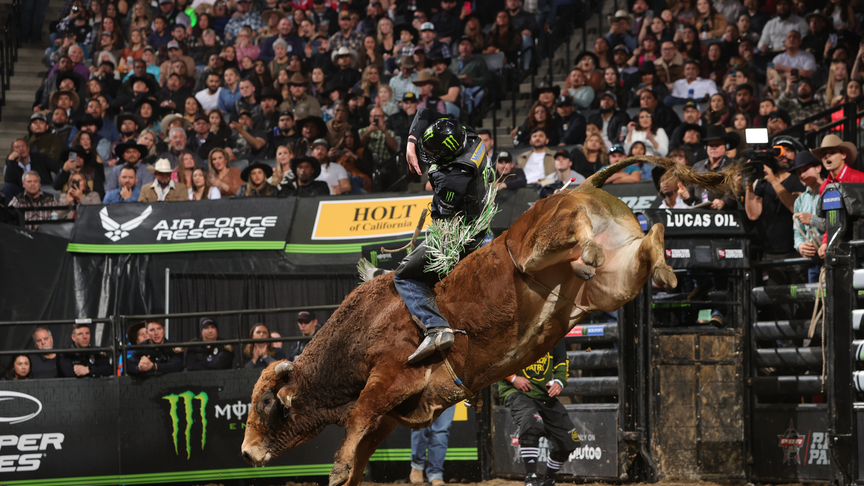 Campbell Turns PBR Calendar From February to July
It was a great ending to February on the backside of July.
It does not matter what month it is for Boudreaux Campbell.
It was a great ending to February on the backside of July. A bull named July. Campbell was 88 points in the Championship Round to become the first rider to make a qualified ride on July, and he was in such control he made it look easier than it actually was and could have, perhaps, should have been marked higher.
Nevertheless, Campbell became the third Monster Energy rider to be ranked in the top ten of the PBR with a second-place finish in Los Angeles.
It was his second top ten finish at an elite, televised event in as many weeks and comes just one week after the Texas born and raised cowboy moved to North Carolina to live and train with his PBR Team Series coach Jerome Davis and general manager Austin Dillon. Davis is a former World Champion bull rider, while Dillon is a former winner of the Daytona 500.
Campbell closed out the month of February, which also included a third-place finish in the 15/15 Bucking Battle in Sacramento, California, with a 2-for-3 performance at the SOCAL Showdown.
Campbell won the opening round with an electric, nearly picture-perfect 91.25-point effort on Shameless. The Texas-born and raised cowboy grew up a fan of the late Kobe Bryant and the Los Angeles Lakers, so earning his round-win with his first 90-point effort of the 2023 season "meant everything" to him.
The next evening, he then followed up with the aforementioned 88 points on July.
Campbell was the first to make a qualified ride on him, even though July turned out backward and went to the right, away from Campbell's riding hand.
"Every ride does something for you," Campbell said, "so confidence is key to keep the ball rolling. We're just getting started to put the hammer down."
Two-time World Champion Jess Lockwood was fifth in Los Angeles, while Chase Outlaw was 17th and Kaique Pacheco was 20th.
"I just have to remind myself it's bull riding and it's a tough sport. I gotta grit my teeth and bear down and I didn't do that (Saturday) night," said Lockwood, who fell short of making the whistle on Friday. "I made dang sure I got aggressive today and I put the boots to one."
Lockwood was competing for only third time this season and has twice finished in the Top 5.
Fellow two-time World Champion Jose Vitor Leme remains the No. 1 ranked bull rider in the world followed by Pacheco, 3; Campbell, 8; Derek Kolbaba, 25; Lockwood, 27; Outlaw, 36; and Daylon Swearingen, 60.
"Right now, it is no surprise, you are going to have to get through Jose Vitor Leme if you want to be the World Champion bull rider this year," said two-time PBR World Champion turned CBS broadcaster Justin McBride.
Kolbaba (knee) and Swearingen (groin) are currently out with injuries.
The rest of the Monster Energy team will be in Little Rock, Arkansas, next weekend before rounding out the month March with trips to Milwaukee, Wisconsin; New Orleans, Louisiana; and Albuquerque, New Mexico.