/ /

Action

All NEWS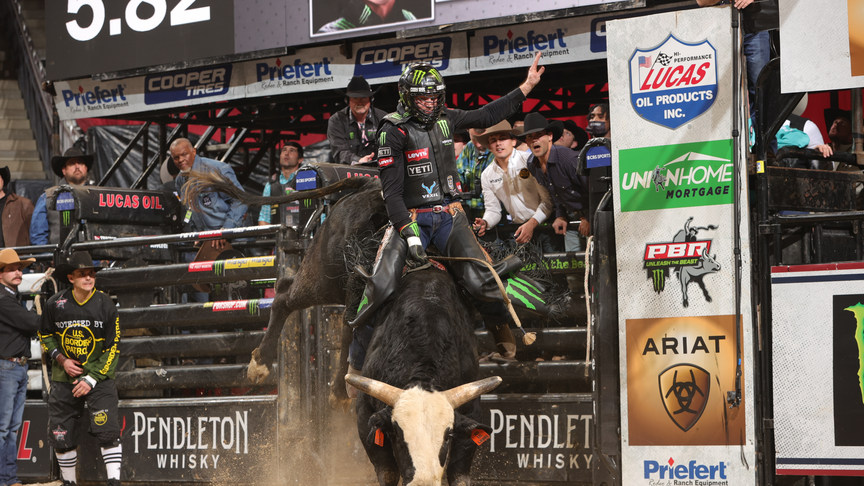 Consistency Feels Good For Cody Teel
Consistency.
That one word was a major topic of Cody Teel's conversation following a 3-for-3 performance at an elite televised PBR event in Milwaukee, Wisconsin, this past weekend. Teel finished second in the average.
It was his best finish in the past 13 months. However, the 29-year-old from Texas is still looking for his first elite win since April 2019.
"It felt good," he told PBR.com, "and things came together a little better this weekend than in the past few weeks."
A week earlier, in Sacramento, California, Teel had a rough go of things in a match-up with The Punisher that resulted in the "Save of the Week" for the bullfighters. This weekend was different. Teel was 86.25 points on Lil Larry, 86 points on Chubby, and 86 once again on BuzzBallz.
Teel, a five-time PBR World Finals qualifier, who is now in his sixth season at this level of competition, said he had not been riding poorly but is making a conscious effort to remind himself to trust his body and trust the training and preparation he's done during the week.
Another Monster Energy rider looking to trust himself is two-time PBR World Champion Jess Lockwood.
Coming off back-to-back surgeries that have limited his appearances the past two seasons, Lockwood was 2-for-3.
Lockwood said he's aware others have questioned his commitment to continue but adamantly said "my mind is in (the game)" during a television interview with CBS Sports. Fellow two-time PBR World Champion turned television broadcaster, Justin McBride, said it was great to see Lockwood "stay in the fight" and doing the one thing he was so accustomed to doing in past seasons—making the 8-second whistle.
The 24-year-old from Montana was 86.25 points on Black Sox in the opening round — "if my hand can stay in (the rope), I'll make the whistle" — and then 74.5 points on Two Sox to find himself in the Championship Round for the first time in 2022.
Lockwood is still recovering from a core muscle injury he sustained after returning from a groin injury that nearly proved to be career-ending.
While Teel finished second in the average and Lockwood was sixth, two-time defending PBR World Champion Jose Vitor Leme finished Milwaukee fourth to give the Monster Energy team three of the top six finishers. Leme was 2-for-3, including an impressive 92-point effort on Grand Theft.
It was the second time this season, a trio of Monster Energy riders have competed in the 12-man final round.
Teel is now 12th in the world standings followed by Leme, who is 13th. Marco Eguchi is 33rd and Lockwood is 37th, while Derek Kolbaba and Chase Outlaw are tied for 40th.
Teel, Leme, Eguchi, and Lockwood will be in Oklahoma City next weekend followed by events in St. Louis, Missouri; Los Angeles; and Little Rock, Arkansas, to close out the shortest month of the year and yet the most elite, televised events (5) in a month's time.