/ /

Action

All NEWS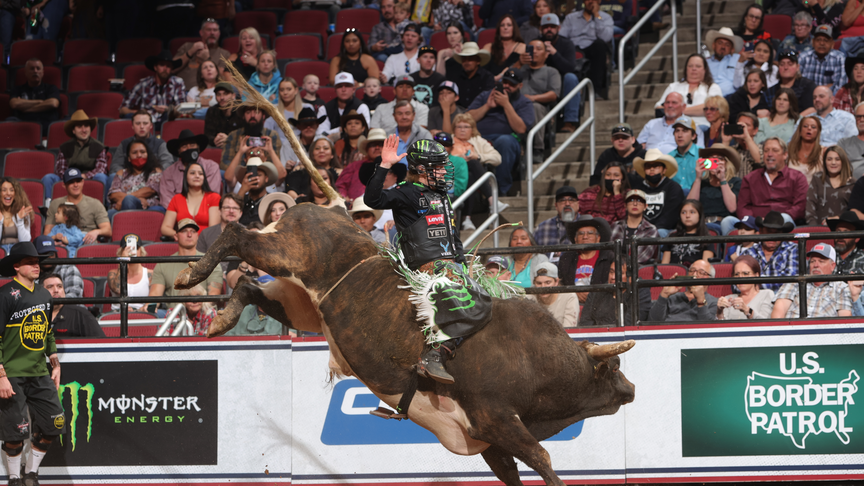 Kolbaba Surging; Leme Recovering
Derek Kolbaba continued his own March madness with another pair of qualified rides this past weekend in Glendale, Arizona.
The Monster Energy bull rider was 2-for-3 at the most recent elite, televised PBR event to finish fifth in the average and moved to up five spots in the PBR world standings from 20th to 15th.
Afterward, the Walla Walla, Washington, native stated, "Ridin' spinners."
Kolbaba was 88 points on Vertigo Spy to open the Glendale event in Round 1 and followed up 87 points on Bad John to earn the second pick in the bull draft for the Championship Round. He selected reigning World Champion Bull Woopaa and brought the crowd to its feet as the seconds ticked from 1 to 2, 2 to 3 and despite his best effort the clock stopped just shy of a qualified 8-seconds.
Kolbaba's official time was 6.99 seconds. Woopaa has marked the top bull score — 46.5 points — of the event and his second-best of the 2022 season.
Two-time reigning World Champion and fellow Monster Energy rider Jose Vitor Leme made history not once, but twice last season in matchups with Woopaa. Leme rode him for a PBR record 97.75 points in Tulsa, Oklahoma, before closing out his second world title campaign with 98.75 points in the final of 2021.
Leme, who was stepped on after bucking off Yadi on Saturday night, returned on Sunday and rode The Good Stuff for 85.5 points to finish 14th in the average. But it was the second time the 25-year-old from Brazil escaped serious injury.
"This year didn't start very good for me," Leme said during an interview with CBS Sports Network. "I have some injuries and some scary moments, but I'm good. … Of course, it's not easy when you got some injury to ride 100 percent. I'm not 100 percent now, but I'm working for that."
Leme added, "I'm going to still work to ride my bulls and do my best every time."
Kolbaba, who is on the mend from torn ligaments in his right ankle, joked it is time for him to put his foot down "and get some work done" this weekend in Kansas City, Missouri.
Following the Missouri event, the Top 35 riders — including Leme, 5; Kolbaba, 15; Cody Teel, 17; and Marco Eguchi, 20 — will take part in a rare run of three elite events over a 10-day period when they are in Sioux Falls, South Dakota, from April 1 – 3 followed by Everett, Washington, on April 6 and Tacoma, Washington, on April 8, 9 and 10.
Chase Outlaw, 32, is week to week with a groin injury, while Boudreaux Campbell, 42, is expected to return to competition after follow-up appointments with Dr. Tandy Freeman, an orthopedic surgeon for the PBR, confirmed there are no broken bones or torn ligaments in his riding hand.