/ /

Action

All NEWS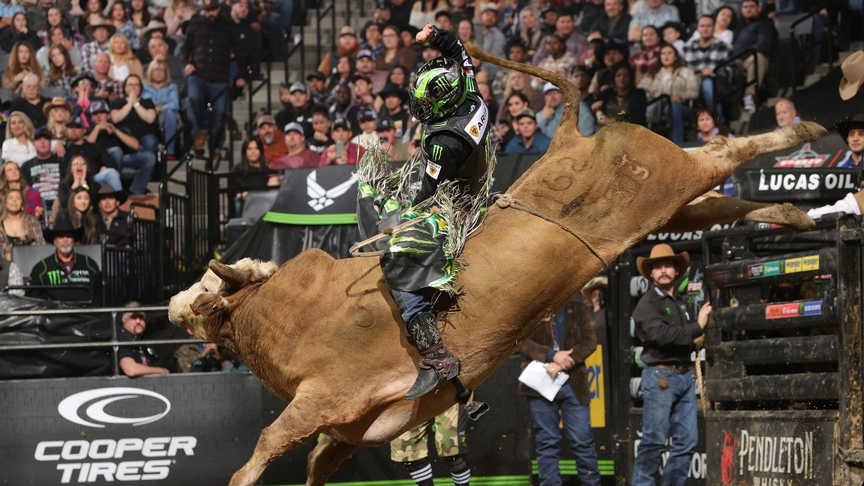 Leme Earns Third Elite PBR Event Win of 2023
How good of a bull rider is Jose Vitor Leme?
The two-time PBR World Champion was not at his best this past weekend, in Sacramento, California, and yet he won his third elite, televised PBR event of 2023 and placed second in the 15/15 Bucking Battle.
More importantly, the 25-year-old from Ribas do Rio Pardo, Brazil, is now the No. 1 ranked bull rider in the world, having competed in just five of the first 10 events of the season.
Leme is trying to become only the third rider in the 30-year history of the league to win three world titles. And now that he is back in the familiar position of having everyone else in the world chasing him from behind, Leme said he plans to "just keep doing my job and keep riding my bulls. Always put God first in everything and that's my key: I'm going to keep working for that and if God wants, I'm going to stay there."
He and fellow Monster Energy rider Boudreaux Campbell were second and third in the 15/15 with Leme earning 86.75 points on Charmer, while Campbell was 85 on Express Lane.
Charmer had an unusual out and yet Leme was in complete control until just before the 8-second whistle when he was rocked back on his arm and summarily dumped over the frontend. After the judges called for a review, it was ruled the clock had started late and Leme was awarded a score that moved him to within 8.5 points of the No. 1 ranked.
On Sunday afternoon, he won the second-long round with 89.5 points on Lil Hot and then took The Right Stuff for 8 seconds and 87.5 points. The two rides were enough to give him the win and a firm hold atop the world standings.
"It's always special when you get this buckle [for winning the event], but having all this crowd cheering for you us," said Leme, during an on-camera interview to close out the telecast, "it's for sure different. I feel so happy (for) another win in my career."
Leme is followed in the world standings by 2018 World Champion Kaique Pacheco, 4; Campbell, 10; Derek Kolbaba, 20; two-time World Champion Jess Lockwood, 26; Chase Outlaw, 36; and reigning PBR World Champion Daylon Swearingen, 58, who is expected to be out of competition for another month.
The Monster Energy riders and the rest of the top-ranked riders in the world will now travel to Tulsa, Oklahoma, for a two-day event beginning Friday night before heading back to the west coast for a pair of events in Eugene, Oregon, and Los Angeles in the month of February.
"I just want to keep doing my job and be healthy and ride my bulls," Leme concluded.