/ /

Action

All NEWS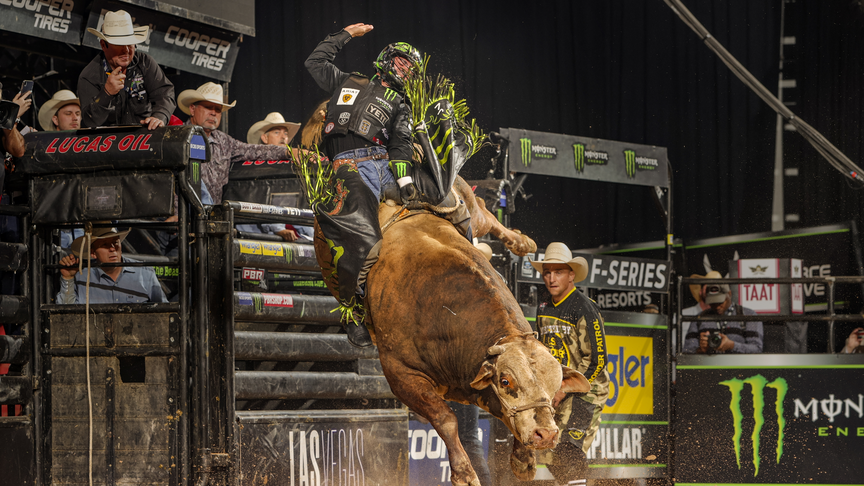 Leme Takes Fifth in PBR World Standings Due to Injury
It was not the season Jose Vitor Leme had in mind. At least, not the ending.
The reigning two-time PBR World Champion and Monster Energy bull rider has been beaten, battered, and tested throughout the past five months as he attempted to win an unprecedented third consecutive world title.
Friday night, he won the fifth round of the Finals — his first of the season-ending marquee event — to position himself for an unequaled title no other rider had come close to winning in the 29-year history of the PBR.
But 24 hours later and less than even seconds after nodding his head on crossover, Leme was bucked off. Worse, he lay on his back with his abdominal area fully exposed when Leme took the brunt of a glancing kick from the hind legs of Crossover that left the 25-year-old with four broken ribs and a small collapsed lung.
The injury, only the latest in a series of bruising moments that included a groin injury in 2022, ended his chance at immortality, figuratively and literally.
He was unable to compete in the final two rounds on Sunday. Leme finished fifth in both the World Finals average and PBR world standings.
In an Instagram message posted in the early hours, Leme wrote, "I'm fine thank God and soon I'll be back to continue my career as a professional bull rider and try to make those who are always cheering for me proud. God bless each of you and see you soon."
In the post, Leme also wrote "my season ended a little earlier than expected," while confirming his injury and adding, "We often don't understand the reason for many things, but what always comforts me in these moments is knowing that God is always with me guiding and protecting me, the accident I had yesterday could have been much worse, I confess that for a moment I thought I wouldn't go resist and look at me here thank God for being able to witness this deliverance to you, I thank you for all the prayers you sent me, for all the messages of comfort I received, and all the fans who have always supported me."
The message was in stark contrast to his interviews Friday night.
He spoke feeling blessed and seeing what God had in store. Just two days earlier, he had previously posted, "Today may seem impossible, but tomorrow, God may surprise you."
On the heels of, perhaps, the greatest single-season in PBR history—he recorded the two highest-marked rides in history (98.75 and 97.75 points on Woopaa), eight event wins, and 24 90-point rides, Leme earned the Mason Lowe Memorial Award for the third consecutive years. The annual award recognizes the highest-marked ride of the regular season.
This year, Leme rode Ridin Solo for 94.75 points.
He is expected to be the first pick in this week's PBR Team Series draft and will refocus on winning a third gold buckle in November when the 2023 season commences a month earlier than usual.