/ /

Action

All NEWS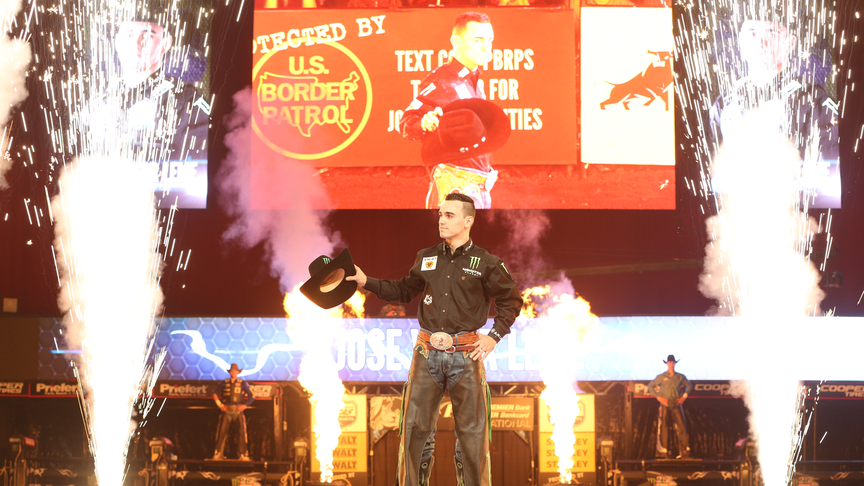 Jose Vitor Leme never tried riding bulls until he was 18-years-old and by the time he was 21, Leme became only the second Brazilian rider to win the PBR Brazil national title, Brazilian Rookie of the Year, and the Brazilian Finals event winner in the same year. He followed up that feat by traveling to the United States and winning the PBR Velocity Tour Finals, PBR Finals event, and became the PBR Rookie of the Year a month later.

And The Legend Leme Was Born
In his stateside debut, when he went 6-for-6 at the World Finals, including a 94.25-point effort on Magic Train in the Championship Round. He finished the five-day event with a trio of 90-plus-point rides in his last four outs and earned a PBR record-setting $416,000 in Las Vegas.
In just one week's time, he finished 2017 ranked seventh in the PBR world standings.
A native of Ribas do Rio Prado, Brazil, the 5-foot-5 Leme is a naturally gifted athlete.
Following his parent's divorce, he lived with his mother and was initially shielded from following in his father's footsteps in becoming a professional bull rider. The elder Leme had ridden bulls locally in Brazil, but the younger Leme took up soccer at 11. Throughout his teens, Leme played semi-professional soccer.
"To be a soccer player, you have to be really athletic and quick to make real short, quick motions," explained Leme, in a PBR profile prior to participating in the PBR's first-ever Global Cup in Edmonton, Alberta, Canada, "and you have to do the same thing on the back of a bull."
"That really helped me."
Leme added the decision to pursue bull riding was easy.
"It was not hard because I really love to ride bulls," said Leme, who rode calves, at 7, prior to his parent's divorce, "soccer too, but I think I had more passion for bull riding."
In Brazil, he rode more than 80 percent of his bulls and he attributes the transition from soccer to bull riding to the compatibility between playing soccer and riding bulls.
He compared the agile adjustments soccer players make on the field along with quick movements while changing directions to the fast-twitch muscle movements utilized by bull riders, who, like soccer players, maximize their lean pound-for-pound strength.
Leme, who is short, small, and strong, is also known for having exceptional balance and has often been compared to fellow Brazilian Kaique Pacheco.
Within a week of arriving in the United States, Leme's skills and ability caught the attention of the entire sport, and, in just his first full season of competition at the elite televised level of the PBR, he is the latest member to join the Monster Energy bull riding team.