/ /

Action

All NEWS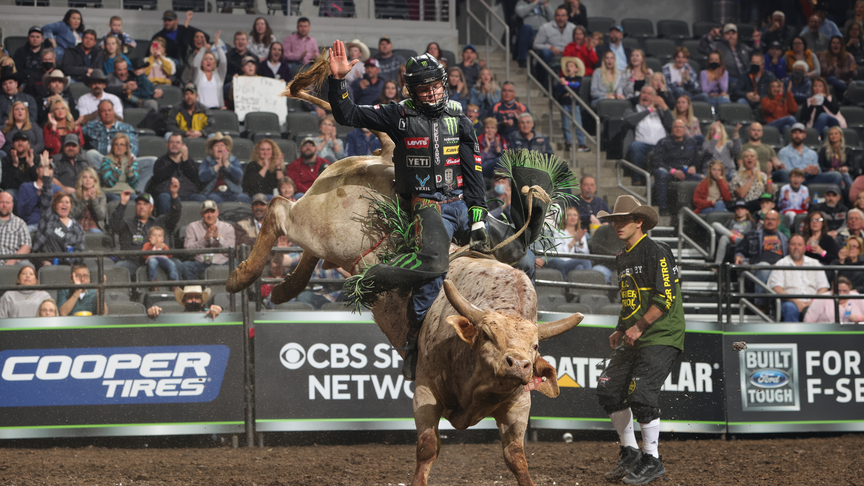 Should Kurt Busch and Derek Kolbaba Switch Places?
For the sixth season in a row, longtime Monster Energy fan-favorite Derek Kolbaba is poised to finish the PBR season ranked among the Top 15 bull riders in the world. The 26-year-old native from Walla Walla, Washington, is currently ranked 12th in the standings with one elite, televised PBR event — Billings, Montana — remaining in the regular season.
Kolbaba has now recorded 12 Top 10 finishes in 2022.
In that regard, he has been consistent throughout the season recording seven Top 10 finishes in his first nine events, nine of 12, and 11 of 15. Twice he nearly won an event — Los Angeles and two weeks ago in Tacoma, Washington — by finishing second in the average.
Last week, he was 87.75 points on Sam I Am in Round 2 of an elite event in Nampa, Idaho.
Kolbaba, who recently announced he and his wife are expecting their first child, has ridden every type of bull — both into his hand and those who turn away from his riding hand — and even joked with Monster Energy teammate and NASCAR driver Kurt Busch about wanting to "ride along in one of them cars."
Busch quickly replied, "You want to jump in?" "Heck yeah," said Kolbaba, who was adamant in making a point about not wanting to get behind the wheel of a race car, "I don't want to drive. I would rather just sit there. I'm not sure if you have a seat there next to you or not—just to feel the g-force. I could never imagine. It would be fun."
"I would love to take you around for a ride," said Busch, the longest active tenured Cup Series driver, 2004 Cup Series winner, and the 2017 Daytona 500 winner, "but then I would have to jump on a bull."
Kolbaba thought it would only make sense until, of course, Busch asked, "Are there any two-seater bulls?"
"We might be in a big wreck if we do a two-seater bull," Kolbaba joked, "but we could try."
On a serious note, Kolbaba will be looking to improve his standings going into the PBR World Finals. The regular season wraps up with a three-day event that also features a 15/15 Bucking Battle giving Kolbaba plenty of opportunities to ride his way — on a bull, not in a car — into the Top 10 of the world standings.
This weekend's event begins Friday, April 29, and concludes Sunday, May 1.
Kolbaba will be joined in Montana by Cody Teel, 23, and Marco Eguchi, 27. Boudreaux Campbell, 52, is returning from a hand injury, while Chase Outlaw and two-time World Champion Jess Lockwood are expected to return to competition following the Finals.
Two-time reigning PBR World Champion Jose Vitor Leme, 4, will not be competing in Billings but has indicated he will most certainly be in Fort Worth, Texas for the World Finals beginning May 19.