/ /

Action

All NEWS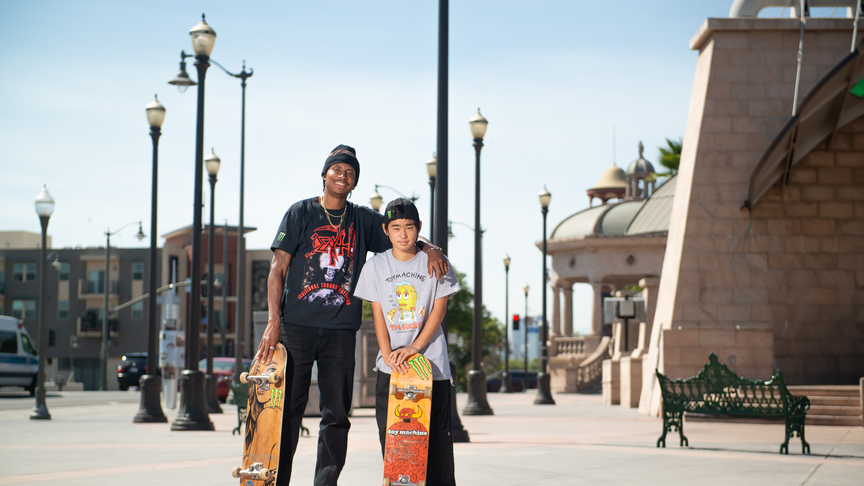 Daiki Ikeda's Shadow Day with Ishod Wair
It's all about stoking out the next generation of young skateboarders! Watch the new 'Shadow Day' video showcasing 15-year-old Monster Army recruit Daiki Ikeda from Japan hitting spots in Downtown Los Angeles alongside his idol, Monster Energy pro rider Ishod Wair. As the second installment in the video series, the four-minute edit pairs the young rookie pro from Tokyo with the X Games gold medalist and certified Thrasher 'Skater of the Year' (SOTY) from Bordentown, New Jersey.
"I was really stoked to skate with my favorite skater today!" said Monster Army rider Daiki Ikeda about the video shoot.
'Shadow Day: Ishod Wair & Daiki Ikeda' was shot over the course of one special day in Los Angeles. It follows in the footsteps of the first 'Shadow Day' video released in September 2020, featuring young Brazilian ripper and Monster Army rider Filipe Mota and the world's winningest street skateboarder, Nyjah Huston.
Much like the first installment, the new 'Shadow Day' edit shines a light on the brand's platform for nurturing the next generation of action sports talent: The Monster Army is Monster Energy's athlete development program that supports athletes ages 13-21 years old in skate, motocross, BMX, mountain bike, surf, snowboard, and ski. Athletes from all over the world are evaluated and invited into the program to represent the Monster Energy brand and receive monetary, media, and product support. Monster Army alumni include pro athletes such as FMX icon Axell Hodges and BMXer Jeremy Malott.
For young Monster Army upstart Daiki Ikeda, it was a dream come true to session the streets of Los Angeles with his favorite pro skateboarder Ishod Wair in the new video. Two years ago, Ikeda first turned heads in the U.S. by winning the gold medal in the Junior Street Division at X Games Minneapolis 2019 at age 13. Competing in the iconic Tampa Am contest, known as a gateway into pro skateboarding, the young Monster Army rider dropped consistent technical moves to claim his take in the cash-for-tricks contest.
Maintaining his upward momentum, Ikeda earned sponsorships from companies such as Toy Machine skateboards and Nike SB shoes. In August of 2021, he showcased his technical rail skating skills in a video produced by influential skate website The Berrics. Featuring mind-boggling tricks like a backside 270 kickflip lipslide down the tall rail, the clip exposed Ikeda's talent to an even wider audience.
Speaking of talent, the skating in 'Shadow Day' is top-notch, as can be expected: After warming up with lines at a stair and flat spot, the rookie and SOTY proceed to put down serious ledge tricks. See Wair string together technical street lines in signature effortless style with his dog, Valentine, in tow. After earning the official thumbs up from Wair for a textbook kickflip, Ikeda ends the day with some certified bangers down a big stair set.