/ /

Action

All NEWS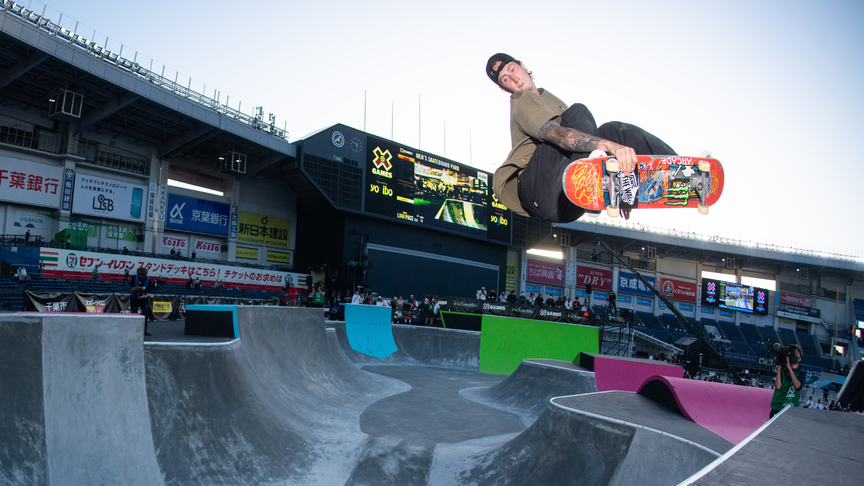 Liam Pace Talks Summer X Games 2022
Before Liam goes into training mode, we sat down with him to ask him about joining the Monster Energy Skate Roster and Summer X Games 2022. 
Liam Pace began his X Games career in summer '21, and took the gold in Men's Skateboard Park. Pretty epic way to start. Then, X Games Chiba came around in April '22 and Liam stunned the judges, taking bronze in Men's Skateboard Park. He just finished up Simple Sessions in Estonia and won for the second time. Bottom line, Liam's one to look out for. Before Liam goes into training mode, we sat down with him to ask him about his Euro adventure, Summer X Games 2022, and joining the Monster Energy Skate Roster.
You went to Europe for Simple Sessions! What was your favorite skate spot?
My favorite spot was the Under Broen DIY by far!
Any future parts coming from the Euro trip?
I didn't get to film much when I was in Europe because of a sinus infection, but I'd definitely like to go back for a film trip, I've got so many ideas for tricks.
What was it like competing in Simple Sessions and winning for the second time?!
It was such a fun contest and a crazy experience coming home with the win for a second time, I definitely didn't think I'd do as well as I did on a more street style course but extremely stoked on the whole trip.
SUMMER X GAMES 2022
What have you been working on in preparation for Summer X Games?
I've just been skating every day and skating different stuff so I'm comfortable on the board, it also makes it feel like more of a session than a contest.
How do you practice for something like X Games? Any specific places you like to go to get into the competition style of skating?
I definitely like skating the Vans HB or the CA | TF a little. But mostly skating other parks that aren't necessarily contest parks because if I can do the stuff I want to on a more difficult park, it makes it mentally easier on something built for a comp.
What new skate tricks have you been working on? Will we see any at X?
I've definitely been working on a couple new tricks, still trying to figure out how to put them in a line. Hopefully I'll be able to put them together for X Games!
When you get to CA | TF, can you walk us through what your day will look like before competing?
I'll probably just have my normal daily schedule and get to go skate at the TF, I try not to think about it being a contest and it definitely helps just thinking of it as a normal day.
Congrats on taking Bronze in Men's Skateboard Park, Chiba! What's your goal for this Summer X? Anything you're doing differently?
Thank you! I haven't really thought about that but I'd like to put down the run I have in my head. I've got a rough plan of something different from last year but definitely gotta play around with my line a bit more to figure it all out.
WELCOME TO THE MONSTER ENERGY SKATE ROSTER
You're a new recruit on the Monster Energy Skate Roster, congrats! What has it been like competing with Energy instead of Army this year?
It's been amazing, I'm super stoked to be on the team and skating with everyone. It's also been a blast shooting with Joey more!
What has been the highlight of your year so far?
Getting to go to Japan was so much fun, it was definitely different having to quarantine at an event with everyone but it made it one of the most memorable trips I've been on so far.
Favorite Monster Drink?
Either Ultra Gold or Peachy Keen!
Biggest inspiration on the Monster Team?
I'd have to say Rune for sure, I've looked up to him since I started skating.