/ /

Action

All NEWS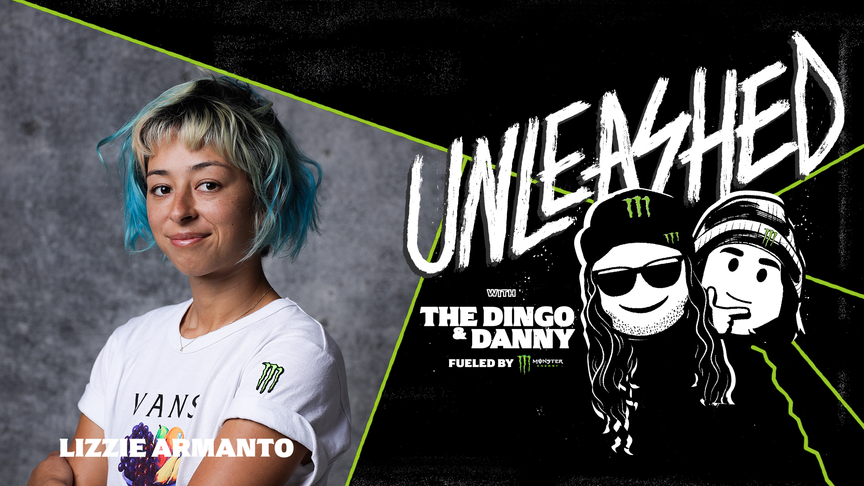 UNLEASHED Podcast Features Lizzie Armanto
Episode 15 Welcomes 28-Year-Old X Games Gold Medalist and Olympic Competitor from Santa Monica
Make way for one of the most accomplished women in action sports! Monster Energy is proud to welcome skateboarding pioneer Lizzie Armanto from Santa Monica, California, on Episode 15 of the sports and pop culture podcast UNLEASHED with The Dingo and Danny. The one-hour episode sits down with the 28-year-old American-Finnish professional skateboarder known for pushing the boundaries of female vertical riding and competing in the 2020 Tokyo Olympics.
"It was weird to think that I went to the Olympics and I'm an Olympian. Suddenly, I've been hit on the head with a magic wand, like, 'You're a real athlete!' I think skateboarding showed its true colors and it was represented really well for all the people that got to see it," said Armanto on the UNLEASHED episode about competing in skateboarding's debut as an Olympics discipline.
Fans can now experience the story behind the trailblazing skateboarder who overcame adversity to push the boundaries of female park skateboarding as one of the sport's icons. Released today, the new podcast featuring Armanto is streaming on all major platforms, including Spotify, iTunes, and YouTube.
As a special honor, the work paid off when Armanto received sponsorship by skate icon Tony Hawk, who issued her a pro model skateboard on his Birdhouse Skateboards label. In 2018, Hawk hosted the 'Loop of Death' challenge on a 360-degree loop similar to a Hot Wheels stunt car track. And Armanto is the first woman to date to complete the Loop and ride away unscathed. "It's crazy! There's nothing like it, that's why it's so challenging. Once you start to do the Loop thing, you can't hesitate."
Armanto speaks from experience, including a life-threatening fall in early 2021. She suffered the most devastating injury of her career while riding a Mega Ramp, requiring surgery and extensive rehabilitation. "It takes a lot to build your confidence again. It's scary because you're just vulnerable. And a lot of people are scared because of vulnerability. Without the right support system, it's terrifying. Just knowing how to deal with that whole process and be patient with yourself. It takes a lot of guts and courage."
Armanto still achieved her next milestone: Competing in skateboarding's Olympic debut and representing Finland on the strength of her dual citizenship, at the 2020 Tokyo Games. "Skateboarding is so disorganized and for it to appear in the Olympics, there were a lot of hurdles to jump. With this past year and Covid, it was so up in the air. So, it was crazy that they got to pull it off!"
Speaking on competing in Tokyo without an audience under strict pandemic restrictions, Armanto said: "It was definitely weird being empty. But after a time of not going to events and not being around a giant crowd, it wasn't that weird. It was just strange to know that this is a big deal – but no one's here!"