/ /

Action

All NEWS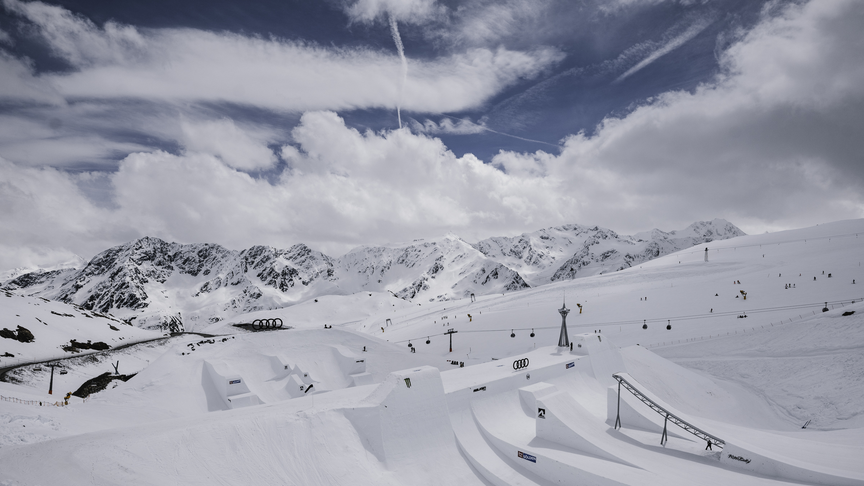 David Wise Sets World Record
Monster Energy's David Wise Sets New Freeski Quarterpipe Highest Air World Record at Audi Nines Soars 38 feet, 4 inches in the Air!
Monster Energy congratulates team rider David Wise on setting a new world record in freeski quarterpipe highest air at the Audi Nines snow sports event in Sölden, Austria. During the week-long progression session featuring the world's best freestyle snowboard and freeski athletes, the 28-year-old freeski phenom from Reno, Nevada, landed the history-making air on a unique snow launch ramp feature. In Saturday's snowboard competition, Monster Energy's Sven Thorgren from Sweden claimed second place on the innovative freestyle course at the Tyrolean ski resort.
For the last eleven years, the high-profile media event has brought together elite riders in a spirit of collaboration and progression at the world's best ski resorts. Having made its debut in Sölden one year ago, Audi Nines upped the ante in 2019 with even more futuristic and innovative snow features: Course highlights included two Big Air jumps, giant quarterpipes, and the 33-foot-high "Launch Pad" ramp catapulting riders over a 105-foot gap for a chance to make history and push the boundaries of their sports.
The World Record Jump
Pushing the boundaries is exactly what the Monster Energy team came for: On Wednesday, freeski rider and two-time Olympic gold medalist Wise made history by setting a new highest air world record on a quarterpipe: Soaring a stunning 38 feet and 4 inches (11.7 meters) above the coping into a banked landing next to the quarterpipe. Simon Dumont set the previous quarterpipe aerial world record of 35 feet, 5 inches in 2008 on a 38-foot quarterpipe, landing on the same transition from which he launched.
The 33-foot-high quarterpipe obstacle for Wise's historic feat included the banked landing for added safety. It was designed and co-created over the course of one year by Wise along with the Audi Nines crew. Built by the Schneestern build team, the feature took design cues from a similar obstacle used by legendary skateboarder Danny Way to set the current world record quarterpipe air in skateboarding, and incorporated input from snowboarder Terje Haakonsen.
"I was just enjoying myself and I started going a little higher each time," said Wise. "I never got to the point where I was terrified. I eventually got some butterflies, but butterflies in a good way. We just kept going higher and higher. It was really nice to have a measuring system in place so I could do a jump, find out immediately how high I was, and then go do another jump."
Don't Forget the Freestyle Competition
Wise is no stranger to raising the bar at Audi Nines: In 2016, the 28-year-old freeski phenom from Reno, Nevada, already shattered the record for highest air on a hip, flying 46 feet, 6 inches (14.2 meters) above the coping. He also claimed silver in Men's Freeski SuperPipe at X Games Aspen 2019 in January and ended his 2018/19 FIS World Cup season in third place overall. Unfortunately, Wise fractured his femur in three places and was sidelined from this year's freestyle contest that wrapped up the action at Audi Nines on Saturday.
Rising to the occasion, Monster Energy snowboard team rider Sven Thorgren brought his A-game to the unique freestyle course in Sölden on contest day: Working the spectacular air section with moves like a high-flying double backside rodeo and bringing his technical ability to the transition playground on the lower end of the course – including unique curved wallride made of snow – earned Thorgren a strong second-place finish in front of a high-energy crowd at the Tiefenbach Glacier.
"The course is always the coolest! They come up with the most innovative features every year," said Thorgren upon winning second place in Sölden.
Today's second-place finish is an important milestone for Thorgren, who is stoked to be competing again after a collarbone injury and surgery prevented him from entering major events in 2018. Fully back on board, the 24-year-old from Stockholm, recently claimed second place at the 2019 Burton U.S. Open Snowboarding Championships in Colorado in March. The ultra-progressive Scandinavian freestylist also took bronze in Men's Snowboard Big Air at X Games Aspen 2019 in January, claiming his third career X Games medal.
Also making an impact during the action-filled week at Audi Nines, Monster Energy snowboard team rider Sebbe De Buck from Belgium won the rider-voted award for Best Style. In the freeski category, the award for Ruler of the Week went to 20-year-old Norwegian shredder Ferdinand Dahl.
The 2019 Audi Nines event also had a strong women's contingent, with the world's best riders battling it out at the nearby Obergurgl-Hochgurgl resort on a unique course. Although included on the coveted list of invitees, Monster Energy freeski athletes Sarah Hoefflin, Maggie Voisin, and Giulia Tanno, unfortunately, had to drop out of the competition due to injuries. Here's wishing them – and Wise – a speedy recovery and congratulations to the Monster Energy athletes on the epic performance at Audi Nines in Austria.