All NEWS
Six Titles Claimed at the Bakuriani 2023 FIS Freestyle Ski, Snowboard and Freeski World Championships
Monster Energy congratulates its team of snow sports athletes on a strong performance and six titles in the Bakuriani 2023 FIS Freestyle Ski, Snowboard and Freeski World Championships sanctioned by the International Ski Federation (FIS) in Georgia, Europe
The wins are unstoppable in Georgia! The Monster Energy team of snow sports athletes had a strong performance, claiming six titles in the Bakuriani 2023 FIS Freestyle Ski, Snowboard and Freeski World Championships sanctioned by the International Ski Federation (FIS) in Georgia, Europe.
Overall, Monster Energy athletes claimed a total of 11 medals: 6 gold, 2 silver, and 3 bronze. Aside from Taiga Hasegawa, our newly minted world champions are Mia Brookes and Birk Ruud. Silver medals were earned by Zoi Sadowski-Synnott and Megan Oldham.
Here are the highlights for Team Monster Energy on the final weekend of Bakuriani 2023:
MEN'S SNOWBOARD BIG AIR: Taiga Hasegawa Earns Men's Championship
On Saturday, the newly added Snowboard Big Air event showcased spectacular aerials from the world elite in the discipline over a 70-foot gap jump. Riders were dealing with adverse weather conditions, including rain, snow, wind, and fog on the mountain at Didveli resort, but the contest still crowned the new Big Air World Champions.
When all was said and done, the rider with the best airs and rotations was a young upstart: Taiga Hasegawa, who claimed the Snowboard Big Air World Championship title with a standout performance.
In his highest-scoring attempts, Hasegawa put down a perfect Cab 1800 mute grab – hitting the takeoff backward and spinning five rotations in the air – for 90.00 points. Maintaining his momentum, Hasegawa followed up by sending a clean frontside 1800 frontside grab for 87.25 points and the win. Hasegawa's combined score of 177.25 points was more than 20 points ahead of the next competitor – talk about a dominant win! The victory also marks the first Big Air gold in a FIS World Cup for a Japanese snowboarder.
Previously, Hasegawa won the 2023 Kreischberg Big Air World Cup in January. The Team Japan snowboarder also won 2020/2021 World Junior Snowboarding Championship in Big Air. At age 15, he made history as the world's first rider to land 1800 rotations all four ways.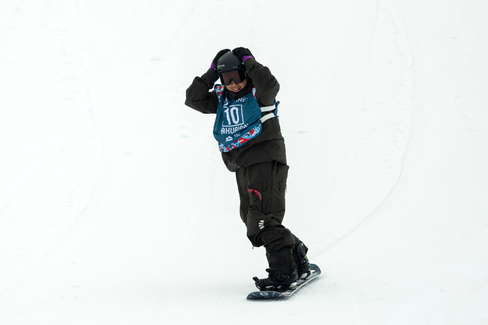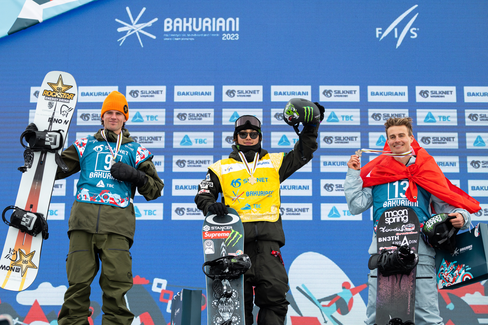 WOMEN'S SNOWBOARD BIG AIR: Tess Coady Takes Bronze
In the Women's Snowboard Big Air final on Saturday, Tess Coady rose to the podium in the bronze medal position.
Coady's high-scoring aerials included a flawless double cork backside 1080 Indy. In her second attempt, she followed up with a frontside 900 tailgrab aerial for 153.25 points and a strong bronze-medal finish. This marks the second career FIS World Cup podium for Coady.
In 2022, Coady earned the slopestyle bronze medal at the 2022 Beijing Olympics. In January, she claimed silver at X Games Aspen 2023, earning the first medal in the Women's Snowboard Slopestyle discipline as an Australian rider.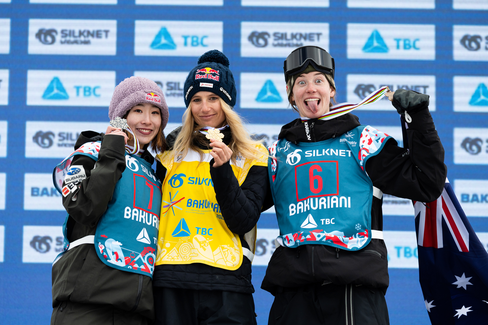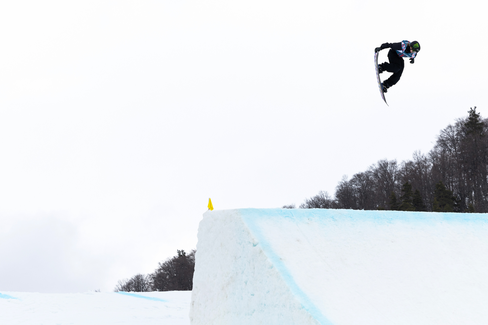 SKI HALFPIPE: Hanna Faulhaber and Brendan Mackay Crowned World Champions
In the Women's Ski Halfpipe final on Saturday, Hanna Faulhaber took the World Championship title. Known for her big airs and technical tricks, the Team USA skier literally soared above the competition in Georgia.
After sitting in second place after Run 2, Faulhaber put down her biggest tricks on the third and final attempt to win the Women's Ski Halfpipe World Championship. On Run 3, Faulhaber put down a massive straight air tail grab, left 900 safety, right flair critical, and a newly unveiled switch right 720 Japan, and left 540 Japan for 95.75 points and the win.
Raised in the Monster Army amateur support program, Faulhaber had her breakout season in the 2021/22 campaign earning top-five finishes in four-out-of-four events entered. She also earned bronze in her X Games debut at X Games Aspen 2022.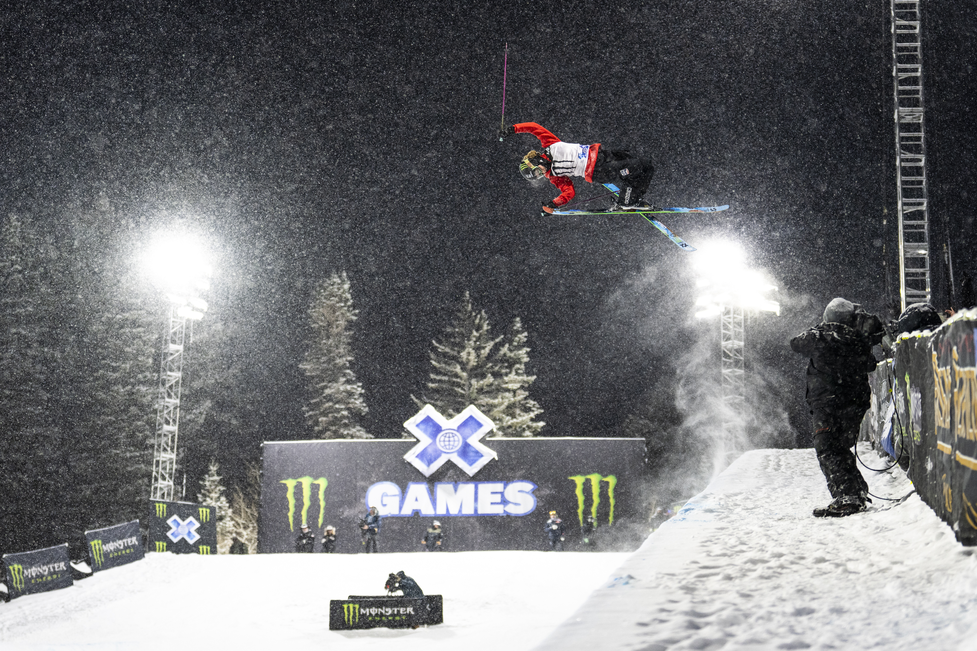 The Men's Ski Halfpipe final concluded with Brendan Mackay taking the win. Mackay was leading the competition after second runs but found himself leapfrogged by Finland's Jon Sallinen on run three.
Looking for a perfect run with big tricks, Mackay came through on his last of three attempts: Combining a switch left alley-oop double cork 900 critical, switch left double 1080 safety, right 900 lead rail, left double 1620 safety, and massive right double 1260 safety earned the Canadian 97.25 points and the gold medal.
Mackay finished his 2022/23 FIS World Cup season and Crystal Globe race in second place.
SKI BIG AIR: Troy Podmilsak Claims Men's World Championship
In the Men's Ski Big Air discipline, Troy Podmilsak claimed the victory. Currently riding for the Monster Army support program, the Team USA skier also landed a never-been-done trick in competition.
In the final session featuring ten qualified riders, Podmilsak stunned the competition despite qualifying into the final in last place. On his first attempt, he pulled out a technical switch right double bio 1980 safety to start off on a strong 91.25-point score.
Maintaining his strong momentum, Podmilsak went where no other went before: Landing the first-ever right triple cork 2160 mute in a ski competition, earning 95.50 points as the highest score of the day. With a combined total score of 187.75 points, the American rookie claimed the Bakuriani 2023 Men's Ski Big Air gold medal.
Podmilsak was joined on the podium by Birk Ruud in the bronze-medal position. Ruud has earned podium finishes in every FIS Freeski competition in the 2022/23 season and kept the streak going on Saturday.
In his first run, Ruud put down a perfect switch left triple cork 1980 mute grab. On his second run, he followed up with a left double bio 1800 mute for a combined score of 183.50 points for the bronze medal, just one point behind Austria's Lukas Muellauer in second place.
Earlier this week, Ruud ended a dominant FIS World Cup season by winning the Men's Freeski Slopestyle World Championship title at Bakuriani. In 2022, Ruud won the gold medal in Men's Ski Big Air at the 2022 Beijing Winter Olympics.
Also claiming a podium spot, Megan Oldham claimed bronze in Women's Ski Big Air. Oldham was coming in hot after landing the first-ever women's triple cork aerial to win X Games Big Air gold at X Games Aspen 2023 in January.
On her first attempt, Oldham stomped a perfect left double cork 1080 mute. Keeping the tricks coming, she posted a switch left double cork 1080 Japan on run two, and Oldham took home bronze.
This third-place finish is the second medal of the Bakuriani 2023 World Championships for Oldham after her Slopestyle silver medal. It also marks the third World Championships medal of her career.