/ /

Motor

All NEWS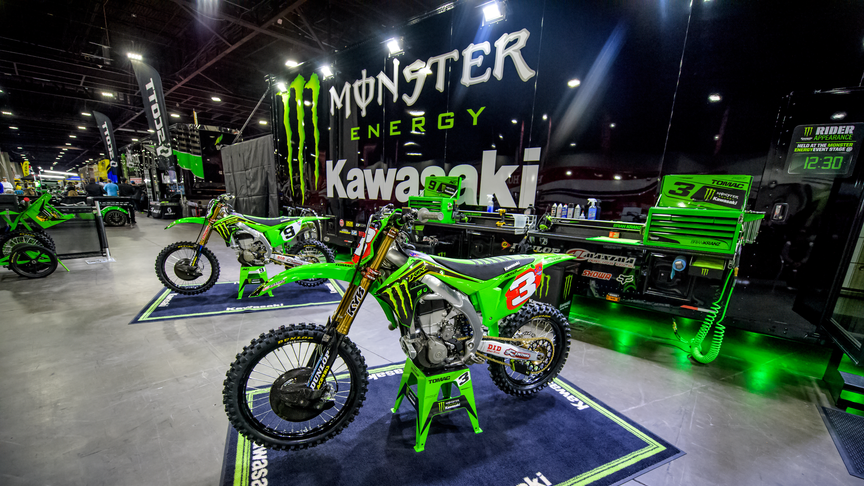 2020 Monster Energy Supercross
Stacked Lineup of Monster Energy Riders Ready to Dominate Supercross in 2020
After months of preparation both in the gym and on the track, the time has come for a new racing season to begin. For any motorsports fan, each New Years celebration also brings along a heightened sense of anticipation, knowing that in a matter of days the fearless superstars of Monster Energy Supercross will storm out the gate and soar through the air to start a 17-round journey to crown a trio of champions.
Each year, Monster Energy riders set the standard for success in Supercross, often capturing the most victories, podium finishes, and championships in the series. With a stacked lineup on deck for 2020, that trend should continue, highlighted by an increased likelihood of claiming the coveted 450SX Class title. Altogether, 12 riders will carry the flag for Monster Energy this season, with eight riders contesting the regional 250SX Class championships, and four riders chasing the World Championship crown in the 450SX Class.
Of the 12 riders compiling the 2020 Monster Energy squad, nine of them have stood atop a Monster Energy Supercross podium, while four have a championship pedigree to build from.
450SX Class
Monster Energy Kawasaki
#3 Eli Tomac
#9 Adam Cianciarulo
There's no doubt about it. The most formidable duo in Monster Energy Supercross this season will come out of the Factory Kawasaki stable. Eli Tomac has been the single-most-successful rider in the series over the past three seasons, collecting an incredible 23 wins over his last 50 starts, winning at nearly a 50% clip since 2017. Despite lighting the torch in all those races, Tomac is still in search of his first 450SX Class title, which has somehow managed to elude him during this dominant stretch. Each year, it seems as if some fluke incident proves to be the difference maker for Tomac over the course of such a short season, but thanks to his complementary reign of supremacy in Pro Motocross each of the past three summers, there's no doubt that it's just a matter of time until we call him World Champion. It'd be silly not to consider Tomac the heavy title favorite coming into the 2020 season, and no one is more aware of what's been missing than Tomac himself. As a result, his motivation to finally get the proverbial monkey off his back is at an all time high. The entire 450SX Class field should be on high alert from the moment the gate drops at Anaheim 1 because Tomac has something to prove this winter.
If Tomac is looking for some added inspiration for a championship run in 2020, he need look no further than his own teammate, Adam Cianciarulo. It's been a while since a rider entered the 450SX Class with so much buzz, but coming off a memorable triumph over his teammate at the Monster Energy Cup this past October, Cianciarulo has earned the attention he's receiving. While he came up short in his quest to earn a 250SX Class regional title, Cianciarulo showed just how talented he is last summer en route to a well deserved national championship to close out his 250cc career. We've always known the talent is there, but the difference now is that Cianciarulo himself is realizing that potential and applying it to the kind of success that's always been expected of him since his legendary amateur days. The mental fortitude Cianciarulo is bringing into the 450SX Class as a rookie is something many riders don't achieve until well into their careers, and that suggests he has the potential to make some serious noise in 2020. While a championship might feel like a bit of a stretch, Cianciarulo has all the tools to go out and win right away, similar to what we saw Ryan Dungey do when he was a rookie a decade ago in 2010. With Tomac alongside, the Monster Energy Kawasaki tandem has the potential to make life difficult for their rivals this season.
Monster Energy Yamaha Factory Racing
#7 Aaron Plessinger
#51 Justin Barcia
Last season, things could not have started better for the Factory Yamaha squad, as Justin Barcia made his long-awaited return to the top step of the podium at Anaheim 1. It was the kind of spark both Barcia and the team needed, but the ups and downs that come with Monster Energy Supercross soon followed and unfortunately put a damper on a promising season. Nevertheless, Barcia persevered and continued to show the flashes of brilliance that make him such a special rider. It's that one-of-a-kind trait that earned him the nickname "Bam Bam" that will always make Barcia one of the more intriguing riders in the 450SX Class. The talent is there to emerge victorious on any given Saturday night, and if Barcia can find the balance of consistency to go with his raw speed, he's going to be a podium contender week in and week out. Barcia has been arguably the biggest contributor to Yamaha's return to prominence in the 450SX Class, and he's in a position to add his name to the list of title contenders for the 2020 season.
While there was tremendous optimism surrounding his 450SX Class debut last season, injury ultimately derailed Aaron Plessinger's rookie campaign in 2019. After a breakout final season aboard a 250cc bike, many assumed Plessinger's transition to the 450cc would be smooth given the added power that would complement his height. Unfortunately, he never had the opportunity to get fully comfortable on the bike with all the time spent in recovery, so we didn't see what Plessinger was capable of. With a healthy offseason behind him, the sophomore rider comes into 2020 in a much better position. While he does doubt still adapting to the premier class, the success we saw with the second generation racer just two seasons ago wasn't a fluke. Plessinger has what it takes to win, and it will be exciting to see how much progress he's able to make now that he's fully healthy.
250SX Class
Monster Energy Star Yamaha Racing
#1W Dylan Ferrandis
#12 Shane McElrath
#13 Colt Nichols
#32 Justin Cooper
The reigning 250SX West Region Champions will boast arguably the most talented and successful lineup in the entire division for 2020, with a foursome that has the potential to sweep both regional crowns. No team has enjoyed a bigger ascension in recent years than Star Racing, whose perennially talented rosters have allowed them to become the team to beat each season.
Spearheading the four-rider lineup in 2020 is none other than the West Region Champion himself, Dylan Ferrandis. The Frenchman has gotten better with each passing season since he made the move overseas, and as he enters what will likely be his final season aboard a 250cc bike, he's the definitive favorite to successfully defend his West Region crown. The biggest key to Ferrandis' championship triumph last season was his consistency, and in a condensed regional schedule that will be paramount if he hopes to go back-to-back. While he could still be considered a relative newcomer to the U.S., entering just his third season on American soil, Ferrandis is one of the most experienced riders in the paddock, so it's no surprise that he's going to be considered the standard-bearer of the 250SX Class coming into 2020.
Veteran riders are the cornerstone of any successful 250cc effort, so to further stabilize their efforts for 2020 the Star Yamaha squad went and made the biggest free-agent signing of the offseason by adding Shane McElrath. The perennial podium finisher is one of three new additions to the Monster Army for 2020, and he brings the experience of six Main Event wins to the Yamaha squad. He has become one of the most consistent riders in the 250SX Class, and is a legitimate title contender that complements Ferrandis and gives Star Racing a dual title threat. McElrath has been knocking on the door of his first professional title for the past few seasons, and the change of scenery with a proven winner could be the recipe he needs to breakthrough.
With two formidable title threats leading the way, it's incredible to think that Star Racing's talent level only gets deeper. Last season Colt Nichols became the darling of Monster Energy Supercross. The likable rider showed tons of promise in the early stages of his career by capturing podiums as a non-factory racer. As a full-fledged Factory Yamaha rider, Nichols made impressive gains and enjoyed a breakout season in 2019 in which he captured his first career victory and solidified a 1-2-3 finish for Monster Energy in the 250SX West Region. The most underrated element of Nichols skillset is how deceptive both his speed and consistency can be. He has an uncanny ability to play the underdog role, even when he's amongst the most talented riders in the class, and that's exactly how he likes it. Given how well he performed last season, Nichols will be someone to keep an eye on as a dark horse title favorite, regardless of what region he ends up riding in.
Rounding out the Star Yamaha effort is Justin Cooper, who is also no slouch when it comes to speed and talent. Much like Nichols, Cooper has quietly become one of the most rock-solid riders in the 250SX Class, but since he's yet to emerge with a Main Event win he's still a bit under the radar. Entering his third season of Supercross competition, Cooper's expectations of himself are surely high, and a win is certainly on his list of goals to accomplish this season. The likelihood of Cooper joining the list of Supercross winners this season is quite high, and it's not too far of a stretch to also include him on the list of title hopefuls. He rounds out a truly impressive lineup of riders at Monster Energy Star Yamaha Racing that are in a position to dominate the 250SX Class in 2020.
Monster Energy/Pro Circuit/Kawasaki
#29 Cameron McAdoo
#36 Garrett Marchbanks
#52 Austin Forkner
#54 Jordon Smith
When you talk about Monster Energy/Pro Circuit/Kawasaki and Monster Energy Supercross, you can help but wonder what could have been during the 2019 season. The winningest team in the history of motocross dominated both regions of the 250SX Class and appeared to be well on their way to a title sweep, but heartbreak saw both championships slip away and left Mitch Payton wondering what more he could have done. As a result, the PC squad has brought in some new blood for 2020, in which half of the four-rider lineup will be riding for the legendary team for the first time.
Given what we saw last season, there may not be more of a certainty in the 250SX Class coming into the 2020 season than Austin Forkner. We had been waiting for Forkner to reach his full potential, and he rose to the occasion with a blistering third season that saw him win five of the first six races. A crushing knee injury with three races to go sadly erased an otherwise dominant campaign, but it left Forkner with some serious unfinished business as we enter 2020. No rider in the field has more to prove than Forkner, and he's more than capable of living up to those expectations. While his ambition can lead to the occasional hiccup, Forkner's determination and commitment to winning is unparalleled in the division. It's his championship to lose, regardless of region.
Giving Pro Circuit a little more of the veteran experience it needs is new member Jordon Smith. A bit of a late bloomer, Smith has become a persistent front-runner in recent years, relying on his wealth of experience to become what we like to call a "crafty veteran." He's strong out of the gate, and he knows how to lead, which are key traits that pay big dividends in the short regional championships. Since 2017, Smith has captured three wins and 12 podium finishes, and was in the thick of the championship battle last season until an injury sidelined him. With the added expectation of success that comes with riding for Pro Circuit, it will be exciting to see how much further Smith progresses knowing he's got the best equipment around him.
Since he turned pro Cameron McAdoo has been a bit of a journeyman, but the promise he's shown despite all that uncertainty is what ultimately landed him a home at Pro Circuit. The 2019 season marked the first time that McAdoo contested a full 250SX Class campaign, and he closed out the year by earning his first ever podium result. The talent is there, and having the guidance of an industry icon like Mitch Payton is bound to pay huge dividends for McAdoo's efforts in 2020. It wouldn't be a surprise to see McAdoo become more of a regular presence on the podium this season, from which the boost in confidence could even lead him to a Main Event victory.
The youngest member of the Monster Army will also be the one in search of the biggest gains in 2020, as Garrett Marchbanks enters his second season of Supercross competition. As a rookie, Marchbanks learned first hand how grueling and difficult the discipline can be. While he went to more Last Chance Qualifiers that he or his team would have hoped for, the added track time proved to benefit Marchbanks and he showed continued progression throughout the season. A surprise runner-up finish at San Diego was the highlight of a rookie season in which Marchbanks learned a lot of invaluable lessons that will make him a much better rider in 2020. With his impressive height, Marchbanks has the opportunity to learn how to use his length to his advantage, following in the footsteps of Plessinger and Cianciarulo. Given his youth and talent level, last year's podium finish wasn't a fluke, and if he continues to progress as much as we expect him to, he could become more of a presence on the box in 2020.