/ /

Motor

All NEWS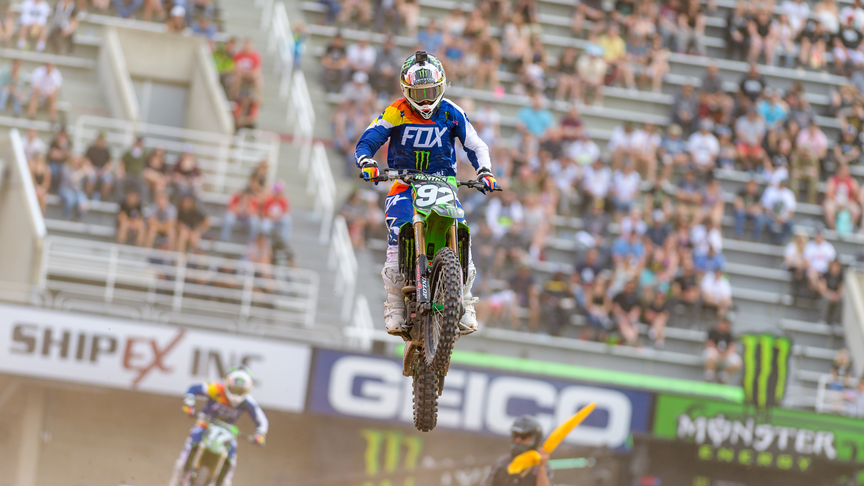 Adam Cianciarulo Talks Vegas Finals 2018
Last Saturday afternoon inside Rice-Eccles Stadium in Salt Lake City, Utah after nineteen laps and 15:53.344 minutes of racing, Team Monster Energy/Pro Circuit/Kawasaki's Adam Cianciarulo came up 00.455 seconds from winning his first supercross of 2018. While he was upset with himself for not getting the better of winner Shane McElrath, Cianciarulo kept himself in the war that is the 2018 250SX West Region Supercross Championship. Now slotted in at second heading into this Saturday's curtain dropping round at Sam Boyd Stadium in Las Vegas, the native of New Smyrna Beach, Florida is thirteen points adrift of championship leader Aaron Plessinger. Thirteen points is a relatively large gap to make up in one main event, but as we all know, it's racing and nothing is ever for certain. Having placed on the podium at the last four straight races, Adam is on something of a roll and will roll into Vegas with nothing really to lose. He won in Vegas last year and he dearly wants to win there again in three days' time to put an exclamation mark on his season. And, hey, if lady luck looks his way over in Sin City, he just might have a shot at a title. Today, we spoke with the popular racer.
ADAM CIANCIARULO TALKS VEGAS FINALS
Okay Adam, you raced to a very strong runner-up finish last Saturday at Salt Lake City and looked and sounded very happy afterward. A good effort to your way of seeing things?
Actually, I wasn't too happy after Salt Lake, to be honest. I think sometimes after the races, even if it doesn't go so well when I go up on the podium I try to represent myself and my sponsors the best way I can and that's definitely not by letting all your emotions show and being overly sad or mad or any of those emotions. For me, there have been a bunch of races this year where I've been close to winning, but I haven't won. There was a specific instance where I didn't change my line in the second set of whoops this past weekend in Salt Lake. I kind of figured it out with about five laps to go and the line ended up being about a half-second faster. When you get done with the race you immediately think, 'Man, what if I had adapted just a little bit sooner and was able to fix that section?' I was actually pretty mad, to be honest with you, but I tried to do a good job of keeping my emotions in check when I was up on that podium.
How do you see it playing out in Las Vegas this Saturday? How are you going to approach the main event?
I think I'm going to approach it the same way I approached it last year, keeping an open mind and not counting myself out of anything mentally. My job is to go in and win. Obviously, we're going to need some help to win the championship, but for me, it's about just kind of keeping an open mind and understanding that anything can happen. It's Vegas and nerves are running high and all that stuff. Of course, I can only control what I can control but I definitely believe in the power of your mind and you attract what you think about and I definitely believe that anything can happen and I certainly believe there is a chance that I could walk away Saturday night with the number one plate, but first and foremost, my goal is just to do my process, do my best to win the race and let everything else fall into place if it wants to.
It's been a tough year for injuries for the Monster Energy/Pro Circuit/Kawasaki team. Which of your teammates will race with you in Vegas?
It'll just be me and Joey Savatgy. Basically it will be just the West Coast guys in Vegas this year.
You and Joey get along well. I could see him trying to help a brother out, you know what I'm saying?
Laughter Yeah, Joey is a friend of mine and we've been teammates now for a few years. Yeah, I think with the points gap the way it is, there are never really any team orders between our squad. We just all do the best that we can. But yeah, Joey is a good teammate to have and he's a good guy to go into battle with.
What will Mitch Payton tell you guys? Get to the front as fast as possible and try and clear out?
Mitch knows that both Joey and I want to win very badly. That will be the goal in Vegas. We won't be talking about championship or anything like that. We'll just be talking about the best way to execute our goal and our goal is to always win so when it comes down to what the game plan is going to be in qualifying to the heat race and into the main event. Whether it be bike set up or start position on the gate or just little things we're doing on the track, it's just going to be the same goal and that's to be the best we can for fifteen minutes plus one lap.
You know I never asked you what you thought about that banzai move Zach Osborne put on Savatgy this time last year. What did you think about that?
It was a difficult situation for me to really even comment on because it happened to my teammate and of course, I wanted to see him succeed. Zach and I have got into it in the past and I'm not exactly a huge fan of him when he's on his motorcycle either. It was tough to watch because I came across the finish line having won the race and being super excited and not even thinking that I was close at the championship and then I just so happened to look over and I see Joey and Zach get into it. It was unfortunate. I was sad for Joey. Two corners to go for a championship, who knows what I would have done or what Joey would have done if he was in Zach's position. We'll never know. From my point of view, of course, I want to see my buddy and my teammate do well, so I definitely didn't appreciate the move when I saw it.
Since it's an East/West event, do you think having more highly competitive riders out there can help your cause?
Absolutely. I think when you put both coasts together it'll be more riders and it'll be harder to come through the field if my competitor gets a bad start. I think anytime you throw more people in there it gets a little bit crazier. Also, you have two championships being fought for too, so you never really know how they're going to play it. It'll be interesting, for sure. It's one of those races where you have to get the start and just put the rearview mirror away and just pin it and do the best that you can and hope that it works out for you.
I'm not wanting to play favorites for this title match on Saturday, but I think most people who may read this interview feel that you have a bit of good luck coming your way.
Yeah, yeah. Absolutely. I know what you mean, for sure. I think the year has gone pretty well for me so far in terms of luck. The vibe has been good all around. I just need to work on executing a little bit better on Saturday and crunch time. But yeah, I think we're carrying a good vibe into Vegas and we're going to go in there with a good attitude and an open mind, and positive thinking. I think it'll be a great weekend for myself and the team. I'd love to get a win in Vegas to close it out to really put a stamp on the season.