/ /

Motor

All NEWS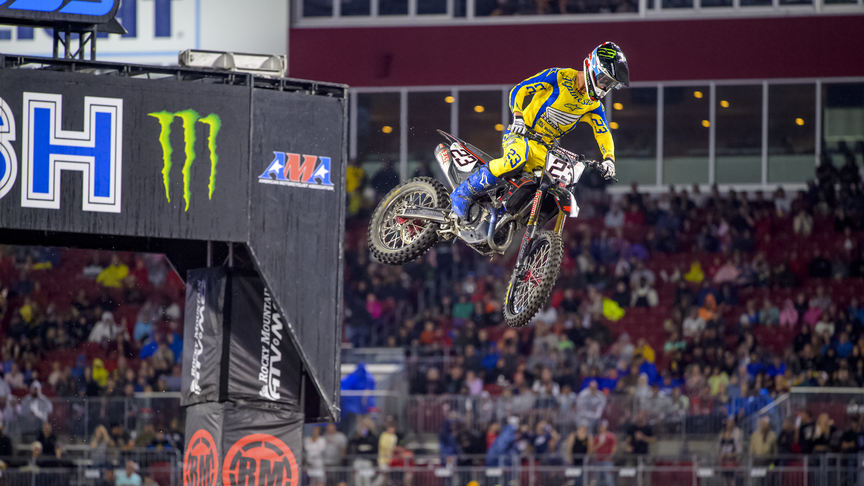 Chase Sexton and Nate Thrasher Podium | SX '23 Round 6
CHASE SEXTON AND NATE THRASHER PODIUM | SX ROUND 6
Monster Energy's Chase Sexton (Honda) put 'er on the edge and ran tough on a slick Raymond James Stadium track in Tampa, leading much of the contest before Cooper Webb (KTM) won the end battle to the checkers, Sexton finishing a strong 2nd (following a crash that allowed Webb to get by). The podium effort allowed Sexton to pull within two points of Monster Energy AMA Supercross Series 450 class point leader Eli Tomac (Monster Energy/Star Racing/Yamaha), 113-111, who'd placed 5th on Saturday.
Rounding out the premier 450 class scoring for Monster Energy were Jason Anderson (Kawasaki) in 6th and Justin Cooper (Star Racing/Yamaha) in 7th, giving Monster Energy four racers in the top seven spots.
And in 250 class racing at Tampa Monster Energy's Nate Thrasher (Star Racing/Yamaha) picked up his first podium finish of the season, placing 2nd in a thrilling finish with Hunter Lawrence (Honda), and moved up into 7th place in the overall 250 ESX point chase. Thrasher's Monster Energy-backed teammate, Haiden Deegan, continued to impress on his rookie Monster Energy AMA Supercross campaign, placing 4th (again) in just his second pro SX race – and moving into a 3rd place podium spot in the overall ESX point chase.
Also placing in the top ten for Monster Energy in 250 ESX at Tampa was Chance Hymas (Honda) in 8th.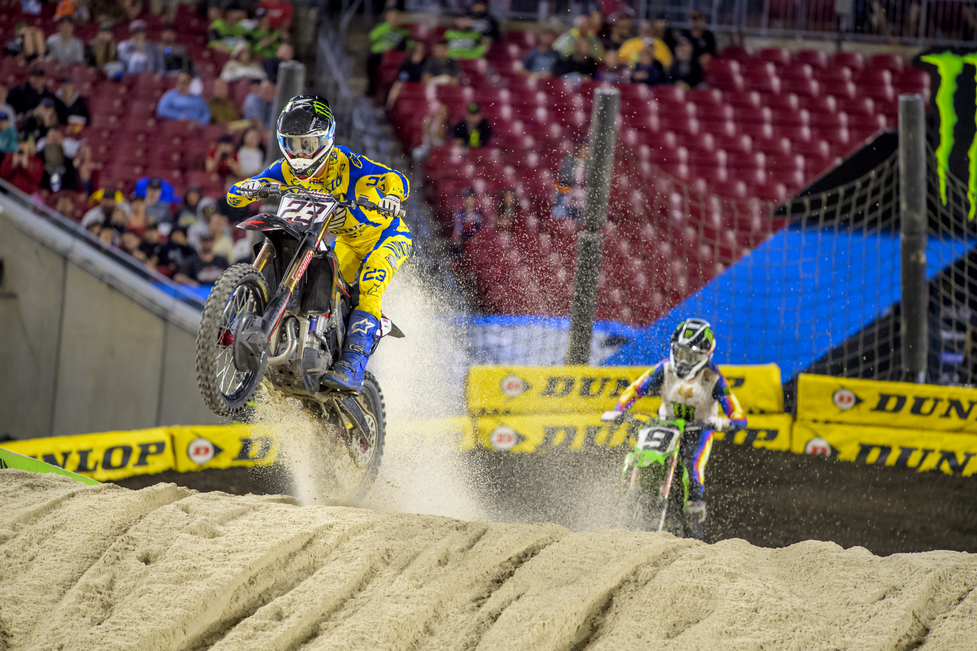 Tampa 450 class results 250 ESX class results
2nd - Sexton (Monster/Honda) 2nd - Thrasher (Monster/Star/Yamaha)
5th - Sexton (Monster/Star/Yamaha) 4th - Deegan (Monster/Star/Yamaha)
6th - Anderson (Monster/Kawasaki) 8th - Hymas (Monster/Honda)
Overall Standings
450 class 250 ESX class
1st - Tomac, 113 points 3rd - Deegan, 38 points
2nd - Sexton, 111 points 7th - Thrasher, 31 points
4th - Anderson, 93 points 8th - Hymas, 30 points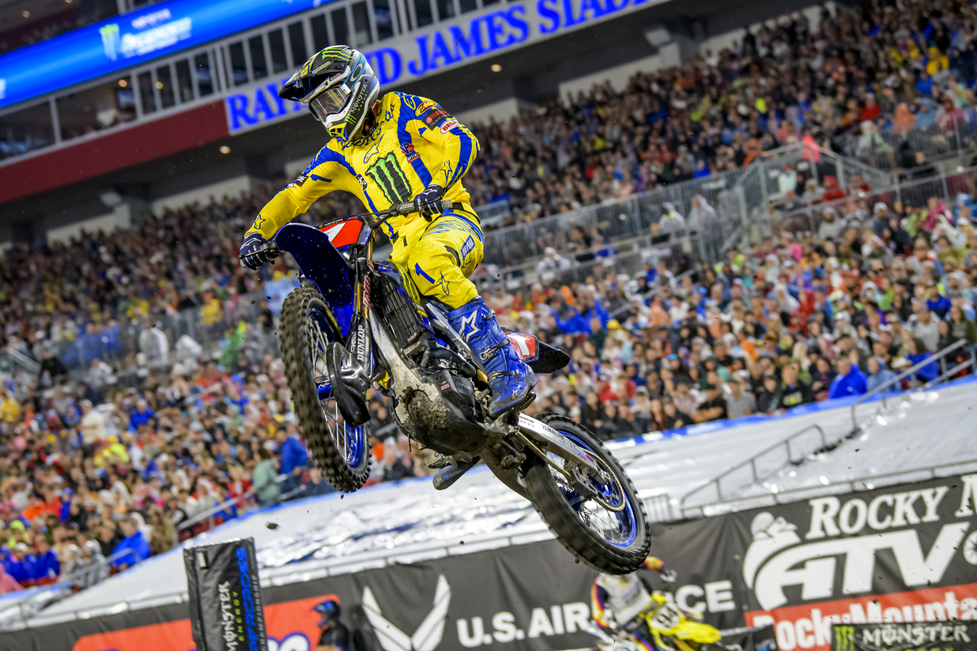 450
Two turns into the Tampa 450 main event, and it was Sexton out front, with two-time veteran SX champ Webb and Aaron Plessinger (KTM) in tow. Tomac would get out in 7th place off the start and moved into the top five by lap five. Sexton picked up where he left off in timed qualifying and his heat race win, ratcheting up the lap times (with Webb sticking fairly close) and distancing themselves from Plessinger. Lost from the mix-up front was Monster Energy's Anderson, who went from a podium last week (Houston) to ending up on the ground in an opening lap get together with Justin Barcia (Gas Gas). Sexton would continue to set the pace, opening up a larger lead on Webb, and a considerable lead over the rest of the field. But no sooner did Sexton seem to have the Tampa main event in the bag, he tossed it way with a crash in the whoop section, allowing Webb to cruise by for the lead. Sexton would remount and chased Webb for the final four laps, but had to settle for 2nd – six-plus seconds ahead of 3rd place Plessinger. Tomac, who appeared to struggle a bit with the slick Tampa race surface, settled on 5th – just behind Ken Roczen (Suzuki). Anderson more or less heroically battled all the way from dead last to 6th, with Cooper in 7th.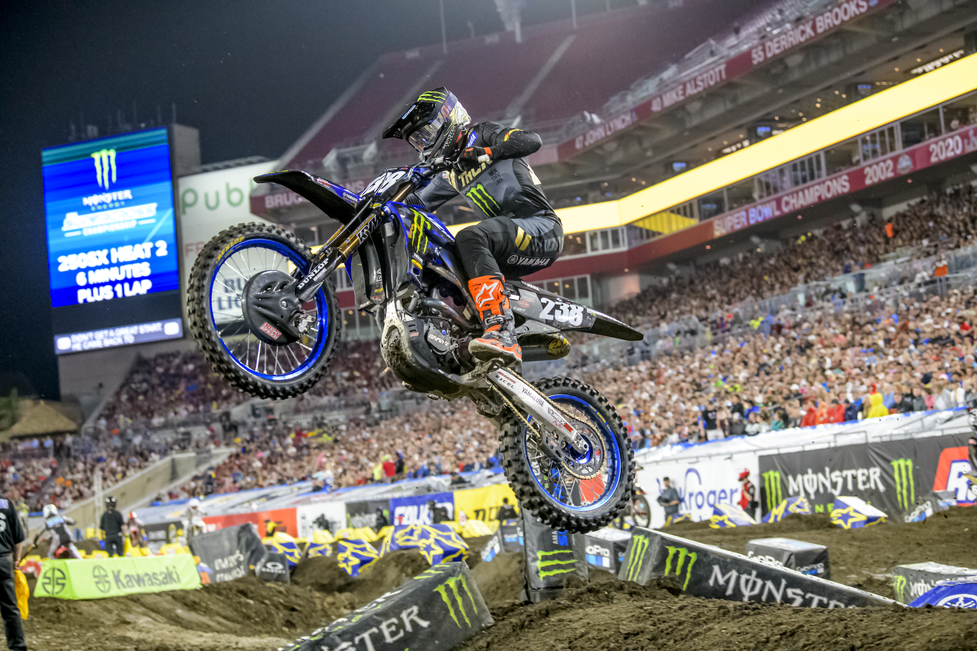 250 ESX
The best race of the year thus far – both classes included – was the Tampa 250 class main event. Thrasher carried the momentum of his heat race win into the main and took control of the race from the get go. Honda's Hunter Lawrence, the 250 ESX point leader, started back in 7th place and worked his way up to 2nd by Lap 11, though Thrasher still had a pretty good lead at that point. Lawrence would inch closer and closer to Thrasher on the remaining eight laps, catching Thrasher on the last turn of the final lap – and winning the drag race to the checkers by a 1/10th of a second. And the crowd went wild! Rounding out the Tampa 250 ESX scoring was Deegan in 4th (his second 4th in his first two pro SX races) and Hymas in 8th (the second consecutive 8th place finish for the rookie).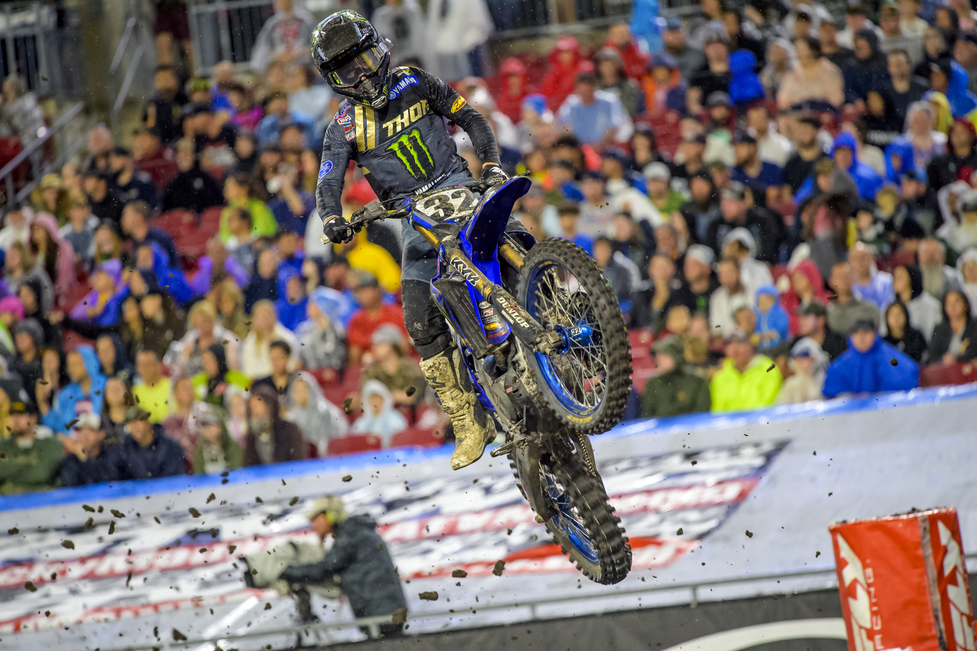 Notes & Quotes
- 2023 marked the return of Monster Energy AMA Supercross to Tampa, having been absent from the popular SX destination for some three years.
- Sexton was easily the fastest racer at Tampa, fastest in both of his qualifying sessions and winning his heat race heading into the main. And he led the most laps in the main (21 of 25).
- "I feel like my riding and racing keeps getting better," said Sexton. "I've been having fun and overall doing good. So I'm happy with how I was riding."
- Anderson's 6th place finish is deceiving as to how fast the Monster Energy/Kawasaki raced the main. Anderson collided with Justin Barcia (Gas Gas) on the opening lap and, getting up dead last, raced all the way back to 6th (ahead of Barcia in 8th) – securing some highly valuable championship points.
- Monster Energy/Kawasaki's Adam Cianciarulo continues to run well, qualifying in 4th and finishing 2nd in his heat race (behind teammate Anderson). He'd place 12th in the 450 main following a few mistakes.
- "Yeah, much better day for me overall… probably my best day practice-wise so far," said Cianciarulo.
- Monster Energy/Team Tedder Brothers Hill (Josh and Justin) had a great battle going in the main, eventually placing 13th and 14th, respectively, right behind Cianciarulo.
- Monster Energy/Star Racing/Yamaha's Thrasher and Deegan entered the 250 ESX main event at Tampa having won their respective heat races.
- Said Thrasher of the unbelievable, last turn pass by Lawrence… "It's tough. Things are coming at you so fast and you try to make the best decisions you can to win the race. We'll go back to the drawing board and try to get better."
- Lawrence topped Thrasher to the checkers by 0.134 seconds – one of the closest supercross finishes in recent history.
- "1st place in the heat race and 4th place in the main – I can't explain how fun this is," said Deegan on Instagram. "The crowd is awesome!"
- Monster Energy/Star Racing/Yamaha's Jordan Smith, who finished on the podium in 3rd place at the previous round (Houston), suffered a get-off in the sand while battling with KTM's Tom Vialle. Jordan then got 'er back on track – only to suffer a mechanical issue late in the race and place 15th.