/ /

Motor

All NEWS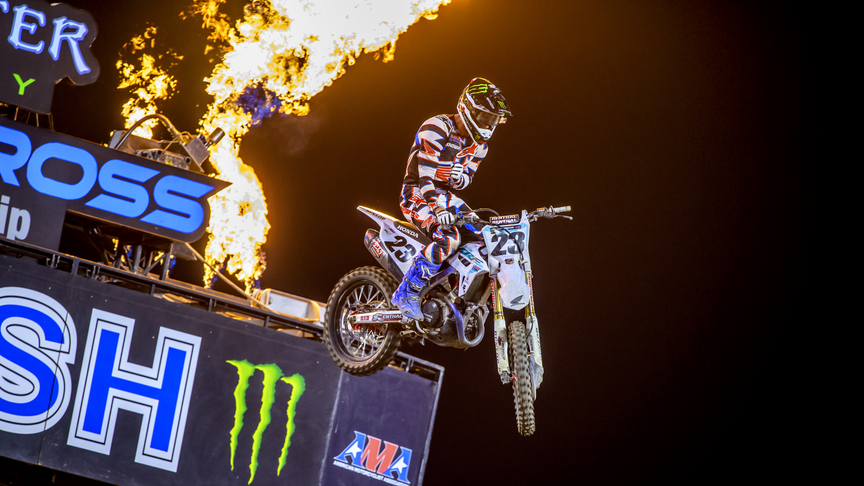 Chase Sexton & Levi Kitchen sweep the Triple Crown Victories at A2
Monster Energy racers put a glowing green coating across the top podium rungs at Anaheim 2, sweeping the opening Monster Energy AMA Supercross Triple Crown round with victory in the 450 class by Chase Sexton (Honda) and 250 class, Levi Kitchen (Star Racing/Yamaha). And to top that off Monster Energy's Daxton Bennick (Star Racing/Yamaha) won the first SX Futures event of the season, giving Monster Energy the complete weekend sweep of 1st place positions at Angels Stadium.
Monster Energy/Star Racing's Eli Tomac also ran well at the second Anaheim installment, scoring podium finishes in the first two 450 motos (3rd & 2nd), but then suffered a massive get off in the third moto – going airborne and landing straight on his back on a foam cube land barrier (Tuff Block). Tomac was able to remount his tweaked bike and limped home in 13th, salvaging 6th place overall and, most importantly, holding onto the overall 450 class point lead by four points, 69-65, ahead of Sexton.
Jason Anderson (Monster Energy/Kawasaki) had his best race(s) of the season thus far, winning Race #2 and making the podium (3rd) in Race #3 to place a season-best 2nd overall in the 450 main events. And in 250 class Triple Crown racing Monster Energy/Star Racing/Yamaha's Stilez Robertson joined race winner Kitchen on the podium with a solid 3rd place effort.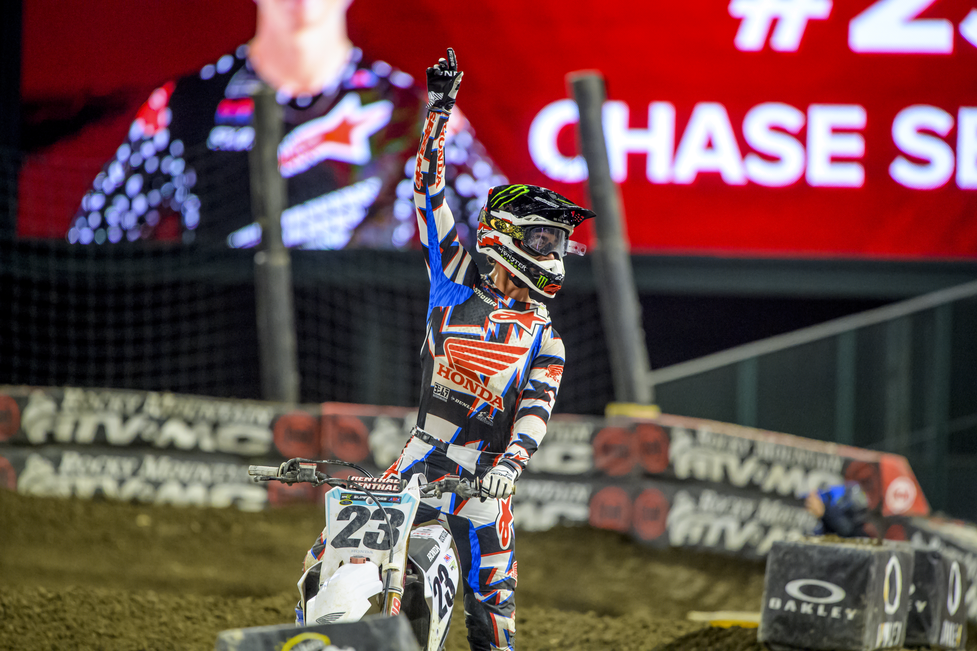 Anaheim 2 450 class results 250 WSX class results
1st - Sexton (Monster/Honda) 1st – Kitchen (Monster/Star/Yamaha)
2nd - Anderson (Monster/Kawasaki) 3rd - Robertson (Monster/Star/Yamaha)
5th - Ferrandis (Monster/Star/Yam) 6th – McAdoo (Monster/Pro Circuit/Kawasaki)
Overall Standing
450 class 250 WSX class
1st - Tomac, 69 points 2nd - McAdoo, 59 points
2nd - Sexton, 65 points 5th - Robertson, 52 points
5th - Anderson, 55 points 7th - Kitchen, 44 points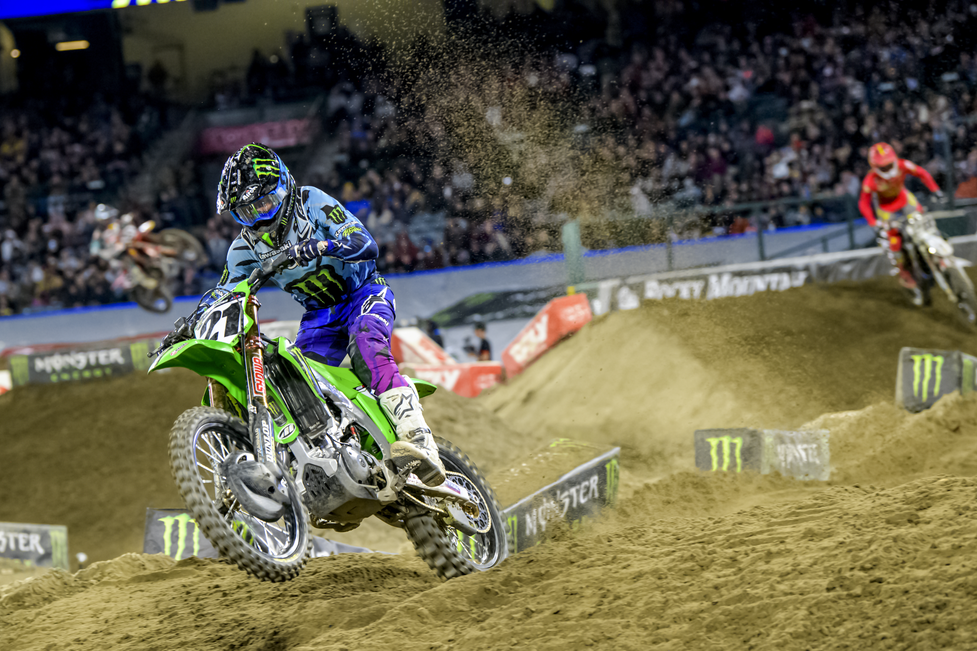 450
Sexton put up a statement effort in the opening race, pulling the holeshot then checking out for the victory by five-plus seconds over 2nd place Ken Roczen (Suzuki). … Tomac, who also battled hard to make up spots during the opening race, would place 3rd, followed by a strong effort from Dylan Ferrandis (Monster Energy/Star Racing/Yamaha) in 4th. Race #2 opened with Tomac and Cooper Webb (KTM) getting together down the short start chute, with both racers managing somehow to stay on two wheels. … Anderson would survive the hectic start and got out with the all-important early Race #2 lead in the 12 minute plus 1 lap race. … As Anderson began to check out, Sexton, who was poised to make the podium while running in 4th place, tipped his bike over coming out of a corner and dropped back to 8th. … Tomac, in pursuit of Anderson, would battle hard with Roczen, getting the better of the former SX champion with a 2nd place finish in Race #2. … In the third and deciding race Sexton grabbed the early lead, then was caught by Anderson. … Great back and forth with Anderson and Sexton before Sexton countered on Anderson, took a wide entry into the corner, then powered out in front of Anderson from the inside for the race lead and eventual victory.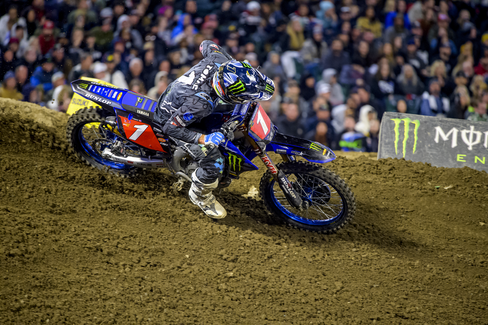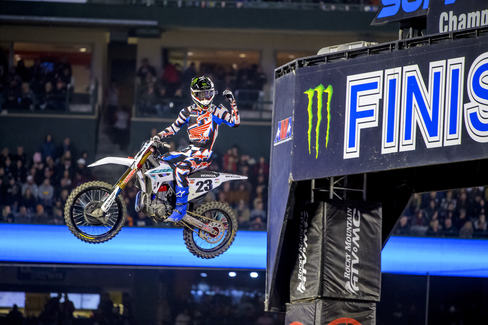 250 WSX
250 WSX point leader Jett Reynolds (Honda) would crash in the opening 250 Triple Crown race, leaving the door open for the rest of the field. RJ Hampshire (Husqvarna) would take full advantage, running up front from the beginning of Race #1 and winning – with Kitchen keeping it close in 4th place. … On the start of Race #2 Reynolds and Hampshire would get together on the start, allowing Robertson to get a look at the front of the pack. … Robertson would pass Pierce Brown (Honda) in the closing minutes of the race, with Kitchen getting by as well for a Monster Energy 1-2 finish in Race #2. … Race #3 opened with Lawrence pulling the holeshot with Kitchen right behind. … Going 4th/2nd in the first two races, Kitchen was poised for the overall victory in the third and deciding race – as long as he could stay out of trouble. … Robertson would put himself into podium position in 3rd place, and kept pace with the lead racers, but couldn't make a move on Kitchen, who rode a virtually flawless Race #3 for 2nd place and the overall victory – the first of his career. … Monster Energy/Pro Circuit/Kawasaki's Cameron McAdoo put up his team's best Triple Crown race finish of the night with a 5th place effort in Race #3, keeping him in 2nd place overall in the 250 WSX standings behind Lawrence.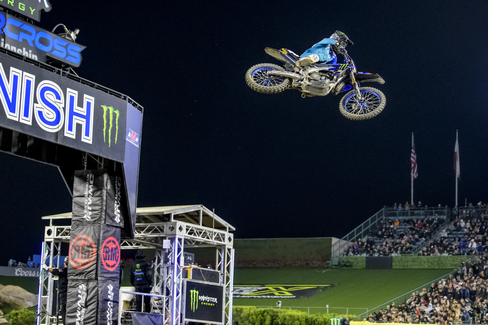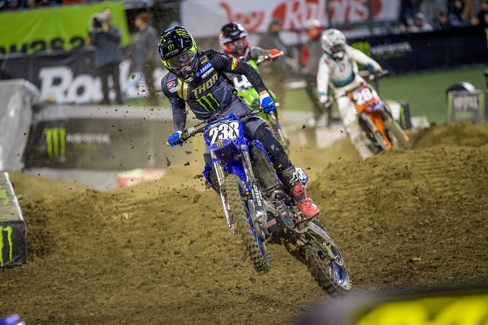 Notes & Quotes
"Gets the holeshot, checks out, wins the race – no issues," NBC TV announcer Daniel Blair on Sexton's opening (of three) Triple Crown motos.
Sexton would also be the fast 450 qualifier at Anaheim 2, with a 57.5 best lap – topping 2nd fastest Anderson and 3rd fastest Roczen.
In the opening 250 qualifying session at Anaheim 2, McAdoo suffered a big get off and, feeling the effects, failed to improve his lap times in the second qualifying session. He did manage to rally and his 59.708 was less than a second off the third-best time, which got him to the main.
And speaking of crashes, Monster Energy/Star Racing/Yamaha's Haiden Deegan had a pretty spectacular get-off in his debut SX Futures main event, though he was able to remount and finish in 5th place.
Bennick would win the SX Futures by 7.5 seconds over Casey Cochran (Husqvarna). Other racers running the Monster Energy/Monster Army colors in the SX Futures main event included Slade Varola, Dylan Cunha, Parker Ross, Jaxon Pascal and Nate Freehill. Nice work, boys!
Obviously, we all want to be where Chase (Sexton) is right now. So we'll keep working hard to get there." – Anderson on his 2nd place Triple Crown event finish at Anaheim 2.
"Got a great start when he needed to. Followed Jett Lawrence and put a gap between him and his teammate (Robertson) and rode it home to the finish," NBC TV announcer Ricky Carmichael on Kitchen's first-ever 250 WSX career victory.
Interesting AMA rule for the Triple Crown events… racers are allowed to have a duplicate back up bike ready-to-go in case one gets torn up in the first two races. This would benefit a number of the factory-backed racers who crashed in Races #1 for #2.
"Honestly, it was kind of cool because all of us (four racers) were within one point of each other heading into the last race – so it was all or nothing," said Sexton on his win.