/ /

Motor

All NEWS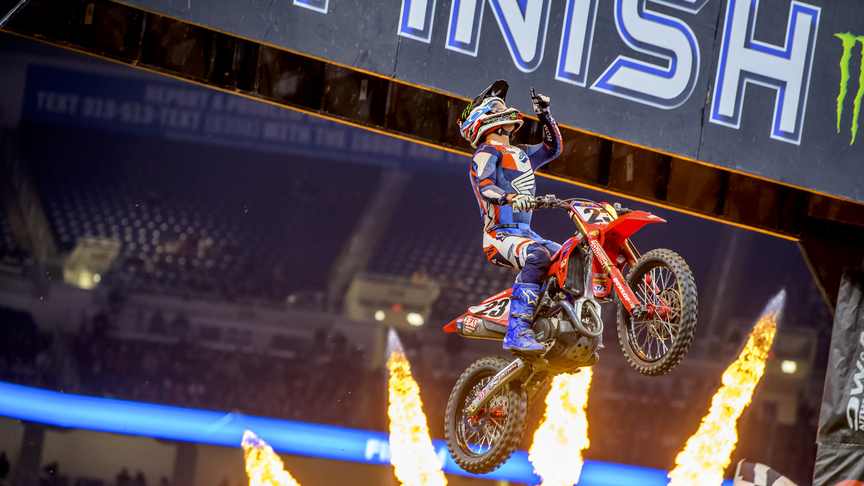 Chase Sexton Wins Detroit SX, Tomac Takes 3rd
Sexton wins his second race of the season in a thriller at Ford Field, Tomac remains in 2nd place overall and Deegan moves to 3rd overall in 250 class.
An excellent come-from-behind effort from Monster Energy's Chase Sexton put him in podium position in Saturday's Monster Energy AMA Supercross main event at Detroit's Ford Field, then a bit of poetic justice put him on top of the winner's stand.
Sexton, who had one win prior to the Detroit round and, in reality, crashed out of a couple more, started a bit back in the pack of the 450 main, and proceeded to pick off the world's best supercross racers, battling all the way up to 2nd place behind race leader Aaron Plessinger (KTM). Then, with only two laps remaining, Plessinger blinked – making a costly mistake in a corner that led to a crash – and Sexton was right there to collect the victory.
A good 15 seconds behind Sexton was Monster Energy's Eli Tomac (Star Racing/Yamaha), who rebounded from a poor (8th) finish at Indianapolis the prior week to make the podium in 3rd place at Detroit. And rounding out the top ten for Monster Energy in Detroit's 450 class were Justin and Josh Hill (Team Tedder), who both cracked the top ten – together – for the first time in 2023, placing 7th and 10th, respectively, while Monster Energy/Kawasaki racers Adam Cianciarulo and Jason Anderson placed in the 8th and 9th spots.
Sexton remains in 3rd place overall in the 450 class standing with 208 points, despite being docked a crucial seven championship points for jumping on the red cross (medical) caution flag. Tomac remains in 2nd place, three points back of 450 class points leader, Cooper Webb (KTM), 225-222. Rounding out the top ten in the overall 450 points chase for Monster Energy are Anderson in 6th place (180 points) and Cianciarulo in 9th place (107 points).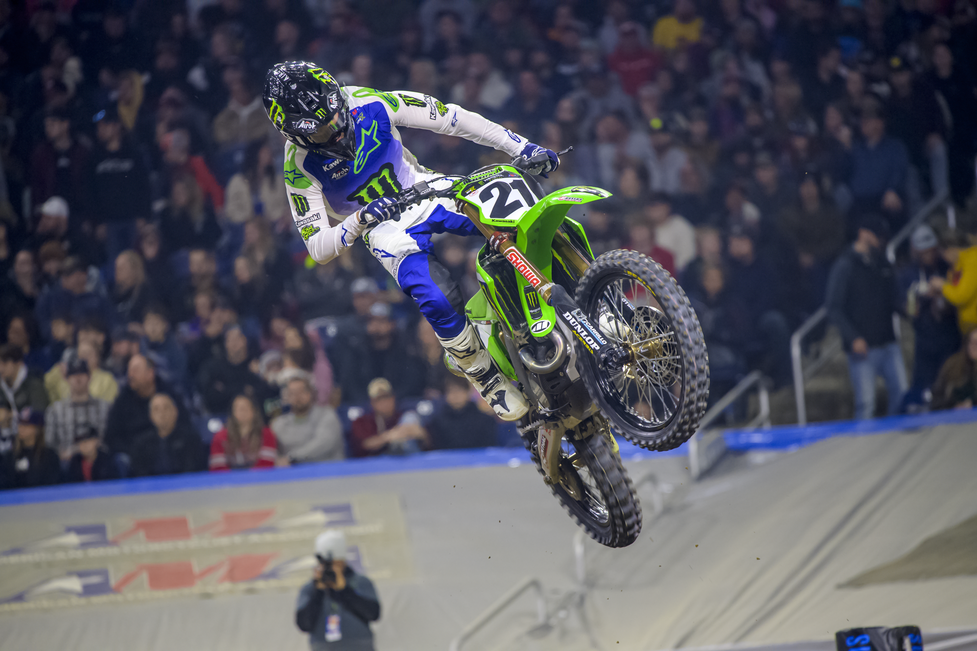 In 250 ESX class racing at Detroit, Monster Energy/Star Racing/Yamaha's Nate Thrasher placed 2nd, and moved up to 2nd place in the overall class standings, as he ran strong all evening in pursuit of race winner Hunter Lawrence (Honda). Teammate Haiden Deegan locked down his second podium of the year with a 3rd place finish, topping former 250 SX champion Jeremy Martin (Yamaha) in a great battle. With the effort, Deegan moved into 3rd place in the overall standings behind Lawrence and Thrasher. And rounding out the top five in 250 class scoring at Detroit was Chris Blose (Monster Energy/Pro Circuit/Kawasaki), who brought his KX250F home in a respectable 5th place.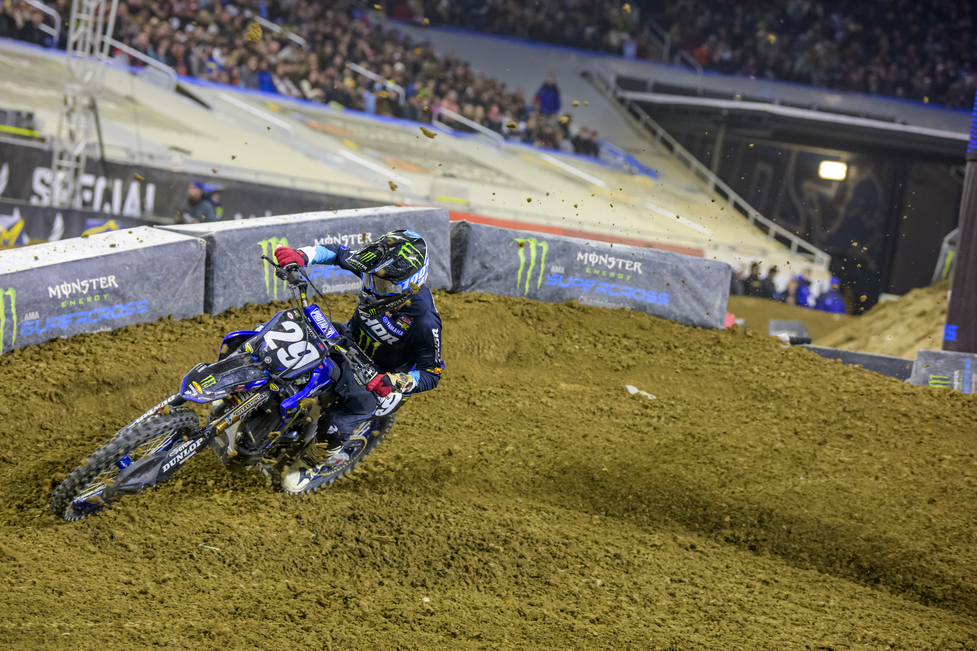 Detroit 450 class results 250 ESX class results
1st - Sexton (Monster/Honda) 2nd - Thrasher (Monster/Star/Yamaha)
3rd - Tomac (Monster/Star/Yamaha) 3rd - Deegan (Monster/Star/Yamaha)
8th - Cianciarulo (Monster/Kawasaki) 5th - Blose (Monster/Pro Circuit/Kawasaki)
Overall Standings (10 of 17 rounds)
450 class 250 ESX class
2nd - Tomac, 222 points 2nd - Thrasher, 116 points
3rd - Sexton, 208 points 3rd - Deegan, 111 points
5th - Anderson, 180 points 6th - Smith, 92 points
450 RECAP
After qualifying his Honda CRF450R with the fastest time (51.439), just over a half second ahead of Anderson (51:491), Sexton got pinched in with a group of nine riders that fought for position behind the top five starters – including Cianciarulo in 1st place. In other words, not a great start for Sexton. Cianciarulo would battle up front for the first third of the race, racing bar-to-bar with Plessinger, Webb and Tomac. When Cianciarulo finally dropped back, Tomac took over, and went at it with Webb, swapping the No. 2 position, before Webb took it back – while Justin Barcia (Gas Gas) got in front for 3rd ahead of Tomac. At that point Sexton went on a tear, picking off #4 Tomac, #3 Webb and #2 Barcia, before setting sail for race leader Plessinger. Tomac would then get by Barcia and into 3rd place as Sexton continued to make up time on Plessinger. With two laps remaining, Plessinger tried to stand up through a deep rut and ended up launching himself into the face of a jump, wrecking hard – and out of race lead. Sexton was there and ready to pounce on the race lead, taking it home to the checkers in 1st – despite mistakenly jumping in a red cross caution flag section earlier in the race, which would cost him a harsh seven (7) championship points. Tomac brought his YZ250F home in a podium 3rd place, with the Hill Brothers, Justin and Josh, both making the top ten (7th and 10th), Cianciarulo holding on for 8th and Anderson in 9th to round out the Monster Energy 450 top ten placers in Detroit.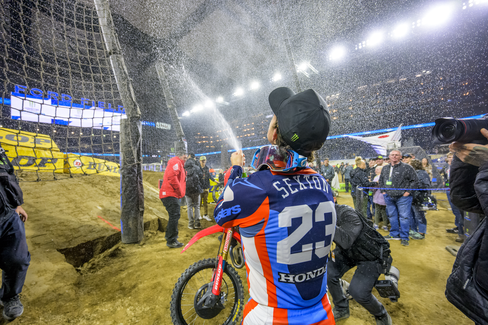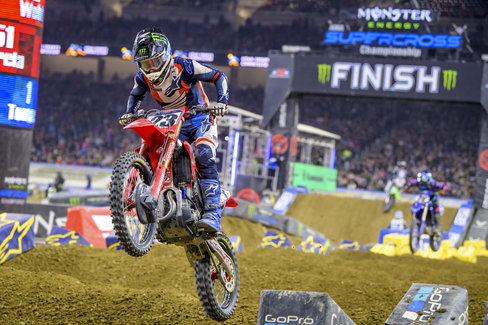 250 ESX
A crazy get together in Heat 1 between Deegan and Monster Energy/Star Racing/Yamaha teammate Jordon Smith, coupled by two more Smith mistakes, would send the then 3rd overall (Smith) to the rare LCQ start in order to transfer to the main (where he finished 7th, and failed to make the main). Out of the start, Deegan took the early lead, but just got nipped at the holeshot chalk line by Lawrence. Deegan would drop down a couple spots, with Martin moving into 2nd, then was soon caught as Thrasher took over the No. 2 spot. Deegan then pulled a bold move into a corner bowl turn off a jump, running Martin up high into the top of the berm, the railing away underneath for the No. 3 position. Thrasher would ride strong laps throughout the contest for a well-deserved 2nd, back 7.6 seconds behind winner Lawrence. Deegan would check in about four seconds back of his teammate Thrasher for 3rd, and Blose rounded out the top five in scoring for Monster Energy at the Detroit 250 ESX, running a consistent 5th place through the entire contest.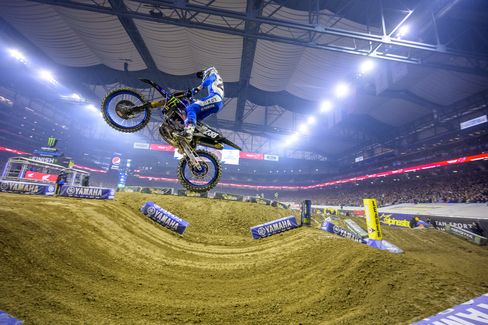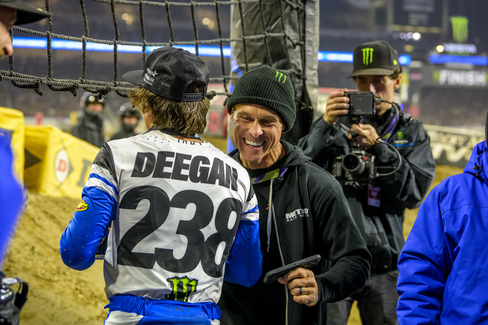 Notes & Quotes
"Tonight, being at the back (of the start) really helped me lock in and focus on pushing forward and not worrying about the race," said Sexton. "Overall, that was the best riding I've done in a main (event) in a while."
"All the chaos he had in his heat race, to put it behind him, that was pretty good," said NBC TV announcer Ricky Carmichael of Deegan's effort in the main.
Said Deegan at the post-race press conference regarding his heat race get together with teammate Smith: "It was all cool. It's just racing. And I want to win just as bad as anyone else, no matter if it's a heat race or a main."
In 450 qualifying at Detroit, Sexton (1st), Anderson (2nd), Cianciarulo (3rd) and Tomac (4th) dominated the top five positions. In 250 qualifying, Smith (2nd) led a charge of Monster/Star/Yamaha racers that included Thrasher (3rd) and Deegan (4th).
"Unfortunately for Aaron (Plessinger) I've been in that position – a lot of times," added Sexton in regard to Plessinger's late-race crash while leading.
10th to 1st – that was Sexton's bounce back from his Indy to Detroit place finishes.
"I was in a decent position early on, then kind of sat there behind Cooper (Webb) and Barcia. Made one mistake and had a little gap there, but was able to make it up. So I'm kind of lucky to be sitting up here," said Tomac at the podium press conference table with Webb and Sexton.
The Monster Energy/Star Racing/Yamaha team provided some positive news earlier in the week regarding racer Dylan Ferrandis' return from injury (Houston SX), stating the 450 rider is working towards "full fitness" and is expected to return before the end of the 2023 Monster Energy AMA Supercross season.
Last year at Detroit, Webb went down in the 450 main, and Sexton had no choice by to land on top of him. This year, Sexton got by Webb with no problem, running it through to the checkers and the eventual race victory.
"It's gonna take a lot. He's riding real well right now. It's going to take a better start to get up there, have a battle with him. Just some good, clean racing," said Thrasher on catching 250 ESX points leader Lawrence.