All NEWS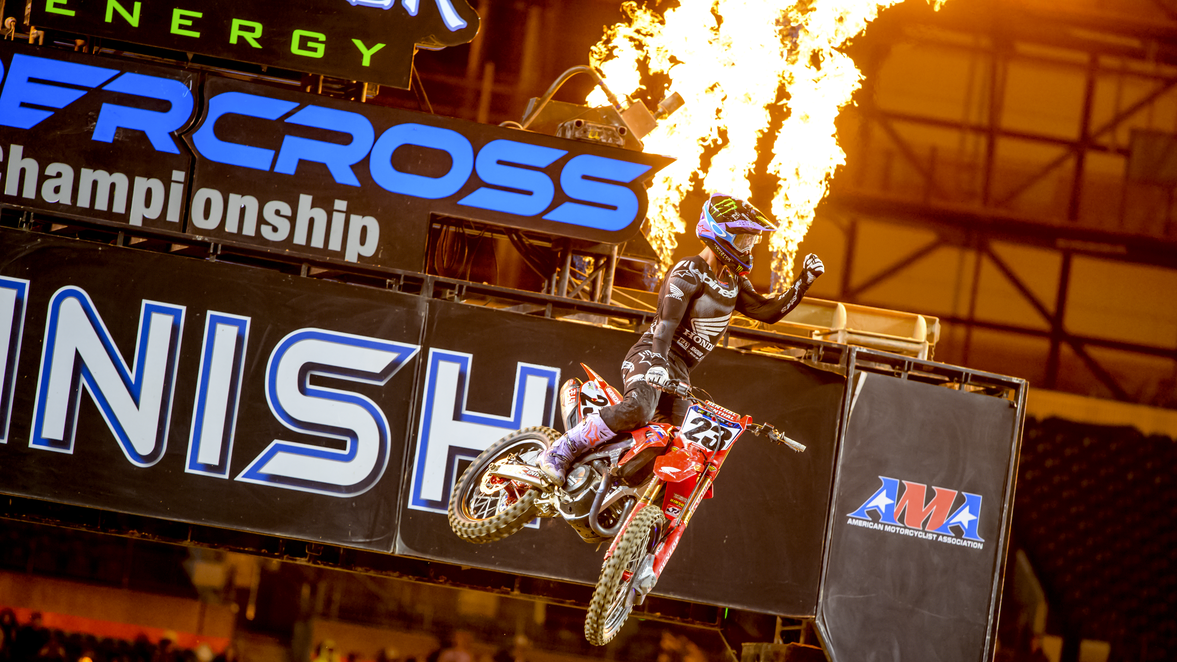 Chase Sexton's Road to the 2023 Supercross Championship
After a season-ending injury to Eli Tomac in Denver, Chase Sexton put himself in the right place to win
There were times this season, and last, you couldn't help but feel for Monster Energy's Chase Sexton (Honda). The affable Midwesterner just couldn't seem to catch a break. One moment he'd have NBC Sports announcers Ricky Carmichael and James Stewart comparing him to the great David Bailey. And the next they'd, along with the entire motocross community, be shaking their heads at how Sexton just threw away one race win after another.

But to his credit, Sexton hung in there, never giving up and always taking responsibility for his mental errors on the track. He'd replace excuses with "I've just got to do better" and "I can't be doing that," when asked about tucking a front wheel and tipping over in a corner or coming up short on jump and handing the lead over to another rider – which was often Monster Energy's Eli Tomac (Star Racing/Yamaha).

So last weekend, at Denver's Empower Field at Mile High, the tables would turn when Monster Energy AMA Supercross series 450 class points leader Tomac suffered a freak injury and was forced out of the race. And who was there, putting himself in the right place at the right time to take over the Denver race lead and, ultimately, the overall points championship? The guy who's luck would finally change. But it wasn't without some soul searching, as Sexton pointed out, regarding his streak of bad luck with seemingly throwing away race leads.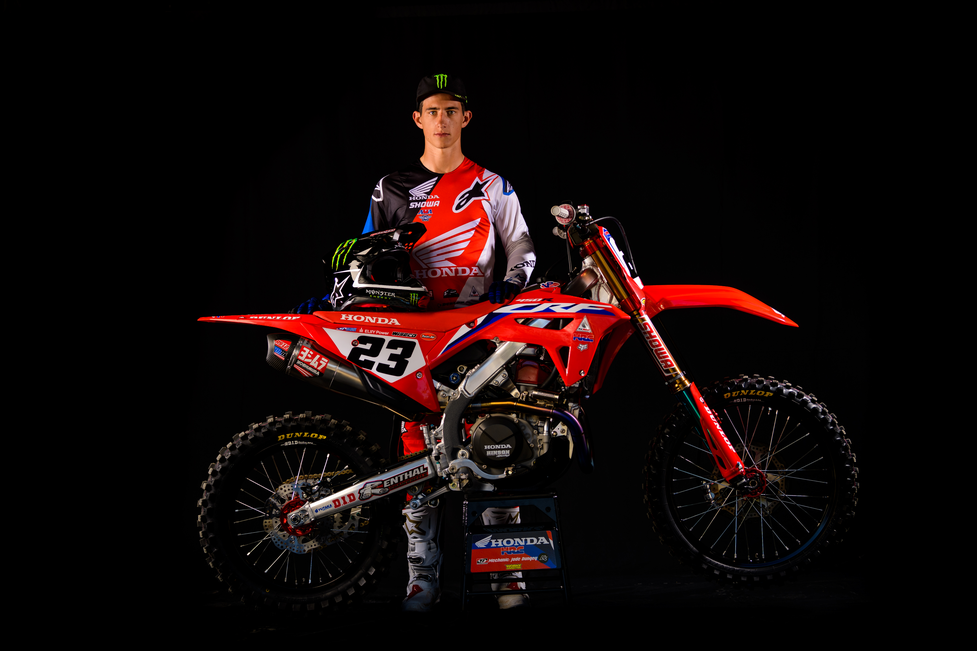 It's tough when those things are going on, to even go onto my phone, just between people texting me trying to help," he explained. "Everyone had their own opinions on what my problem was. Then going on Instagram, social media, just seeing the comments. It was tough, honestly. It kind of weighed a toll on me, and it got a little bit negative (in) the middle of the season. Some of those crashes, I think, were caused by just being negative and not having confidence in myself and knowing that I can win these races."
Sexton would take some time away, hiding out where his trainer lives in Santa Barbara, California, hoping to reset prior to coming back for some testing. And the plan worked.
"From here on out it's been super solid," he said. "The race wins definitely helped the confidence. You've got to push though it. Like I said, when the stuff was going on, you got to try and stay positive. I knew I could dig myself out of it. It was just a matter of time."
Coming out of Nashville two weeks ago, Sexton would win the Music City main event, to cut Tomac's lead to 18 points with two races remaining. Not an insurmountable point difference, but as consistent as Tomac has been throughout his career, Sexton would have to catch a break. Also at Nashville, ahead of Sexton in 2nd place overall heading into the race, was KTM's Cooper Webb. And Webb would get knocked out of the title chase, quite literally at Nashville, suffering a concussion in a crash involving Monster Energy/Kawasaki's Adam Cianciarulo.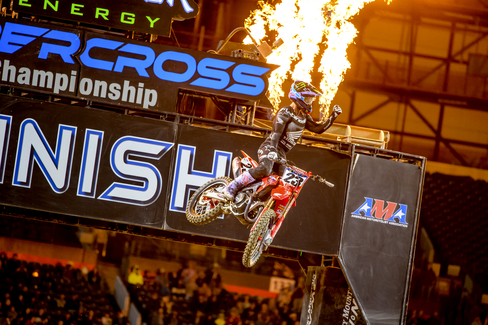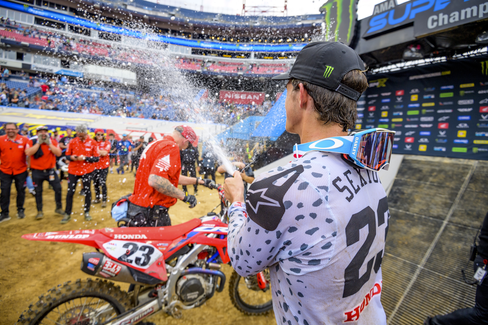 Sexton had clicked 'er into high gear at Nashville, catching – and passing – friendly rival Tomac on Lap 12 (of 23). And he did so with some of the fastest laps of the race, handling the world's top supercross racer (Tomac) straight up. Sexton would gap Tomac, who was riding smart, in championship preservation mode, by 14 seconds. Equally as impressive, Sexton put nearly 30 seconds on the 3rd place podium finisher at Nashville, the former champion Ken Roczen (Suzuki).
With all the momentum in the world rolling into Monster Energy AMA Supercross' penultimate round in Denver, Sexton showed the same degree of speed he'd flashed all season, in a rugged heat race win earlier in the day (over Tomac), and in the main, where he won (following Tomac's departure) by 8.4 seconds over Roczen.
Sexton continued: "So I've been saying all along - it's never over until it's over. Obviously, it's tough to see Eli go out like that. It's definitely a little bit weird, coming back from so far down and hoping, not that anything would go wrong, but hoping to put my best foot forward and win these last two races and see what happened."
And with four wins in the last seven races, Sexton had definitely put his best foot forward, and put himself in a position to win the championship – the first of his young professional racing career.
"It's never easy," added Sexton. "Winning races in this class is super, super tough. I'm really happy with how I've been riding. I just feel complete as a rider at this point. At least more complete than I have been.
"And I want to get better."
Up next…
Monster Energy AMA Supercross goes off one last time at Salt Lake City's Rice-Eccles Stadium this Saturday, May 13th, for the series' final round.