/ /

Motor

All NEWS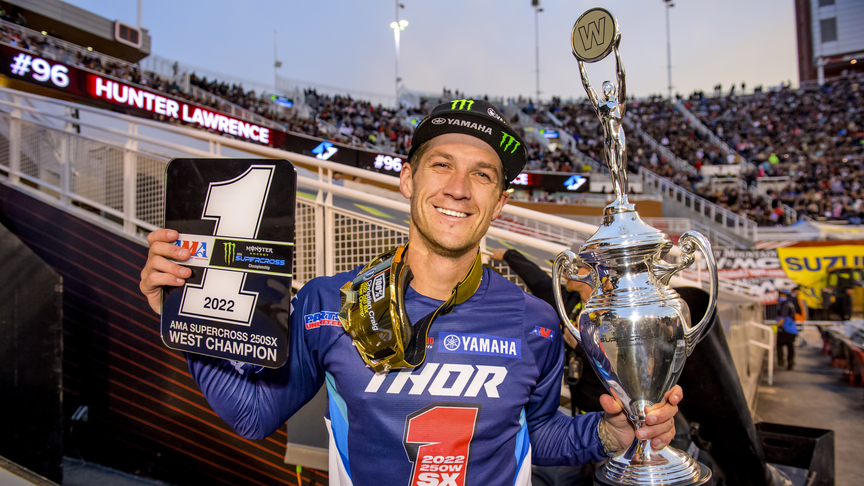 Christian Craig Wins 250 Supercross Championship at Salt Lake City
The final race of the 2022 Monster Energy AMA Supercross season, Round 17 at Salt Lake City's Rice-Eccles Stadium, had a glowing Monster Energy green hue atop the podiums as Jason Anderson (Monster Energy/Kawasaki) and Nate Thrasher (Monster Energy/Star Racing/Yamaha) swept the top two positions in the 450cc and 250cc classes, respectively.
On an overall championship note, Christian Craig (Monster Energy/Star Racing/Yamaha) overcame a crash and rode to a conservative 8th place finish to secure the 2022 250 Western Supercross (WSX) overall championship – Craig's first championship and AMA No. 1 plate of his supercross career.
"I don't even know where to start," said Craig from the podium. "This feels like a dream right now. The people that surround me have been so important. I wrote down in November, with my wife, a number one plate on a whiteboard – and what it's going to take to get it. And now it's real. I got it and I can't be prouder of my whole team."
"I hope this isn't a dream."
Also scoring a podium finish, in the 450 class, was Monster Energy's Chase Sexton (Honda), who placed 2nd and gave Monster the 1-2 finish yet again this season.
Wrapping up the Supercross Futures World Championships was a Monster Energy 1-2-3 podium sweep with Chance Hymas (Honda) winning, Kawasaki's Ryder DiFrancesco in 2nd, and Gavin Towers (Yamaha) in 3rd.
The final round of 2022 Monster Energy AMA Supercross puts a wrap on the season. Here's a look at what went down in SLC for the Monster Energy racers.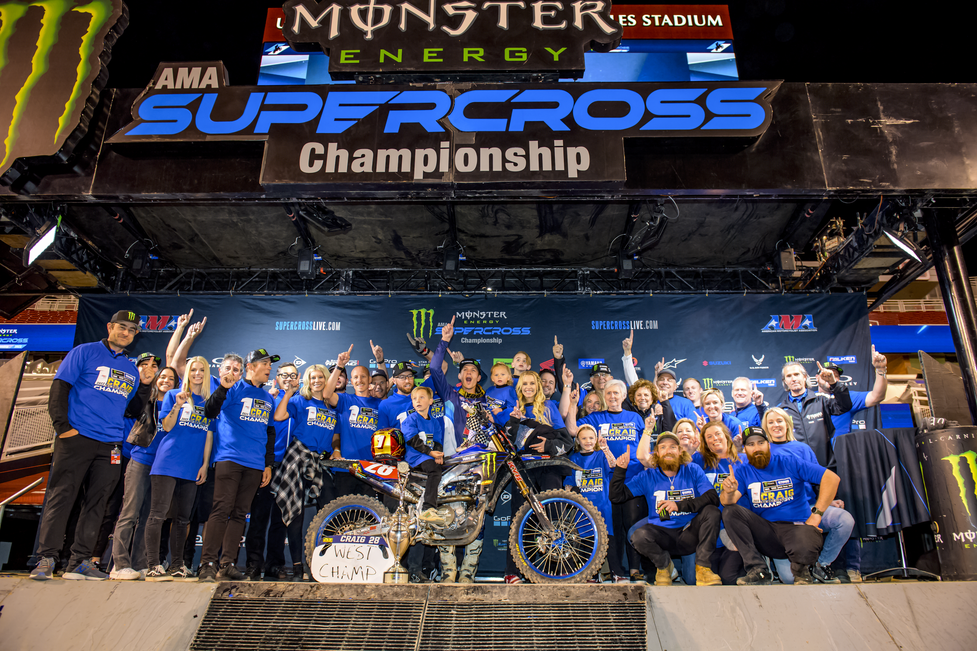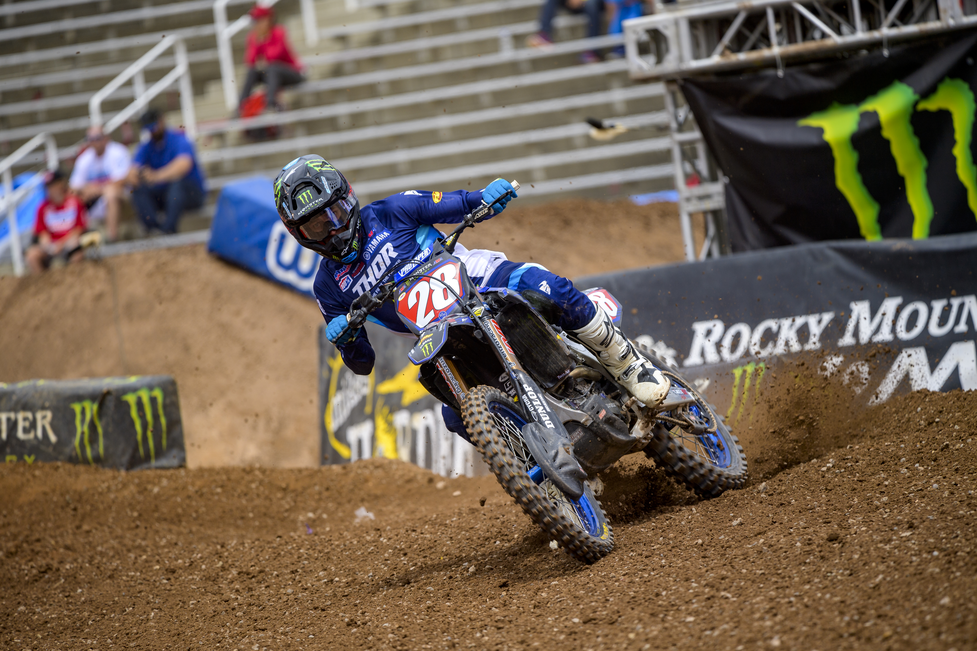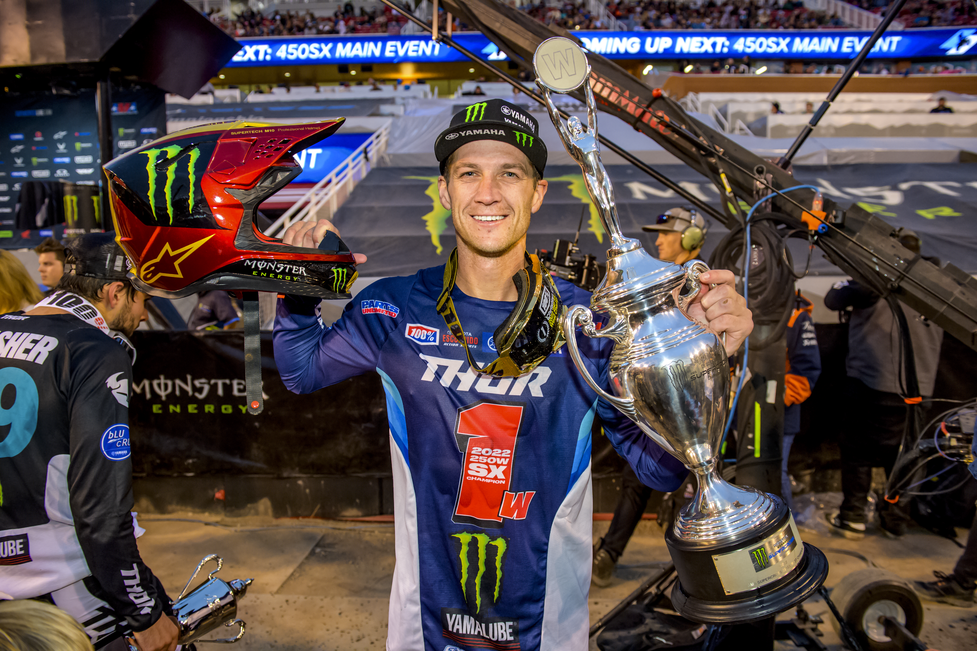 450 Main Event
Off the final 450 gate drop of the 2022 Monster Energy AMA Supercross season, Anderson bolted into the 3rd place position off the start, with Sexton close behind. … One lap in, Anderson jets by defending 450 class champion Cooper Webb (KTM) in the whoops, sets his sights on race leader Justin Bogle (Suzuki). … On lap two Anderson moves into the lead, past Bogle through the whoops, with Sexton getting by Bogle as well and into 2nd place behind Anderson. At the 15:47 mark, Anderson has put nearly a second gap on Sexton and increases that to 2.3 seconds at the 12:25 mark as the two check out from the rest of the field. As the fans focus on some aggressive racing by the backmarkers in 3rd and 4th place, Anderson and Sexton are long gone, building a lead that will eventually allow them to lap up to 6th place in the world's fastest supercross field. Anderson triggers the firepots with a 2.3-second victory over Sexton, as Barcia's more than ten seconds back.
Said Anderson: "It's surreal to be riding this well. To be able to have a year like this after switching teams. Thank you to Monster Energy/Kawasaki and I hope there's many more years."
Added Sexton: "For me, it was definitely an up and down year. But eight podiums and a win is definitely progress from last year. Time to get back after it, work my butt off, and be ready for next year."
Noteworthy: The win for Anderson, his 4th in a row and 7th on the season, are all career-bests for the racer out of New Mexico known as "El Hombre."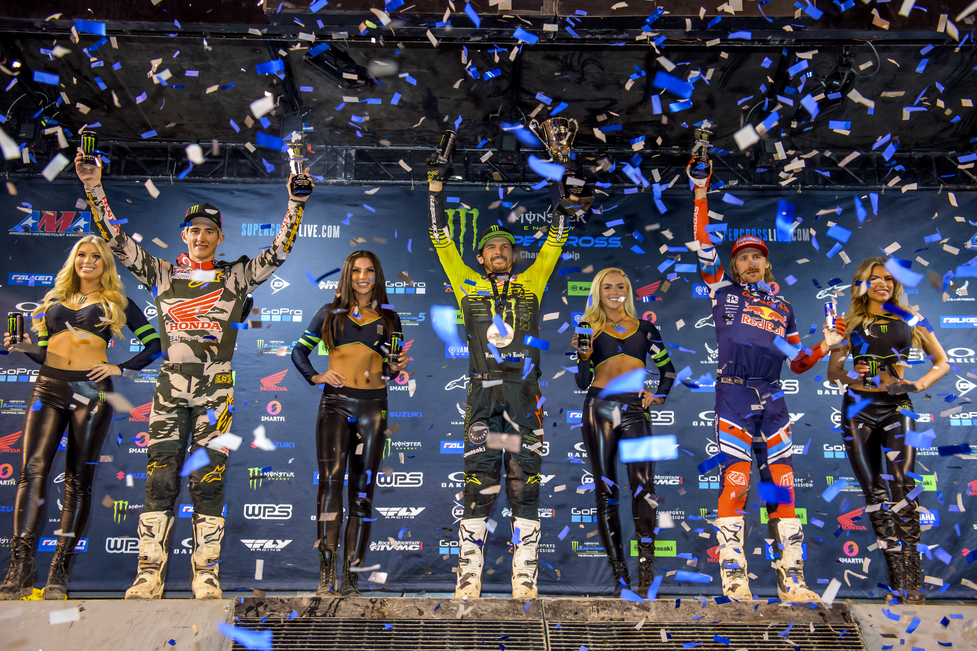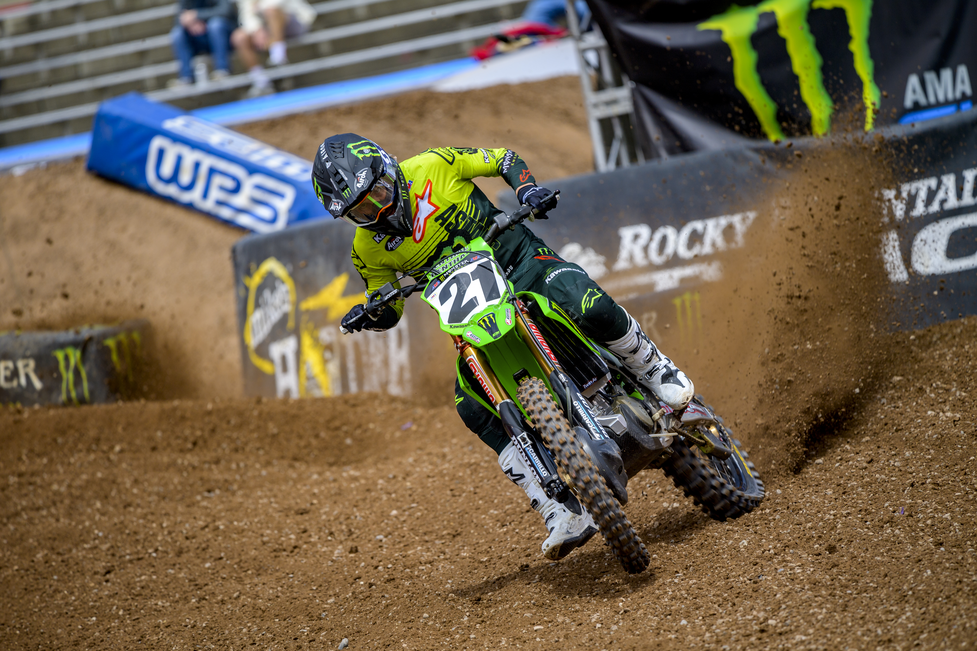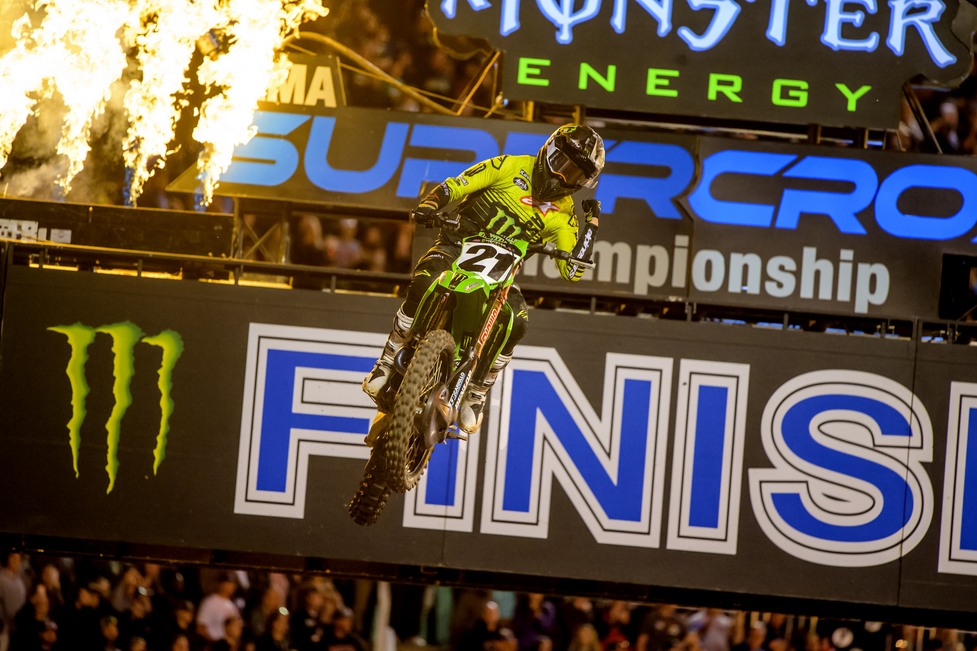 250 East/West Showdown Main Event
Craig pulled a good start and looked to have the holeshot from his No. 1 inside gate pic, but wisely yields the top spot to Lawrence. … With Craig in 2nd, Thrasher moved into 3rd. With the Monster Energy/Pro Circuit/Kawasaki racers, Forkner and Shimoda in 7th and 8th places, Thrasher quickly moved into 2nd place past his conservative-riding teammate, Craig. Thrasher then moved up on Lawrence and passed the Honda racer for the lead. With Thrasher up two seconds on Lawrence, Craig would over-jump the final hit in the whoops section and leaned over in the corner, hitting the dirt and bringing the SLC crowd to its feet. Fortunately, with Thrasher's lead on 2nd place overall WSX Lawrence, Craig was able to give up a couple of spots as he quickly remounted, composed himself, and took off after the race leaders.
Opening the second half of the East/West 250 Showdown, Shimoda got past Forkner and into 5th – with Monster Energy racers now running 1st (Thrasher), 5th (Shimoda), 6th (Forkner), and 7th (Craig). With a last-ditch effort, Lawrence would charge all the way up to 2nd, and within striking distance of Thrasher, making for a thrilling finish to the contest. At the checkers, it was Thrasher who held on for dear life on three separate runs through the whoops, by .432 seconds over 2nd place Lawrence. Added announcer Ricky Carmichael: "He (Thrasher) was hanging on by a thread!" Shimoda held on for a top-five finish (5th) ahead of Forkner (6th) and newly-crowned WSX champion Craig in 8th.
Said Thrasher: "I haven't had the best season so far, but we finally put it together tonight. Christian (Craig) won the championship, which was great for our team. So, yeah, let's get ready for outdoors (Lucas Oil AMA Pro Motocross Championship, presented by Monster Energy)."