/ /

Motor

All NEWS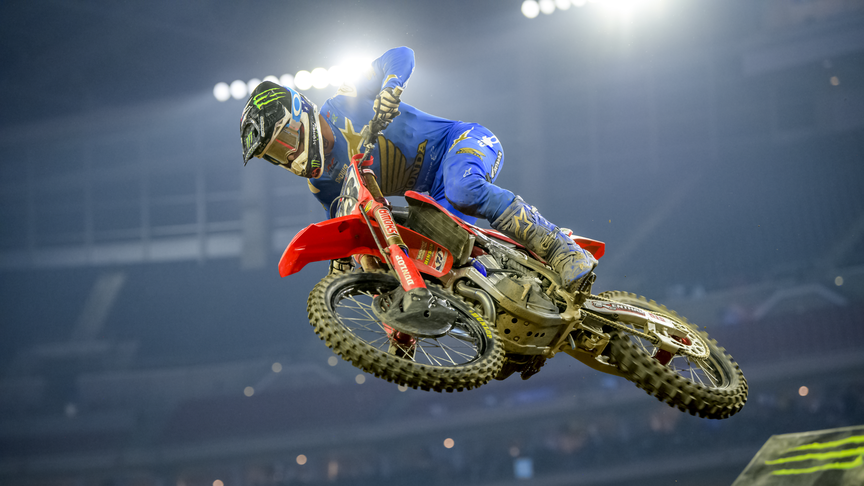 Monster Podium Sweep at Huston Supercross '23
Well, there's nothing quite like Monster Energy stars of supercross in Texas on a Saturday night! A dominant M-claw performance at Houston's NRG Stadium. In the premier 450 class saw Monster Energy-backed racers Eli Tomac (Star Racing/Yamaha) nailed 1st, with Chase Sexton (Honda) charging hard for 2nd and last week's winner, Jason Anderson (Kawasaki), bringing 'er home in 3rd.
All totaled there were five Monster Energy-backed 450 class racers in the top ten at Houston, with Justin Cooper (Star Racing/Yamaha) making his return to supercross in a strong 7th place and Adam Cianciarulo (Kawasaki) clocking in at 10th.
And in 250 class action the much-anticipated debut of Haiden Deegan (Monster Energy/Star Racing/Yamaha) didn't disappoint as the rookie made his inaugural professional supercross start with a solid 4th place run at NRG Stadium, just behind his Monster Energy/Star Racing/Yamaha teammate Jordan Smith in 3rd place. Monster Energy's Chance Hymas (Honda) also ran fast and near the podium early in his professional debut, before placing 8th. And newly acquired racer Chris Blose, for the Monster Energy/Pro Circuit/Kawasaki team, rounded out the Monster Energy 250 ESX top ten Houston SX placers in 10th.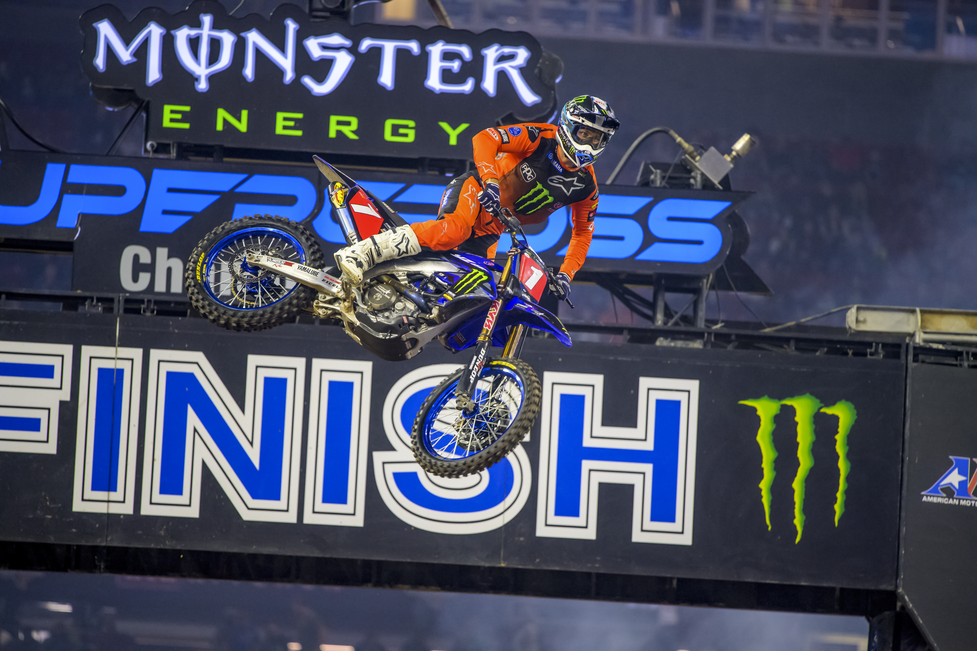 Houston 450 class results 250 ESX class results
1st - Tomac (Monster/Star/Yamaha) 3rd - Smith (Monster/Star/Yamaha)
2nd - Sexton (Monster/Honda) 4th - Deegan (Monster/Star/Yamaha)
3rd - Anderson (Monster/Kawasaki) 8th - Hymas (Monster/Honda)
Overall Standings
450 class 250 ESX class
1st - Tomac, 95 points 3rd - Smith (Monster/Star/Yamaha), 21 points
2nd - Sexton, 88 points 4th - Deegan (Monster/Star/Yamaha), 19 points
4th - Anderson, 76 points 8th - Hymas (Monster/Honda), 15 points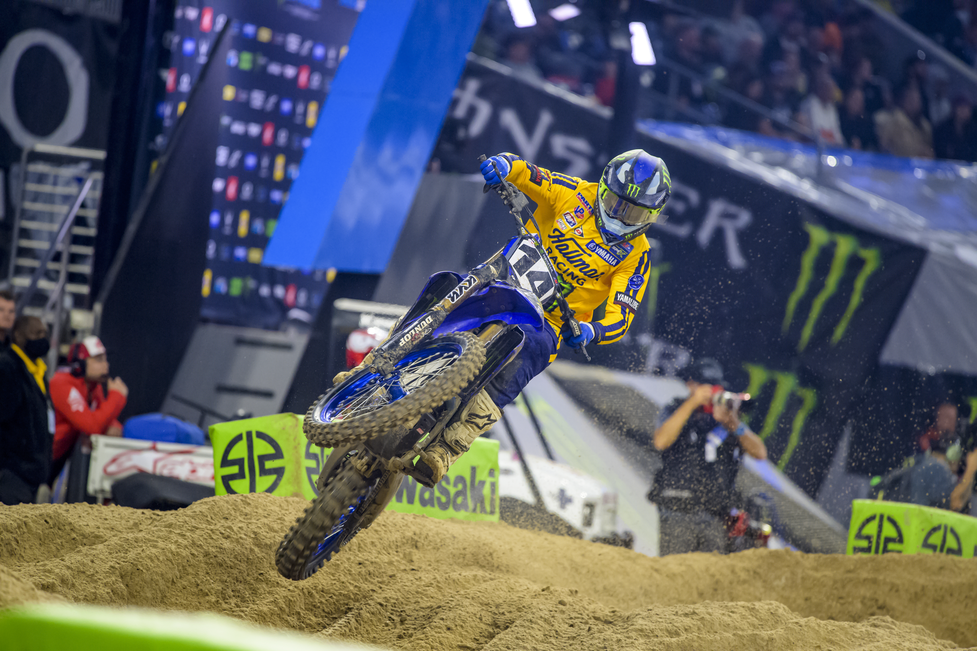 450
Tomac pulls the holeshot ahead of Sexton and Aaron Plessinger (KTM). Up front early, Tomac was clicking off fast laps and extending his lead when his Monster Energy/Star Racing/Yamaha teammate Dylan Ferrandis went down hard, bringing out the Red Flag and stopping the race on Lap 3. On the staggered restart it'd be Tomac, Plessinger, Anderson and Sexton up front. Anderson was on it as Tomac tried to create a gap, getting by Plessinger and keeping Tomac in range. Sexton would quickly get by Plessinger as well. Sexton, who was fastest through the whoop section, took advantage of that and got past Anderson on Lap 7. Sexton would then pull up on Tomac, who hit some lapped traffic mid-race, and were side-by-side through the sand section, keeping the pressure on Tomac for a bit. But a couple minor mistakes by Sexton, combined with a near flawless effort by Tomac, would be all the defending champ needed to secure the victory. Anderson finished strong in 3rd, putting five seconds between himself and 4th place Plessinger, with Cooper in 7th and Cianciarulo in 10th.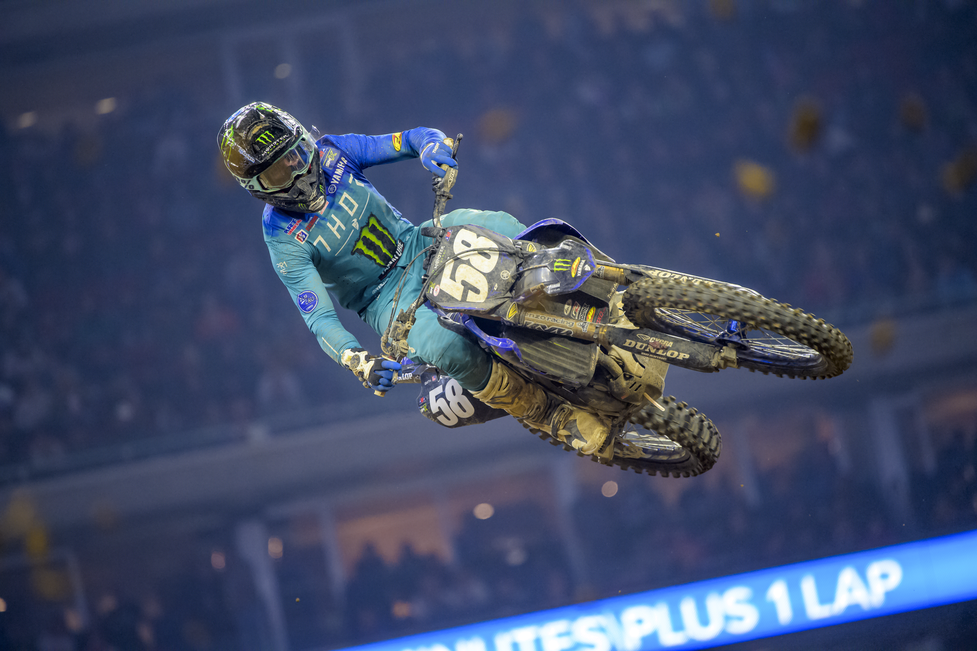 250 ESX
Hymas pulled a massive start in his first pro race, kicking off the eastern SX season by virtually tying teammate Hunter Lawrence (Honda) to the holeshot stripe. Monster Energy/Star Racing/Yamaha's Nate Thrasher, who started just outside the top ten, put on a mad rush from 11th to 6th, only to have a mistake on Lap 6 move him back to 13th. Out of the blocks in 6th place, Smith charged to podium contention late in the race, passing former 250SX champ Jeremy Martin (Yamaha) on Lap 15 (of 18) for 3rd place. And seeing the cue from his teammate Smith, Deegan was also able to get by Martin to snatch 4th place. Hymas (8th) and Blose (10th) would round out the Monster Energy top ten ESX scoring at Houston.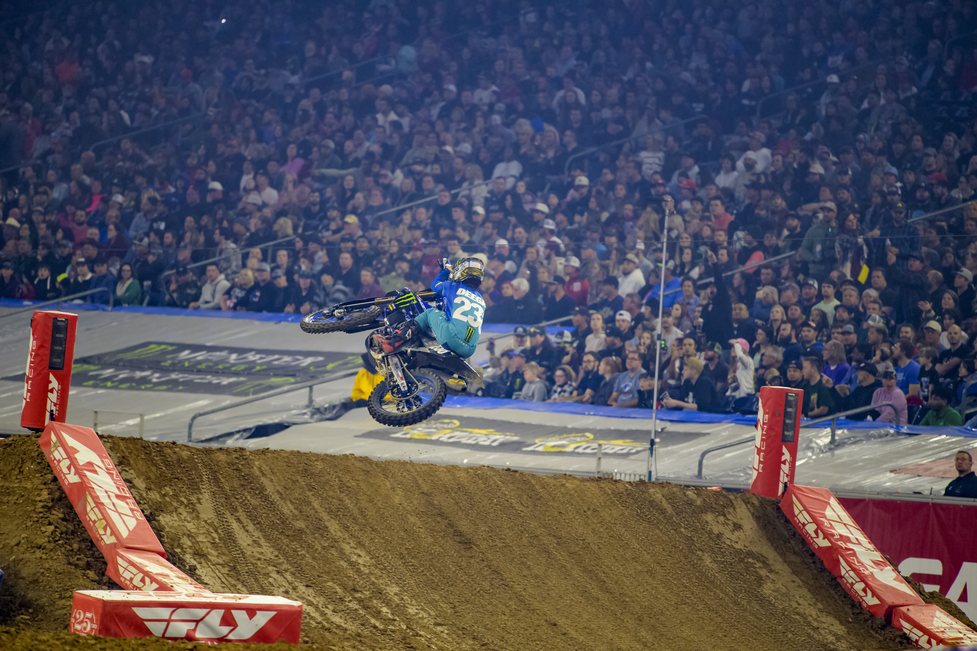 Notes & Quotes
Word from Monster Energy/Star Racing/Yamaha team officials was that Ferrandis was feeling some concussion symptoms, left the race, and was being monitored for precautionary reasons.
Statement from Ferrandis: "I'm okay after my crash in the main event. I hit my head first and got knocked out for some minutes. Everything else is fine, and I am okay now, fortunately. I will follow the concussion protocol and will see when I can ride again. Sorry. A big thanks to the medical team."
"Just a magnificent ride by this rookie," said NBC TV announcer Ricky Carmichael on Haiden Deegan's 4th place ESX effort – the first pro Monster Energy AMA SX race of his career.
Sexton would again be the fast 450 qualifier, being the only racer at Houston to click off a sub-51 second lap (50.320) to win qualifying by more than a second ahead of Ferrandis (51.415).
Tomac (3rd), Anderson (4th) and Cianciarulo (5th) would give Monster Energy the five fastest bikes in 450 qualifying.
Thrasher ran great in timed qualifying (2nd @ 52.438) before running into difficulties in the main.
"It was a hectic day for me," said Deegan. "I wanted to prove I could run up front with those guys. I wanted to prove I belong. Passing Tom Vialle (KTM) in the whoops and hearing the crowd go wild. That was so sweet."
"It's been a long time coming for me. Get the first race jitters out, and to get the experience – it's cool," said Hymas.
"Eli really figured out the sand section," said Sexton of where Tomac had the biggest advantage at Houston. "I felt like I could have walked through it faster than I was going through."
Monster Energy's Seth Dennis, a member of the Junior World Motocross World Championship team, shared in the 2022 AMA Youth Racer of the Year award (announced earlier in the week).
"To be honest, I still can't believe that I'm OK… and healthy," said Tomac regarding his massive get-off at last week's Anaheim 2 round.